ユーキューホルダー! 魔法先生 ネギま!2 Anime Review
UQ Holder! Mahou Sensei Negima 2
UQ Holder! Magister Negi Magi! 2 – 03
UQ Holder Episode 03

SPOILER Summary/Synopsis: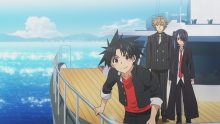 Karin expresses her displeasure with Touta to Yukihime while Touta is all excited at their arrival at the UQ Holder Senkyoukan, which not only functions as an inn, but as an onsen as well. Gengorou and Ikku introduce themselves and explain that they were going to test Touta and Kuroumaru by sending them under the island to defeat magical monsters. However, Yukihime decided that all the pair needed was to get one strike on a UQ Holder member. Karin decides to be Touta's opponent while Kuroumaru is tasked with Gengorou. Neither Touta nor Kuroumaru can land strikes on on their opponents, but they still have seven days to get the job done.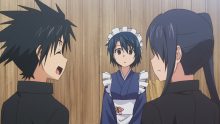 Kuroumaru and Touta meet Shinobu, a normal human working at the Senkyoukan. Touta decides they should help Shinobu, so they do. When Kuroumaru and Touta take boxes to what is supposed to be a storeroom, they end up in a massive, underground cavern. There's also a large building nearby, so Kuroumaru and Touta head to it. There, they discover another UQ Holder member named Jinbee. He shows Touta a black sword in a stone and says it can be Touta's if he can pull it from the stone. Touta can't, but while Jinbee mocks Touta, the sword (Kurobo) quietly tells Touta how to remove it from the stone.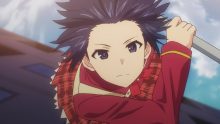 Now armed with a sword, Kuroumaru and Touta train. On the seventh day, Kuroumaru challenges Gengorou again. She has no success until she thinks like Touta, allowing her arm to be severed and using the severed arm to land a blow on Gengorou, removing one of his lives. Elsewhere, Touta battles Karin, eventually getting the best of her. However, when Shinobu screams, Touta doesn't land his blow on Karin and races to Shinobu's side. There, he discovers she's under attack by monsters. Karin joins him, becoming bait so that Touta can rescue Shinobu.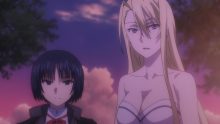 Once Shinobu is freed, Touta comes to Karin's aid. Using Kurobo's 50,000 gravity setting, he's able to destroy all the monsters and destroy part of Karin's uniform as well. Although he technically didn't land a strike on Karin, she passes him because of the state of her uniform. Yukihime explains that the monsters got out through a hole Touta made in the underground cavern. As such, she sends Kuroumaru and Touta down a trapdoor into the cavern to kill all the monsters. She sends Jinbee down as well since she discovered he'd stolen her special sake.
Thoughts/Review:
I knew there would be changes to the original manga story in UQ Holder! Magister Negi Magi! 2 – 03. However, the changes made were kinda silly, just to help link the series more with Negima!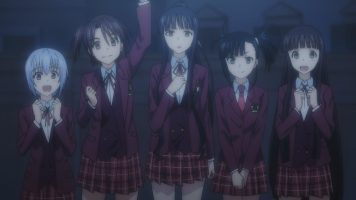 Shinobu Appears
While I'm glad to see Shinobu in the UQ Holder anime, I had to laugh at her introduction. The reason for my laughter is that Shinobu had no explanation to explain why she, as a normal human, would be working at an onsen-inn with a bunch of immortals and youkai. Basically, the explanation is, "Things happened and the coincidence of all this led me here." And in normal Japanese storytelling procedures, we are supposed to let this go and move on.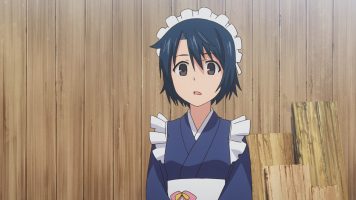 We are already seeing signs of Shinobu being attracted to Touta and Kuroumaru being jealous of this. Beyond that, Shinobu served little purpose other than to be the damsel in distress to prevent Touta from defeating Karin. Shinobu's only other presence in the manga is to do her pod racer thing. We'll see if that gets incorporated.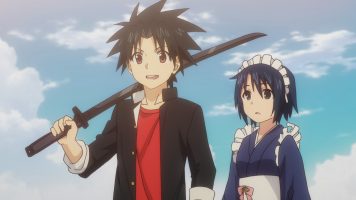 One Strike Membership Change
In the UQ Holder manga, Touta and Kuroumaru were literally dropped into the caverns under the island that houses the Senkyoukan as a membership test. With UQ Holder! Magister Negi Magi! 2 – 03, we get a reference to that test, but it is changed so that it can be linked with Eva's test for Negi in Negima!  I don't have my old Negima! anime DVDs any more, but I don't remember that test being there. I do remember it from the manga though. Clearly, Akamatsu-sensei is keen on more closely linking Negima! with UQ Holder, which is not unexpected. I just didn't expect it here.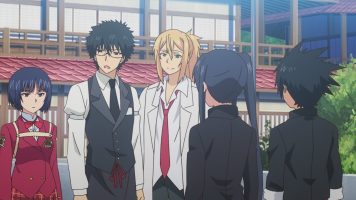 The underground cavern stuff is then shown in brief by having Kuroumaru and Touta take stairs down there. The abbreviated nature of these scenes pretty much makes Super Touta even more Super Touta 'cause we don't see how he learns to master Kurobo. Granted, he mastered the sword rather quickly in the manga, but here, it is less than seven days.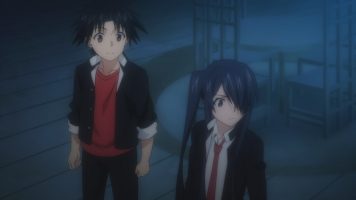 That said, Kuroumaru's test fight with Gengorou allows us to see a bit more about his immortality, which hasn't been seen in the UQ Holder manga yet (the life counter). Karin's fight with Touta gets her an early start on the Touta harem path, aided by the change to how Eva attempts to pair Karin with Touta as the last people on Earth.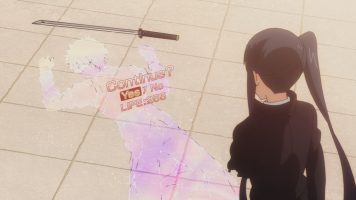 Final Thoughts and Conclusion
My plans to speed things along still don't always go according to plan. Nevertheless, I think I better wrap up my review of UQ Holder! Magister Negi Magi! 2 – 03 so I can move on to the next anime review.
While I'm glad the Japanese honorifics are now retained in the official subtitles, watching these episodes do make me appreciate the Nibley Twins being in charge of the UQ Holder manga. After all, for me, Senkyoukan > Fairyland Hall, which just sounds stupid. Also, having the "gangster" UQ Holder folks say "Ane-san" instead of "ma'am" is much better to me.
On the other hand, the official anime subs do have one thing that trumps the Nibley Twins; shocking, I know. The anime subtitles use Touta's sword proper name of Kurobo rather than Sidestick.
Eva certainly has more of a presence in the anime. In the manga, after Touta and Kuroumaru were "flushed" to the underground caverns, we didn't see Eva again for a long while.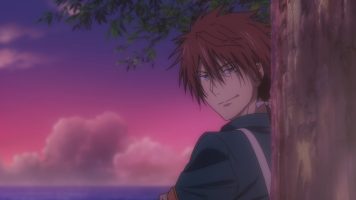 In the end, UQ Holder! Magister Negi Magi! 2 – 03 greatly compresses the arc where Touta and Kuroumaru train underground. The forced linkage to Negima! isn't horrible, but at this point, I didn't find it that necessary.