ユーキューホルダー! 魔法先生 ネギま!2 Anime Review
UQ Holder! Mahou Sensei Negima 2
UQ Holder! Magister Negi Magi! 2 – 04
UQ Holder Episode 04

SPOILER Summary/Synopsis: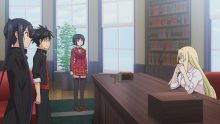 Touta and Kuroumaru get assigned to help Karin for their first, official job as part of UQ Holder. They are going to the slums to provide bodyguard protection for a church their and its orphaned children. Touta has to make meals since he keeps losing arm wrestling. However, he turns out to be a master cook, having only observed others cooking. Karin suggests he learn shundo if he wants to win at arm wrestling. So Touta practices, where he's seen by Kaito, a self-described expert. He teaches Touta to shundo, which Touta learns quickly.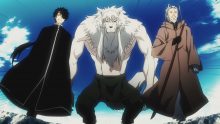 Kaito meets with his companions Nagumo and CHAO Xinxai. Kaito becomes a werewolf as the trio begin their attack on the slums. Xinxai attacks Karin in the shower with a gun, destroying her magic barrier. Karin disarms him and uses his gun to attack back, but he's able to stop bullets with his knife. Xinxai disarms Karin and slices her throat to no avail. Karin attacks back, seemingly defeating Xinxai in unarmed combat, but Xinxai uses a shadow gate to retrieve his gun and put a few bullets down Karin's throat.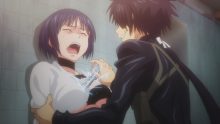 Meanwhile, Touta and the orphan child Ruki are gathering scraps to sell when they notice fires spreading through the slums. A bunch of puppet automatons attack, but Kuroumaru arrives to easily dispatch them. Kaito arrives in werewolf form and immediately susses Touta is a vampire. He seals Touta before Touta can do anything. Then he and Nagumo attack Kuroumaru, making short work of the Shinmeiryuu fighter. Back in the shower room, Xinxai's Shadow techniques insure that he can keep Karin bound, where he can enjoy putting a blade into her chest.
Thoughts/Review:
The theme of UQ Holder! Magister Negi Magi! 2 – 04? Compress the manga story down as much as possible to speed us to Negima! stuff.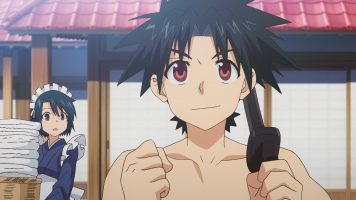 Negative Effects of a Compressed Story
UQ Holder! Magister Negi Magi! 2 – 04 covered a ton of ground (manga chapters 12 through 19) and as such, a lot of story had to be cut. In fact, I feel there is a net negative here by compressing the story as much as they have so far. For starters, we lose the initial fight against Wrecking Ball, which establishes the kinds of problems that the church orphanage is having to deal with. Instead, we get Sister Kasuga talk about night attacks by those with ninjutsu skills (or something like that — my Japanese sucks, and I'm not sure how much I trust the official translator not to localize the heck out of everything 'cause "reasons" — more later).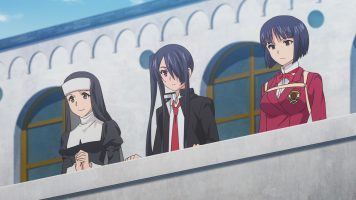 Losing the fight also causes us to not establish a baseline for seeing how powerful and good Karin is. Thus when she goes against Xinxai, his power levels come off as even more impressive in light of the previous fight (at least they did to me).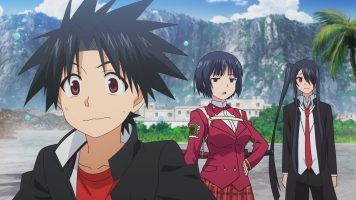 The other thing lost is a moment for Touta to see the shundo in action. So when Karin tells Touta to go practice the shundo, my first thought was, "When has he seen a shundo?" And it was in the fight against Wrecking Ball where Karin used shundo, allowing Touta to see it for the first time. That's how he knew how to copy it. As the anime has it, we are told Touta saw it, and it goes from there.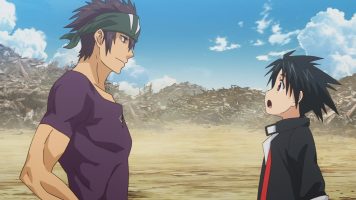 What Else Was Lost?
Kuroumaru's gender arc stuff is all lost in the anime. In the manga, Karin discovers Kuroumaru doesn't have a winkle, but agrees not to spill Kuroumaru's secret. Then at the church orphanage, Karin and Kuroumaru have a scrimmage fight, where Karin is challenging Kuroumaru to look inside and see the truth of the feelings Kuroumaru has for Touta. Karin also challenges Kuroumaru's self-doubt. These were important character moments in Kuroumaru's story and I hated to see them go.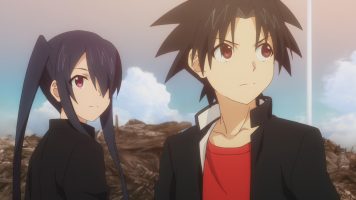 We also lost a bit of Karin's character development as well. After she defeated Wrecking Ball, an adorable orphan girl has a moment with Karin, causing Karin to smile. It is a small thing, but I hated losing this too.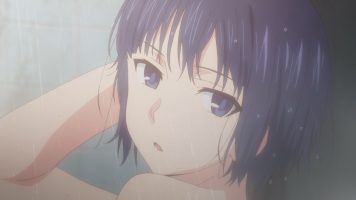 What Was Gained?
One thing the anime did was explain why Karin's "tattoo" is missing. The anime showed it not as a tattoo in the traditional sense, but rather an energy mark on her back that activates when she uses her powers. That was not clear to me at all in the manga.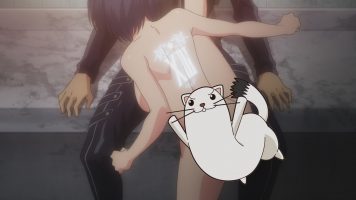 As expected, the sense of the fight between Karin and Xinxai has a greater weight to it. Or rather, it will in the uncensored version of the anime. (More on that in a bit.) The fight between Kuroumaru and the tag team of Nagumo and Kaito may gain a tiny bit from the animated version, but the loss of Kuroumaru's personal struggles negates that for me.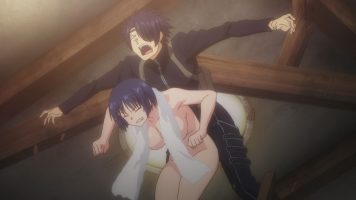 Frustrating Stuff
One frustrating, and actually quite irritating bit was the censorship elements in the fight between Karin and Xinxai. I'm not interested in seeing Karin naked so I can fap to her later. But having the giant image of Chamo as censorship blocks just killed everything as it takes the viewer out of the fight.  I know what's going on here. Even though UQ Holder! Magister Negi Magi! 2 – 04 is a late night anime, the Japanese are doing the old, "buy our massively overpriced DVD/BD if you want to see the fight uncensored" ploy. Even then, I strongly suspect that what we'll get is Akamatsu-sensei levels of nudity and not anything needing bloody irritating censor blocks.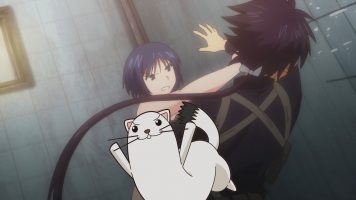 The other frustrating thing is the subtitles. It is here that I really miss how the Nibley Twins handle the UQ Holder manga. While Sentai has deigned to allow core Japanese honorifics to stay in the subs, others are stripped. Fine, I'll grudgingly accept that. However, what got me is the localization stuff. I often hear certain anime fans mock fansubbers who change what was actually said to include profanity, in order to be cool or something. And yet here, we have an official subtitle where Touta is spouting the cliched line about not forgiving those who are attacking the church orphanage, but it is changed to him calling the attackers assholes.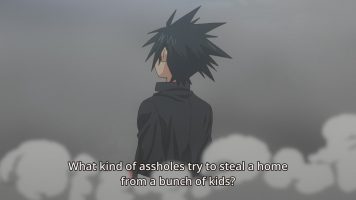 Clearly, those in the translation/adaptation aspect of Sentai have never read one volume of Negima! or UQ Holder. They might have read Love Hina.  I say this because the term shundo got translated to "flash step." 🙄 However, the term Shinmeiryuu was not translated, but was spelled out in a way I seem to recall it being used in Love Hina's original adaptation.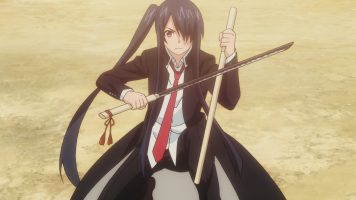 Final Thoughts and Conclusion
Time to wrap up my review of UQ Holder! Magister Negi Magi! 2 – 04. Man, I miss the days when I had time to write a review daily and didn't have to fight exhaustion!
I'm not sure why Xinxai's given name was spelled Xingzi. I did look and see a lot of fan sites spell it this way for some reason, though the manga has it spelled Xinxai. And when I hear him speak, that sounds like the proper spelling.
Also, I was struck by how Xinxai's name wasn't done Chinese style. I'm used to Japanese names getting a Western convention treatment, but not Chinese ones. If you watch the news, a Chinese (or Korean for that matter) name is done in proper fashion with the family name first. And I seem to recall the Negima! anime subtitles were like that as well for Chao (I sold my DVDs years ago, so I can't confirm).
Seeing Karin running "swept-winged" style made me laugh out loud for some reason. I checked the manga, and she does run that way there, though it isn't as pronounced, which is why I hadn't remembered it.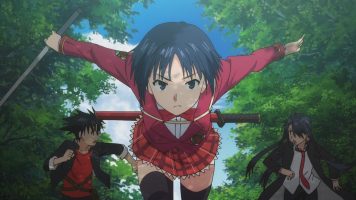 Finally, those looking for Santa in the anime, I found him. 😆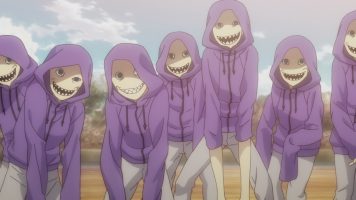 In the end, UQ Holder! Magister Negi Magi! 2 – 04 cut a bit too much in its efforts to speed the series to its Negima! connection. The annoying use of Chamo as a censorship block and other little quibbles also ruined what could have been a pretty decent episode.