ユーキューホルダー! 魔法先生 ネギま!2 Anime Review
UQ Holder! Mahou Sensei Negima 2
UQ Holder! Magister Negi Magi! 2 – 11
UQ Holder Episode 11

SPOILER Summary/Synopsis: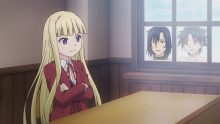 As Team Touta squares off against Team Negi-MotB, Kirie tries to get Team Negi-MotB to talk. Nodoka reads her mind and knows it is a desception. However, they do provide some basic info. Touta isn't buying it, so Al takes Touta into a phantasmagoria, where Touta can see bits of Eva's life as she met Nagi, traveled with him, attended school, and trained Negi. Touta also sees that Eva loved Nagi and Negi. However, Eva sees and recognizes Touta as the real Eva (Yukihime) has been pulled in as well.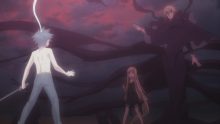 MotB rips Eva in half as Al multi-spears Touta. Touta rescues Eva, where she confesses she wants to be with him, recalling when she first took him in. Eva recovers and she and Touta prepare to attack. However, MotB takes on Nagi's appearance, stopping Eva. Eva is still put off guard when MotB adopts Negi's face. Eva is defeated and Touta is grabbed by his female companions from UQ Holder. They want him to join them as they pull him into some liquid and below its surface.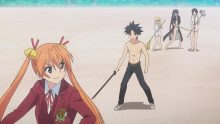 Asuna, Negi's former partner, arrives, using her power to save them. Asuna reminds Touta that Yue mention that he was the creation of the combination of Negi and Asuna. Eva is stunned to see Asuna, since Asuna is on Inverse Mars. Eva could project herself into MotB's phantasmagoria via Touta. Asuna holds off MotB and briefs UQ Holder on what they need to know. Touta needs 37 seconds for the power to defeat MotB to appear. With that, Asuna breaks them out of the phantasmagoria, where they start a successful attack on Team Negi-MotB.
Thoughts/Review:
Sheeze. UQ Holder! Magister Negi Magi! 2 – 11 races to a finish, but in doing so, it leaves a mess in its wake.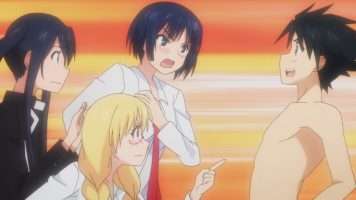 What I Liked
Although it added nothing, I will admit that I liked getting glimpses of Eva stuff from Negima! Real shame that manga never received a proper adaptation.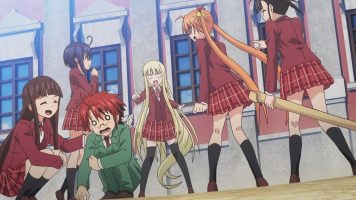 I liked seeing Asuna, but only because of Negima!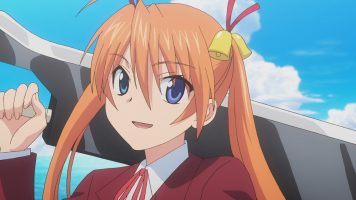 What I Disliked
Although I don't need to see Eva/Yukihime naked, the bloody Chamo censor is irritating as all get out.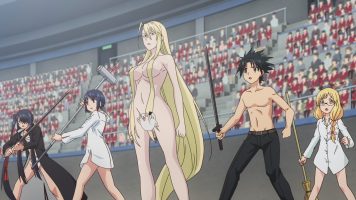 Until now, the Eva x Touta crap did not exist, thanks to all of the Dana stuff being cut. However, for this episode, Eva suddenly decides she wants to boff Touta 'cause "reasons." Yeah, one rescues orphan boys and girls so you can boink them repeatedly. 🙄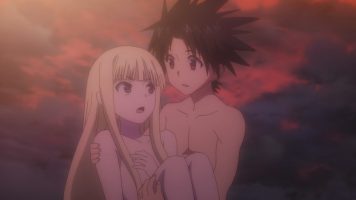 Although I liked seeing the Eva flashbacks and the dues ex machina Asuna, let's face it, it wasn't good in terms of storytelling. The Eva flashbacks are more for Negima! fans, but if you don't know Negima!, you don't get a whole lot from them other than Eva loved Nagi and Negi 'cause "reasons."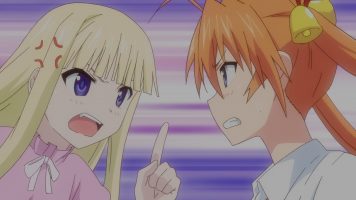 As to Asuna, if you don't know Negima!, she is 100% pure dues ex machina. She shows up 'cause "reasons," then she beats back MotB 'cause "reasons," then she's able to give the UQ Holder team all the details they need to defeat Team Negi-MotB. And once everyone knows their job, she breaks them free to do their thing. Yay! 🙄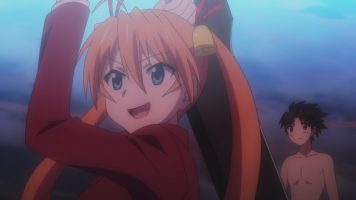 Final Thoughts and Conclusion
Since I'm way behind, I'll wrap up my review of UQ Holder! Magister Negi Magi! 2 – 11. In the end, the episode suffers from all the material cut before it. Further, because there's no time for anything, if you don't know Negima!, you are pretty screwed.