ユーキューホルダー! 魔法先生 ネギま!2 Manga Review
UQ Holder! Mahou Sensei Negima 2
UQ Holder!: Magister Negi Magi! 2 Chapter 148
UQ Holder Chapter 148

SPOILER Summary/Synopsis: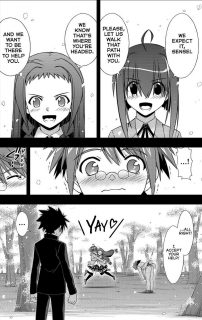 Touta is shown a world where there was no Asuna. Here, Nodoka and Yue become Negi's permanent partners. Because of this, things evolved differently in his relationships with the other girls. Further, they did not find Nagi-Ialda (Mage of the Beginning) until many years later. Because of this delay, MotB's power was much more than Negi had thought.
When MotB attempted to capture Negi, Yue and Nodoka jumped in to save him from this. Jack jumps in to rescue the girls, but he too is snared. Al attempts to save the trio, but it is only a delaying action. Negi tries to save them, but Jack sends him packing. The foursome decide to become a firewall and prevent MotB from coming after Negi.
MotB still comes for Negi, so Koyomi attempts to use her artifact to freeze time. This does not stop MotB for long, and she kills Koyomi for attempting to stop her. MotB attempts to possess Negi, but Chisame sacrifices herself for Negi.
Sometime later, a depressed Negi returns to Mahora and pays a visit to Eva. As it rains outside, Eva observes the sleeping Negi.
Thoughts/Review:
For UQ Holder chapter 148, we get a great deal of backstory for Touta's timeline, which is a good thing.
The Current Negi Crew
One thing we learned from UQ Holder chapter 148 is how Yue, Nodoka, Al, and Jack are currently with the possessed Negi. I love how Yue and Nodoka became Negi's official pactio partners in this timeline/universe. I always liked this dynamic duo in Negima, and I would have bought a manga featuring Yue as a magical detective, had Akamatsu-sensei done one. So I'm glad Akamatsu-sensei gave Yue and Nodoka a bit of love here, even if this timeline goes poorly.
Jack and Al succumbing to MotB makes sense since she's ultimately their creator.
What's interesting is that the four are still around after MotB possessed Negi.
MotB
So, at the end of UQ Holder chapter 148, Negi is apparently not yet possessed by MotB (more on that in a bit). Indeed, there's a seeming disconnect in how she works. For starters, the previous information given to us about MotB's possession is that the moment her current body is slain, she immediately possesses the person who slew her current body. Yet here, Nodoka and Yue were able to thwart MotB from reaching Negi. Then Jack and Al further delayed that, though ultimately, MotB overcame them.
MotB comes after Negi again, but Koyomi attempts to stop her with her time stopping artifact. That too fails and Koyomi appears to pay for that with her life. Chisame also thwarts MotB, after stepping in front and taking the blows meant for Negi. What is not clear to me is if she too is absorbed by MotB or is just slain.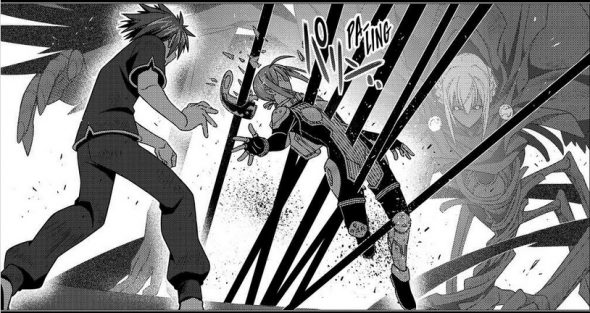 It is unclear to me if Negi escaped in the clear at the end of the chapter. It seems like he may have escaped, but he could have come to Eva after having been possessed by MotB. Akamatsu-sensei didn't show us the events that transpired between Chisame's actions and Negi arriving on Earth. Eva was kind her her old charge and former teacher, but as he slept, she did have an odd look on her face as she looked at him. That could mean that Negi is possessed and she's wondering what to do.
Final Thoughts and Conclusion
Well, I need to wrap up my review of UQ Holder chapter 148 while I have a decent Internet connection. I liked this chapter a great deal as we finally get to see some info on what happened with Negi. Here's what I'm hoping to see.
Why does Eva seem so much weaker in Touta's timeline?
Is Negi possessed when he visited Eva?
Since MotB can overcome a timestop, I presume this means that the Touta-Kirie timestop ability is useless.
Is Chisame in MotB? Since we've seen Nagi with Negi in earlier chapters, could Nagi still be in there as well?
Will we finally get to see Touta's creation, including Cutlass's?
In the end, UQ Holder chapter 148 was an enjoyable chapter, though we need a ton more information.