ユーキューホルダー! 魔法先生 ネギま!2 Manga Review
UQ Holder! Mahou Sensei Negima 2
UQ Holder!: Magister Negi Magi! 2 Chapter 151
UQ Holder Chapter 151

SPOILER Summary/Synopsis: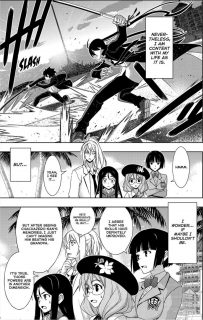 Kuroumaru has a memory dream from childhood. Kuroumaru's Nii-sama encourages the young Kuroumaru to seek the stars.
In the present, Kuroumaru and Touta do their normal training, observed by Karin, Ikku, Kirie, and Santa. Karen makes an executive decision that they will all undergo additional training with Dana since Dana is a guest at the Senkyoukan Sentouan Annex. However, when the group arrives, Chamo informs them that Dana has left indefinitely.
After hearing what they had in mind, Chamo changes his form to an ermine and tells them about the Pactio system. Chamo believes that Touta should serve as Minister to whomever is the Magister. Kirie becomes candidate number 1, due to her abilities as a pure mage and her feelings for Touta. She protests imitatively, but in the end, concedes. However, her kiss with Touta to form a pactio instead causes time to freeze, thus negating the pactio magic.
Karin makes it clear that she would die before making a pactio with Touta, thus Kuroumaru becomes the next candidate. Kuroumaru objects because Kuroumaru is gender-neuter, identifying as male. Touta doesn't care that he'd have to kiss the "boy" Kuroumaru, so Kuroumaru flees. As Kuroumaru ponders things, Kirie arrives on scene to have a chat. There, she shows Kuroumaru that Kuroumaru's lack of power in female form was probably due her Kuroumaru not being used to being in a female body. Thus Kirie concludes that even as a girl, Kuroumaru can be Touta's partner.
Kuroumaru decides to confess her love to Touta, but he fails to understand Kuroumaru's meaning. Upon hearing "pactio," Touta promptly kisses Kuroumaru, but nothing happens. Kuroumaru leaps through a closed window and freaks out about her first kiss. Kuroumaru returns, then discovers Touta's long term plans. As a result, Kuroumaru is depressed since all Kuroumaru had thought about was being Touta's partner.
Sometime later, Touta comes to the onsen where Kuroumaru is. They talk for a bit, leading Kuroumaru to have the courage to reveal that "she" has no actual gender. Touta thinks this racial feature of Kuroumaru's is awesome, causing Kuroumaru to feel relieved. However, Touta now understands that Kuroumaru's love confession was as a girl to a boy. He also realizes that Kuryuu was in fact Kuroumaru.
Without hesitation, Touta summons Chamo, who forms a pactio circle and Touta kisses Kuroumaru. To Chamo's surprise, instead of Touta getting the pactio card, Kuroumaru got one. Touta assures Kuroumaru that he doesn't care if Kuroumaru is male or female as they are partners. However, after the pactio kiss, Kuroumaru notes she is growing breasts again, but she's OK with that for the first time.
Thoughts/Review:
I love me some Kuroumaru, so I was glad to see that UQ Holder chapter 151 focused on my favorite gender-neuter character. Sadly, I think this is going to be it for Kuroumaru's focus, meaning we won't explore "her" background beyond the very generic.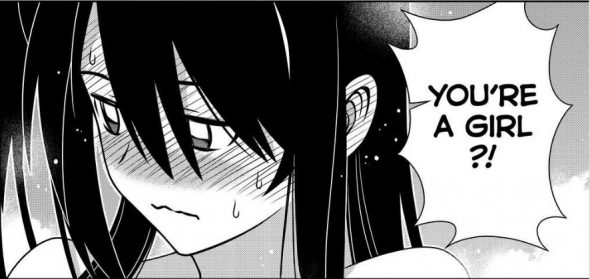 The Pactio
In the early days of UQ Holder, I remember being disappointed that the pactio system wasn't even discussed, even though I felt that it should have been. Then the elderly Ayaka showed up with her old pactio card, and at least we finally had the introduction of the pactio system in UQ Holder. At that point, I figured it was only a matter of time before pactiones were provided to the UQH crew, and sure enough, UQ Holder chapter 151 provided them.
I was glad to see that the Kirie/Touta pactio failed. I haven't liked Akamatsu-sensei's hard push on the Kirie x Touta ship. And since Touta can smooch Kirie anytime they want to stop time, they are going to get plenty of that in the future. With Kuroumaru, it is only a couple of kisses, but hopefully there will be more down the road. More on that in a bit.
Although I'm glad Kuroumaru received a pactio card (and I look forward to seeing it in action), I'm still not a fan of non-mages being a Magister. I know that in Negima!, Kotaro makes a pactio with Natsumi, but he's not a mage. He's a melee fighter who uses chi and rarely uses jujutsu ofuda slips to perform a magical summoning. Heck, Kotaro despises mages. But since Akamatsu-sensei liked the Kotaro x Natsumi ship (as did I),
Kuroumaru as a Lovely Girl
I really hope that UQ Holder chapter 151 marks the end of "is Kuroumaru going to grow a penis or a vagina" element. Frankly, I'd like to see Kuroumaru go ahead and become a lovely girl, then use that shift to become the rightful heir of my Shinmeiryuu girls, Motoko (Love Hina) and Setsuna (Negima!). Heck, I want a female Kuroumaru to surpass both of them and become an immortal Shinmeiryuu legend.
I got the feeling that I may get my "lovely girl" aspect of my wish, based on the ending of UQ Holder chapter 151. The last time the issue was addressed, Kuroumaru had resolved to just be male and be Touta's battle partner and friend. However, Kuroumaru still had some feelings. Now, Kuroumaru seems to accept being a girl. Resolution is what Kuroumaru's gender story thread needs.
Now, I want to see more about Kuroumaru's past. I'd love to see the UQH folks take a trip to Kuroumaru's homeland. I was so frustrated in Negima! that Setsuna never received such a treatment. I know that the main story is Touta defeating MotB, but in my mind, taking a moment to explore Kuroumaru's character and race even deeper would be awesome. I doubt we get it though.
Setting Up a Proper Battle Harem?
Akamatsu-sensei has already turned UQ Holder into a harem series. In all of Sensei's previous works, there's a harem element, but in the case of A.I Love You and Love Hina, the MC had a clear girl in mind in the harem. In Negima!, I think Asuna was the chosen girl, then Sensei changed his mind and rammed Chisame on us because "megane girl". While Negi had a "battle harem," on the romantic front, he was mostly about Asuna, then Eva, and then Chisame got rammed in there.
Frankly, with Touta being this weird clone-homunculus thing, I'd be happy with Touta needing a proper battle harem. With Touta, Karin, Kuroumaru, and Kirie being immortal, why not have Touta marry them all. Yeah, Karin is the hard nut to crack (and I laughed at the look on her face when presented with the prospect of kissing Totua for a pactio), but it can be done. She's already show signs of slipping, so we need some Karin love as well, not only for her backstory on her powers, but on why Eva saved her. Oh, and her shell needs further cracking until she's forced to again admit that she has feelings for Touta. 😉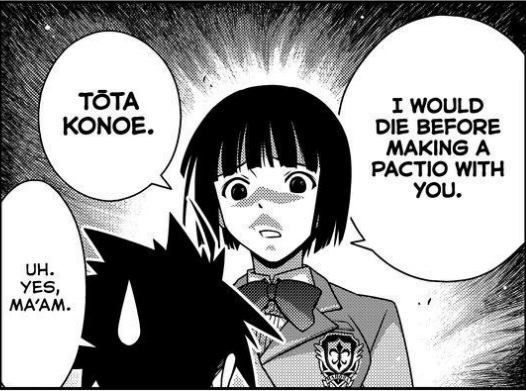 Final Thoughts and Conclusion
I keep jutting back and forth between writing this review of UQ Holder chapter 151 and dealing with constant dings from offshore. As such, I need to get my review wrapped up.
Dana doing a disappearing act made me roll my eyes. 🙄 I am hoping we'll see Karin actually forced to undergo some Dana training.
I liked seeing Chamo in his ermine form, complete with mustache. 😆
I also liked seeing Touta actually crack the books to study. So glad his character is no longer annoying like it used to be.
In the end, UQ Holder chapter 151 is a pretty good chapter, hopefully marking the beginning of the close of the Kuroumaru gender thread, where Kuroumaru ultimately becomes a lovely girl.