ユーキューホルダー! 魔法先生 ネギま!2 Manga Review
UQ Holder! Mahou Sensei Negima 2
UQ Holder!: Magister Negi Magi! 2 Chapter 153
UQ Holder Chapter 153

SPOILER Summary/Synopsis: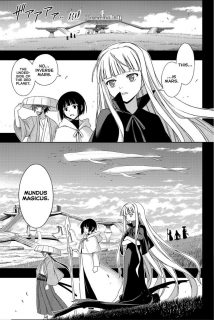 Karin is stunned at Eva's battle skills as Eva defeats Karin. Karin decides to follow Eva, having come to the conclusion that Eva is not attached to a group of evil wizards Karin was after. As they travel together, Eva tells how she was created to be a fake shinso vampire. Eva also speaks of how the Mage of the Beginning took the weak and powerless and led them to Mudus Magicus, aka: Inverse Mars.
Sometime later, mages from Mundus Magicus came to Earth, taking advantage of things like the Black Plague. Because mages from Mars are more powerful than mages from Earth, they could easily take control. Eva reveals that her goal is to destroy these Martian mages.
Eva heads out on her own to attack a lord whom Eva believes might be an impostor based on reported changes to the lord's behavior. However, Eva gets trapped when the mage lord springs a trap, blocking her magic but not his. Karin shows up, using her holy magic to defeat the lord. The level of power Karin uses is more than she's ever used, thanks to Eva's words about Karin being allowed to live and the power a blessing.
Both sense great danger as a child in rags enters the room. The pair think the child is a survivor, but too late, Eva realizes the child is dangerous. The child uses strings of some sort to butcher Eva. She attempts the same on Karin, causing Karin insane pain and the loss of clothing, but nothing else. Eva's head says that they are facing an actual High Daylight Walker, resulting in Eva being obliterated.
The shinso vampire attempts to slay Karin again, but fails. However, Karin is now pinned to the ground. Despite being unable to die, Karin has a panic attack at the power coming from the child. The child sprouts wings and continues to approach. She's rescued by a Japanese man, who teleports them to a far distance. a small Eva is clinging Karin as they continue to flee.
That night at a pub, the main introduces himself as Jinbee. Eva is surprised that a shinso vampire was involved since Dana had said that shinso don't have an interest in human affairs. The pub is attacked, so Jinbee teleports the patrons to safety, then the trio flee. Jinbee joins Eva and Karin as they battle the impostor mage's people. Eva mastered doll magic so that she could command an army of dolls and for 20 years, they battled these evil mages.
Eventually, the trio traveled to Mudus Magicus, where they travel to Megalomesembria.
Thoughts/Review:
UQ Holder chapter 153 gives us some interesting story regarding Eva, Karin, and Jinbee's team-up. Although Eva in UQ Holder is still shown to be somewhat weaker than how we saw her in Negima!, we get some funny results from this weakening.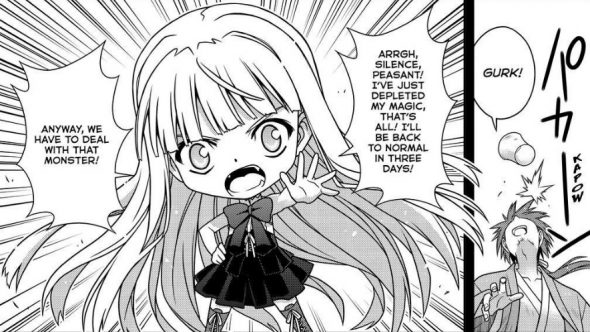 Karin Follows Eva
I'm not exactly clear on what exactly caused Karin to decide to follow Eva. After being soundly defeated and made to feel insane pain, Karin decides she's going to follow the evil shinso vampire wizard around 'cause "reasons."
The visual irony of Karin following Eva around was not lost on me. Akamatsu-sensei purposefully did this to evoke a reminder of Eva following Nagi around.

I had a third point, but my original piece got shredded during a PC failure. ? This really has not been my month.
That aside, once Karin and Eva are battle companions, Karin's devotion to Eva does make sense, seeing as how Karin was able to access her holy powers to their fullest extent.
A Brief History of the Magic World
One nice thing that is in UQ Holder chapter 153 is that Akamatsu-sensei decided to give us a brief history of Mundus Magicus. Reading how the Mage of the Beginning took weak and powerless people to Mars reminded me of The Darksword Trilogy. The difference being that MotB didn't just take mages to her Magic World.
We also learn that mages from Mars have been coming to Earth, and because Earth mages are few and weak, even the loser mages of the Magic World have no trouble dominating people of Earth.
For some reason, this made me think of the abandoned plot threads in Negima!, where Chigusa had a grudge against Western mages. Granted, Eva, Karin, and Jinbee are apparently in Europe and that could be influencing my thinking. But for Jinbee to leave Japan to go after a Western mage could be a sign that Akamatsu-sensei is willing to pick up that old plot thread again.
With the trio going on their hunt in the Magic World, it would appear that we are finally going to learn why Eva had such a massive bounty on her head. I'm rather excited for that.
The Fake Shinso High Daylight Walker
I have to admit that it still irks me that Eva was reduced from being an actual shinso vampire with the title High Daylight Walker to just some low-rent faux creation. All throughout Negima!, Eva was feared because when it came to "monsters," by her own admission, she was right near the top of the boss monsters. MotB was about the only person stronger than her.
For UQ Holder, Akamatsu-sensei needed to weaken Eva because otherwise, she's a deus ex machina character who can come in, lay the hammer down, and not even break a sweat. I get that and I had hoped that there was some sort of explanation for Yukihime seeming weaker. But then Akamatsu-sensei dropped the bomb that Eva isn't even a real shinso vampire, but is actually a fake. I was quite irritated to say the least.
Sadly, Akamatsu-sensei stuck that in my eye again with UQ Holder chapter 153 by having Eva remind us again that she's a fake. If it wasn't for the fact that her being a fake means she's a speck of dust under a real shinso vampire's foot, I might not get so irritated by this.
In my mind, MotB should have been able to create a faux shinso vampire on par with the real McCoy's. I don't know, maybe she did and it took 700+ years for Eva to reach that point, starting with Dana's training. (I still say her Yukihime persona seems way too weak). What you guys think? I'm interested to know.
The Real Shinso High Daylight Walker
While I may not like seeing a weaker Eva, on the other hand, I am cool with another shinso vampire showing up. And I had to shake my head 'cause it is another young girl who may as well be Eva 2.0. ?
Still, she established her credentials quickly by slicing Eva up with what I assume were strings of some sort. (Indeed, I was reminded of Eva's own "string" technique in Negima! to not only control dolls, but ensnare people as well.) Then this girl obliterated what was left of Eva, to the point that I'm not sure what piece was left for Eva to regenerate from.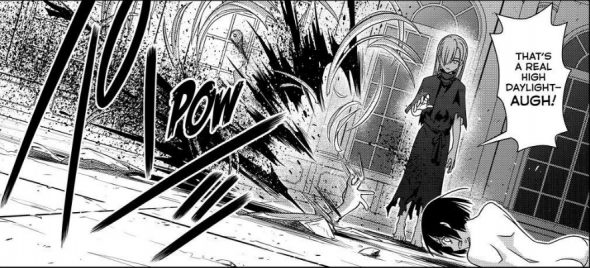 I can't figure out what it was that the shinso girl brought down on Karin to pin her to the ground. When Jinbee teleported Karin away, it seemed to me that he took a chunk of the floor as well, not whatever was pinning her. But I could be wrong there.
Now that this new loli shinso vampire has been introduced, I'm rather hoping that Karin's story will simply have them sealing her away. That way, she can be introduced in the present as a new threat for UQ Holder.
Jinbee Arrives
Although we aren't getting Jinbee's origin story, I do like it that he's shown up in UQ Holder chapter 153. As I mentioned before, Jinbee's pursuit of Western mage makes me hope that Akamatsu-sensei may have plans to explore that Eastern mages vs. Western mages plot thread.
That aside, I always had a sense that Jinbee had known Eva for quite some time. It would make sense to me that after meeting Eva in medieval Europe, he (along with Karin) would be devoted to Eva after having done so many things together. Plus, it is cool allowing Jinbee some more time in the sun, as it were.
Final Thoughts and Conclusion
As is the norm, I'm behind everywhere, so let me get my review of UQ Holder chapter 153 wrapped up.
Although Touta has an extended cameo to remind us that this is Karin's story, UQ Holder can function quite well without its supposed main character. Although Touta doesn't annoy me like he once did, I frankly love these flashback stories and want MORE of them. Sensei can even go into more details if he wanted, though the monthly format may prevent this.
Originally, the Karin story was reportedly only going to be two chapters. With Jinbee's introduction, I guess it is no longer Karin's story, even though she's telling it.
Before Karin wraps up her tale with Touta, I want to see the exact circumstances that lead Eva to have to rescue Karin.
Chibi Eva is cute and hilarious.
Finally, my life of late can be wrapped up in the panel below. ???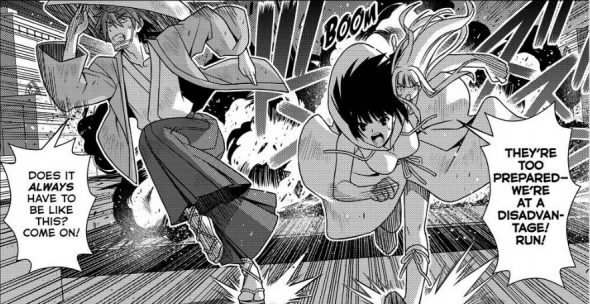 In the end, UQ Holder chapter 153 wove an excellent tale and introduced the true shinso vampires as a possible massive threat. I'm actually starting to think that Akamatsu-sensei may allow UQ Holder to continue on longer than I expected.