Tonikaku Cawaii Chapter 65
Tonikaku Kawaii Fly Me to the Moon 65
トニカクカワイイ 65
Spoiler Summary/Synopsis:
Tsukasa observers Nasa working on his computer. As she talks with him about the project he's working on, he continues to work. Tsukasa asks if he gets tired. He pauses for a moment and says that his shoulders and back hurt a bit.
Tsukasa asks Nasa to stop typing. Then to his shock, she grabs his shoulders. She gets out a mat and forces him to lay down so that she can give him a massage. As she gets to work, Nasa finds he enjoys this quite a lot.
Once she's done, Nasa tells Tsukasa he wants to give her a massage.
Thoughts/Review:
For Tonikaku Cawaii Chapter 65, Hata-sensei decides to look at the joys of a man getting a massage from his lovely wife.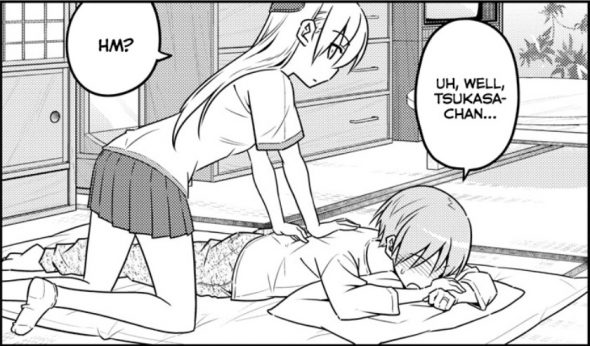 The Wifely Massage
Sometimes I wonder if Hata-sensei is trying to encourage young men that getting married has all kinds of benefits beyond sex. Japan does have the big problem of a declining population, so maybe this chapter is part of an effort to tell young men, "See? This is a benefit of getting married!"
Of course in real life, a massage like this would likely lead to sex between a husband and wife. But this is a shounen manga, so nothing too ecchi, which is fine by me.
Final Thoughts and Conclusion
In the end, Tonikaku Cawaii Chapter 65 is a fun chapter where a wife gives her husband a massage.