Space Battleship Yamato 2199 Anime Review
Star Blazers 2199: Space Battleship Yamato
Uchū Senkan Yamato 2199/宇宙戦艦ヤマト2199
Back in 2008, I finally got to watch the original Space Battleship Yamato TV series. I really enjoyed the series, though it suffered from things like 1970's cheesy stuff, poor character work, and action stories that stretch believably quite a lot. So when I learned that the original anime series was getting a remake in 2012, I was quite excited. Unfortunately, "this" or "that" had me putting it aside for way too many years.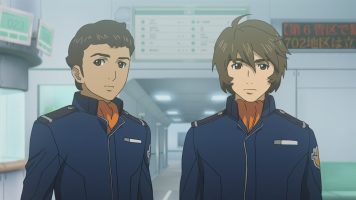 But, I finally broke open my Blu-ray purchases for Space Battleship Yamato 2199 (or as FUNimation calls it, Star Blazers 2199: Space Battleship Yamato). Its a shame I waited so long to watch the series 'cause it is a massive improvement on the original series, with only a few problems.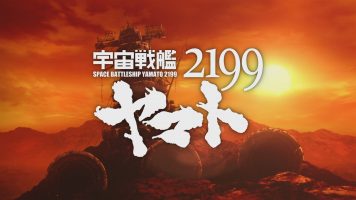 The Story In Brief (***MILD SPOILERS!!!***)
For those who don't know, the story for Space Battleship Yamato 2199 begins with Earth sending out a massive fleet to Pluto to attack an alien base there, run by aliens from the planet Gamilas. The Gamilans are attempting to conquer Earth from their base on Pluto. The Earth fleet is all but wiped out as a decoy to allow an envoy from the planet Iscandar to get through. She crashes on Mars and dies, but provides the last piece of technology to allow the humans to have interstellar travel.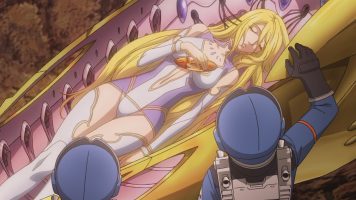 The humans have built a warship named the Yamato, which is disguised to look like the World War II battleship of the same name. By the time Gamilas discovers what the ship is, it is too late. Yamato then begins the trip out of the Milky Way and to the galaxy where Iscandar is. Because of its advanced technology, Yamato takes the Gamilans by surprise. However, the Gamilans leader, Abelt Desler-soto wants the ship destroyed at all costs, rather than let it reach Iscandar and ruin his plans.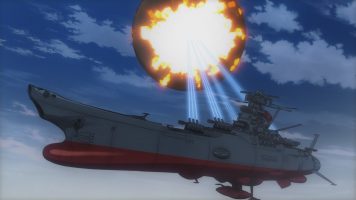 An Improved Story
The basic premise of the Space Battleship Yamato 2199 anime remains the same as the original anime series. However, the remake Yamato series makes some massive improvements to the story. The original anime series favored shounen action over drama. This resulted in Yamato battling week after week and still coming out on top. And to be honest, this stretches credibility quite a lot.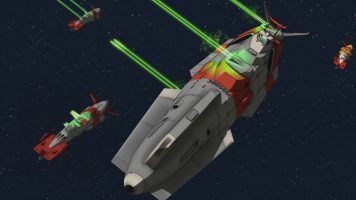 Space Battleship Yamato 2199 favors drama over action. (I'll cover the drama stuff in a bit.) However, it doesn't strip out all of the action. Certain key battles are still there. Only this time, the way Yamato manages to defeat the Gamilan forces comes off way more believable. That may be hard to believe for those who've never watched the original series, but trust me, this is the case. Also, we frequently see the crew of Yamato making repairs after battles, which was something I appreciated.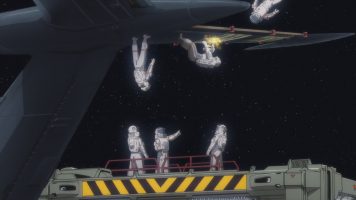 While the story of Yamato 2199 is vastly improved, it still isn't perfect. Some of this I'll discuss when I hit certain specific drama points. But there was a story arc dealing with certain members of the crew who were part of another project to find a colony world for the surviving humans to settle on. This needed more setup and a much better payoff than what the anime gave us.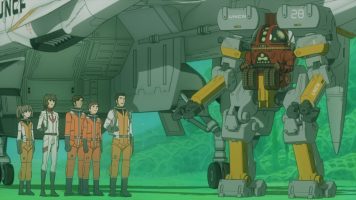 And finally, the terrible, cheesy storytelling elements of the 1970s has been removed. For example, Analyzer no longer sexually harasses Yuki.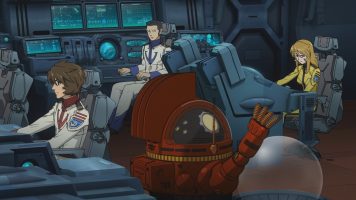 World War II Sea Battle Nods Remain
The original Space Battleship Yamato carried obvious ties to World War II, starting with the Yamato herself. That element of sea battles remains in Space Battleship Yamato 2199. As such, three dimensional space battles aren't really a thing. All ships basically operate as if they were ships on the high seas. That does make for some cool visuals. And it allowed things like the space versions of aircraft carriers and submarines to be used in a fashion as if done in World War II.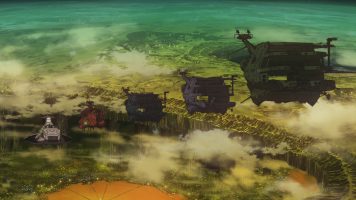 Speaking of submarines, this concept was cleverly done, although again, it ignores the three dimensional nature of space. That aside, I liked how the UX-01 travels in a subspace region, which happens to visually mimic being under water. So its battle with Yamato is an enjoyable one. And I couldn't help but like Captain Wolf Frakken and his crew.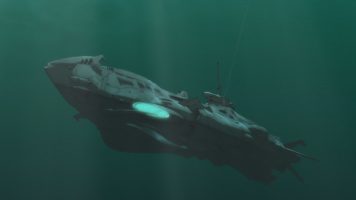 The Yuki Problem Fixed
In the original Yamato anime series, Yuki was the only female character. As such, they gave her an insane number of jobs. Here's a list of the jobs she did that I could remember.
Nurse
Radar Operator
Generic Bridge Operator
Moral Officer
Tour Guide
Botanist
Explorer
Pilot
Miner
Coffee Server
Fashion Model
Therapist
Hero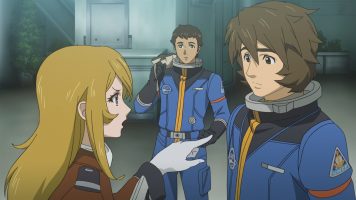 For Space Battleship Yamato 2199, Yuki is the Operations Officer. A main part of that job is being the radar operator. So she doesn't have to play nurse, miner, fashion model, moral officer tour guide. But, AIC/Xebec do make nods to some of her old jobs. At one point, she's given a plant as a gift. She asks Susumu to give her flying lessons and even briefly takes control of a plane during an emergency. She makes coffee in one episode, not as a job, but just because.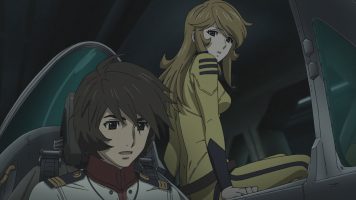 Yuki is still a hero, only more so in Yamato 2199. She is a strong character, and this is accomplished without making her ape a man or the like. In some ways, her heroism is greater than anyone else on the crew because of her experiences. But we aren't slapped in the face with this. It just is, and thus is awesome.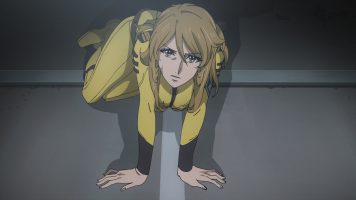 Yuki, Yurisha, Sasha, and Starsha
In the original Yamato anime, Yuki, Starsha of Iscandar, and Sasha of Iscandar all had identical character designs. However, I don't remember anyone even addressing this issue in any meaningful way. It was just one of those things that was swept under the rug.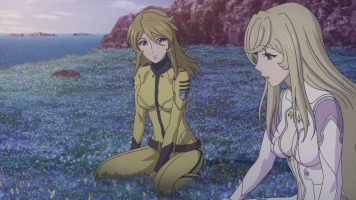 However, in Space Battleship Yamato 2199, the production team decide to actually address this issue. They even introduce a new character, Yurisha of Iscandar. AIC/Xebec do get a lot of mileage out of Yuki and Yurisha looking alike. And while the writers do answer an interesting question they raise, they don't ultimately answer why Yuki should so resemble Yurisha. That was a bummer, but I let it slide.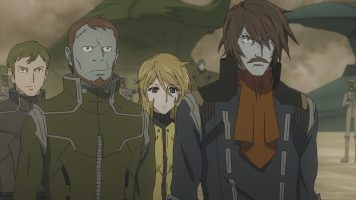 Romance Problems
One of the weakest character stuff in Space Battleship Yamato 2199 is how it handled romances. I give the new series credit for adding multiple female characters to the lineup. With that came more opportunities for romance. And yes, there was a marriage, but the romance leading up that was only touched on.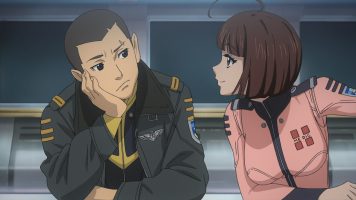 Yuki and Susumu have the primary romance as it came from the original series. While I liked that there was a progression of the characters from not liking the other very much to being in love, I just never felt it that strongly from the characters. That bothered me because in the original series, I felt it much more strongly there. With a little more work, their romantic storyline would have had more of an impact as the series came to an end.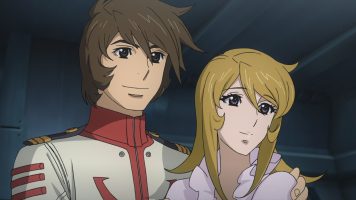 Susumu Improved
In the original Yamato anime, Susumu was kind of an annoying character. He was a hot headed guy who didn't think much before he acted. Space Battleship Yamato 2199 pays tribute to that part of his character by making him do an idiotic thing at the start of the series. But after that, Susumu becomes a much improved character. While I had issues with how his romance with Yuki was handled, his friendship with her came off well.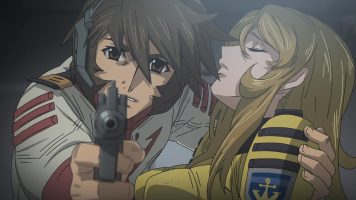 Also, I liked that Susumu wasn't the XO of the Yamato. He was still an important bridge officer. And while he retained his piloting skills, most of his fighter duties were transferred to Akira. She's the "new" female character whom Susumu transfers to the fighter squadron. It was actions like this that made Susumu more likable.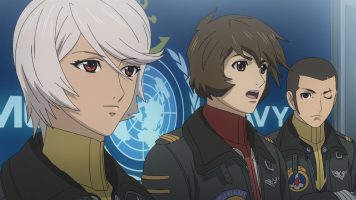 Also, while the loss of his older brother deeply affected Susumu, he didn't brood about it. Yes, he had a confrontation with Admiral Okita, but he didn't hold a grudge. He understood that his brother did his duty. And in that vein, Susumu did his. As such, I really liked Susumu this time around.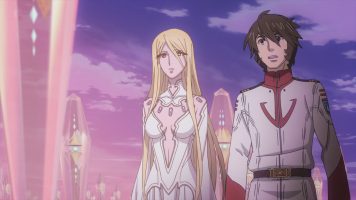 Domel Improved
Another massively improved character is that of Gamilan General Domel. While he is still a highly decorated and successful military leader, his command style is far less harsh in Space Battleship Yamato 2199. While he is loyal to his planet until the end, he doesn't have the same racist attitudes that other Gamilans have. One can tell that he has great affection for his troops.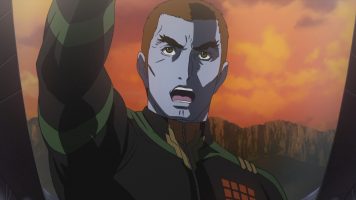 Also, the writers took the time to flesh out his character a great deal. He's given a wife this time around, and even a rather interesting political sub-plot to deal with on Gamilus. As such, his storyline is much more interesting, and when his story arc is resolved, it is pretty meaningful.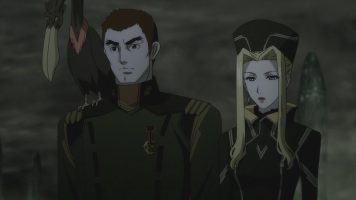 Gamilus
Another improvement made in Space Battleship Yamato 2199 is to rectify an issue that the original anime series had with the people of Gamilus. For whatever reasons, the people of Gamilus had their skin tones change over time in the original anime series. The writers of 2199 decide that any of the non-blue Gamilan is a race from a planet conquered by Gamilus and thus 2nd class citizens of the Gamilan Empire. This change provided for some interesting dynamics for Gamilus, moving them beyond a 1-dimentional villain race.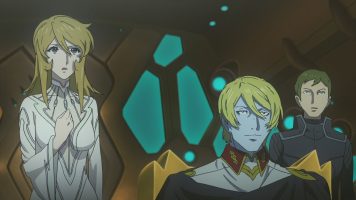 The motivations for Gamilus to attack Earth are much different in 2199. In the original anime, Gamilus is a dying planet and Earth is the perfect colony planet. AIC/Xebec do provide a tease that this could be the Gamilan plan. That is a more understandable reason to attack. But now, on a political level, Gamilus attacking other worlds is just to conquer. On a personal level for Gamilan Leader Desler, it is a bit more interesting.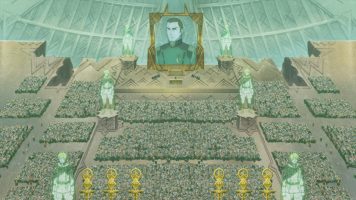 Iscandar
I've already mentioned that in Space Battleship Yamato 2199, AIC/Xebec decided to give Starsha a second, younger sister. Further to that, some of the technology that Starsha gave to Earth in the original series was not the case in the remake. And this provided for some dramatic conflict that felt just a little forced to me.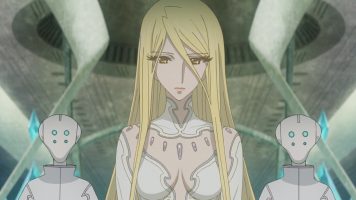 I think my biggest problem happens to be a big spoiler. So I'll wrap the text.
Spoiler on Iscandar
In the original anime, Iscandar was also a dying planet like Gamilus. The people of Iscandar were all dead, save for Starsha when Yamato arrived there. In 2199, all of the Iscandan people are dead, save Starsha and now Yurisha. But the planet itself is not dying. And there's no explanation as to what killed the people of Iscandar. I didn't like that.
[collapse]
FUNimation's Release
I didn't buy the more expensive blu-ray set from FUNimation, just the standard one. That said, the series is divided into two parts. Each case contains two blu-ray discs, two DVD discs, and a code for a digital copy of both parts of the series.
I can't speak to what's on the DVDs, but the blu-ray discs have a simple menu interface. When you choose the Japanese option, you are automatically set to subtitles. And those subtitles did NOT include having the OP theme translated or written out in romaji, which annoyed me. And of course, FUNimation's subtitles were going to ignore Japanese honorifics.
Further to that, one thing that irritated me to no end was the translator/adapter deciding to translate the -san honorifics as "Commander." So if a character is the captain of a ship? By George, if someone didn't address them as Captain, FUNimation decided to call them Commander instead. And that went for Admiral Okita as well. Seriously, what the heck is that all about? If you aren't going to use -san, but you want to use a military title instead, USE THE CORRECT ONE!
There Is No Star Blazers!!!
Finally, there's the BS "Star Blazers" naming convention. I don't remember who told me this (and it really doesn't matter because I'm not attacking them, nor do I want to), but I was informed that the Japanese decided to use the "Star Blazers" name as the official naming convention. And indeed, FUNimation uses Star Blazers 2199: Space Battleship Yamato Production Committee in the subtitles. But that's a lie. The Japanese do NOT use "Star Blazers" and why would they? Their production committee's name is Space Battleship Yamato 2199 Production Committee.
I get that when the original Space Battleship Yamato series was licensed for airing in the U.S., it was renamed as Star Blazers. This was because at the time, there was still a strong anti-Japanese sentiment in America due to World War II. So I guess that FUNimation wanted to try to capitalize on old fogies like myself who watched Star Blazers as a kid. I suspect FUNimation told the Japanese that they needed to use Star Blazers for marketing purposes, and the Japanese allowed it. But in Japan, there is no Star Blazers.
I doubt there were that many people who'd even care that much about Star Blazers. Pretty much over the years, the ones who watched the bastardized Star Blazers know the series is really Space Battleship Yamato. And maybe that's why FUNimation kept the real name of the series as a subtitle.
Final Thoughts and Conclusion
When it comes to remakes, Space Battleship Yamato 2199 manages to do things mostly quite well.