ユーキューホルダー! 魔法先生 ネギま!2 Manga Review
UQ Holder! Mahou Sensei Negima 2
UQ Holder!: Magister Negi Magi! 2 Chapter 162
UQ Holder Chapter 162
SPOILER Summary/Synopsis: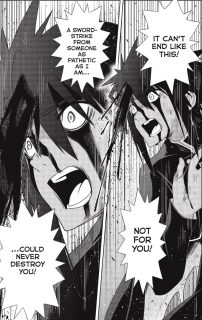 Ikkuu and Basago are battling the demonic hoards while remotely watching the fight between Jinbee and Juuzou. Jinbee flees, but still has massive attacks that Juuzou easily cuts through. Ikkuu questions how Jinbee obtained his "switcheroo" teleportation skill, since that couldn't have come from consuming the flesh of a mermaid. Basago speculates that Jinbee may have formed a pact with a demon during World War II. Ikkuu is shocked to learn that Jinbee has participated in all of the major wars throughout human history.
Juuzou cannot understand how Jinbee seems so relaxed in the fight. Further, he cannot fathom how Jinbee is strong enough to hold him off when Jinbee is not the most powerful fighter. Jinbee scoffs at the question, causing Juuzou to think back to his long history with Jinbee. Juuzou comes to the conclusion that he's never felt he could beat Jinbee. This causes Jinbee to challenge Juuzou's true motivation for becoming the strongest. And even if Juuzou defeats Jinbee, what then?
This causes Juuzou to go for Jinbee's face, where he separates his head from his body and causes the head to be diced up. However, this act causes Juuzou become frustrated, whereby he tears off the parasite mask partially controlling him. The parasite reforms from within Juuzou, demanding he forget about Jinbee and slay the other UQ Holder members. However, Jinbee's body is gone, only to be reformed on Juuzou's other side.
Juuzou goes to attack, but finds himself outside of his body. His astral form is with Juuzou's astral form. Juuzou questions what is happening. Jinbee can't explain, except to say it is part of his powers–the Board of Non- and Supreme Polarity.
Thoughts/Review:
Akamatsu-sensei uses UQ Holder Chapter 162 to begin exploring Jinbee's powers and past. And I'm OK with that.

Jinbee's Past
One thing I'm highly in favor of is character exploration. One of my frustrations in Negima! was a lack of character exploration. Akamatsu-sensei has done some character work with UQ Holder, so that we saw much of Eva's history, Santa's history, a bit of Kirie's history, and some of Karin's history (though a bit more could be done there). And we still need to explore Kuroumaru's history.
Jinbee was never on the A-team for the UQ Holder manga. However, I'm glad to see that UQ Holder Chapter 162 is taking the time to explore a bit of Jinbee's past. I like the notion that Jinbee fought in major wars throughout human history. And in World War II, he was apparently a Zero fighter pilot. To be honest, it would be kinda interesting seeing a spinoff manga with Jinbee during these different time periods.
The other element of Jinbee exploration is his teleportation power. We've only just touched on it, but it looks like the next chapter will explore this more. So I'm really interested in seeing more about it. I suspect Jinbee will be able to teleport the parasite out of Juuzou and thus free him.
Juuzou's Parasite
We finally see why Juuzou had to wear a weird mask in UQ Holder Chapter 162. He has a sentient parasite living within him. The way it regenerated and held a single eye really reminded me of a similar parasite in the Babylon 5 series. Rather than be buried in the victim's head, it was planted on the shoulder, but had tendrils running throughout the victim's body. And if this "Keeper"was removed from the body, it simply regenerated.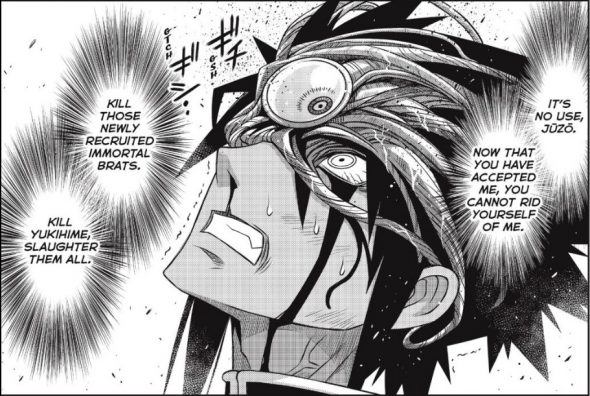 The parasite on Juuzou and a Keeper operate in a very similar fashion. The victim still retains their memories and providing they don't act against the interests of the parasite, they are free to do what they will. Those are always quite creepy. I hope we learn more about this parasite.
Final Thoughts and Conclusion
In the end, UQ Holder Chapter 162 ended up being more enjoyable than I expected, mainly because we started exploring Jinbee's past and abilities. And this chapter proves yet again that we don't need Touta at the center of everything to make the manga a good one.