Tonikaku Cawaii Chapter 72
Tonikaku Kawaii Fly Me to the Moon 72
トニカクカワイイ 72
Spoiler Summary/Synopsis:
Nasa reads a manga with a cliched onsen scene between a high school boy and girl who happen to end up in the same bath. Since he's married to Tsukasa, he figures there's no problem taking a bath with Tsukasa. About this time, Tsukasa shows up in a yukata. The two head to the yubatake (hot water field) part of Kusatsu. While there, Nasa asks about Tokiko. Tsukasa says they aren't related, but Tokiko is like a guardian for her.
The couple continue their walk, where they get some beef yakitori. They resume their walk, where Nasa suggests talking a bath together in their room's private outdoor bath. Tsukasa quickly changes the topic. They come upon a mixed bath, but when Nasa suggests going to it, Tsukasa declines in a way, suggesting she's saving bathing with Nasa for later.
Thoughts/Review:
And so Nasa and Tsukasa's honeymoon onsen trip continues with Tonikaku Cawaii Chapter 72.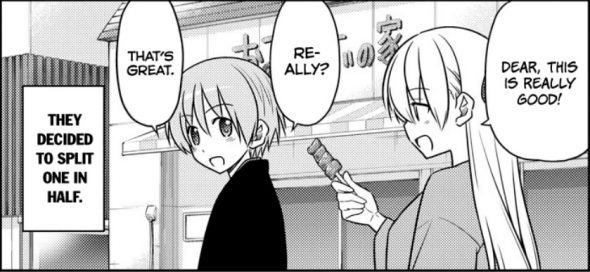 A New Take on an Old Trope
Hata-sensei clearly understands the old trope in anime and manga about the onsen scene. He did a version of that in Hayate the Combat Butler. But with Nasa and Tsukasa being married, Sensei can put a new spin on things.
The one nice thing about Nasa's character is that he isn't totally spineless. Sure, he has his moments of hesitation, but at the same time, his decisiveness is why he and Tsukasa are married in the first place. So Nasa being determined to get Tsukasa to take a bath with him is a new take on the old trope. And I've no doubt that the next chapter will see him succeed, based on previous moments of determination on the part of Nasa.
Tokiko
In Tonikaku Cawaii Chapter 72, Tsukasa confirms that she's been with Tokiko for a long time. The unofficial English version indicates that Tsukasa had been with Tokiko since she (Tsukasa) was small. And that is one way to read the original Japanese passage, according to series fan Syapaaye. If this is the correct reading, and Tsukasa is as old as we think, then so is Tokiko, only Tokiko is older.
However, Syapaaye also states that the Japanese could indicate that Tsukasa has been with Tokiko since she (Tokiko) was small. I rather suspect this may end up being the correct interpretation. The way Tsukasa described Tokiko as being clingy and causing a fuss over her reminded me of Chitose.
I actually think that Tsukasa found Tokiko, much the same way she found Chitose. Then over time, Tokiko grew up and took over "caring" for Tsukasa. And now, Tokiko is training Chitose to take over from her in the future.
Final Thoughts and Conclusion
In the end, Tonikaku Cawaii Chapter 72 continues the honeymoon story of Nasa and Tsukasa. But it also seems to hint at more plot stuff.