Tonikaku Cawaii Chapter 75
Tonikaku Kawaii Fly Me to the Moon 75
トニカクカワイイ 75
Spoiler Summary/Synopsis:
Nasa wakes up, remembering his steamy bath interlude with his wife. He vocalizes how cute Tsukasa was, leading her to reveal her presence. After he takes a quick, morning soak, he has a luxurious Japanese breakfast with Tsukasa. During breakfast, Tsukasa tries to play things cool, but she's actually panicked over what she'd done the night before.
Tsukasa turns down Nasa's offer to go back to their private, outdoor bath, citing the daylight. However, she does agree to go to one of the baths outside of their ryokan. Still, Nasa tells Tsukasa that he eventually wants to bathe in daylight with her.
After they check out of the ryokan, Nasa takes Tsukasa's hand to go buy some souvenirs for their friends. Nasa remarks on how warm her hand is. She attributes this to Nasa touching her.

On the train home, Nasa thinks back on the memories he made with Tsukasa. After revealing this to his wife, she says she also had fun and wants to do another trip with him. He asks if she'll bathe with him again. She will think about it, only if the lights are off. They compliment each other as the train moves along.
Thoughts/Review:
And so Nasa and Tsukasa's honeymoon wraps up with Tonikaku Cawaii Chapter 75.
Vanilla Romance
I've said this before, but I do like me some vanilla romance. Hata-sensei gives us a lot more of this with Tonikaku Cawaii Chapter 75. It is fun seeing Nasa and Tsukasa hold hands, or see them share a romantic moment on the train. Of course, that means there's not much to analyze of the like. But it is a strong endorsement for this manga series, if you like vanilla romance.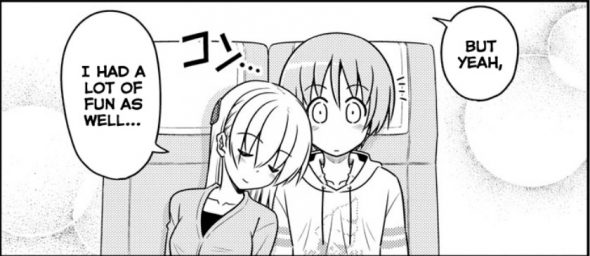 Plus, Nasa as the MC isn't the normal male in that when he wants something, he goes for it. That's why he'll get his wish when it comes to taking a bath with his wife during daylight hours.
Final Thoughts and Conclusion
In the end, Tonikaku Cawaii Chapter 75 is a fun, romantic chapter.