ユーキューホルダー! 魔法先生 ネギま!2 Manga Review
UQ Holder! Mahou Sensei Negima 2
UQ Holder!: Magister Negi Magi! 2 Chapter 165
UQ Holder Chapter 165
SPOILER Summary/Synopsis: 
Touta asks Yukihime a question before launching an attack on Ba'al. Nikitis intercepts him and the two battle. During the fierce fight, Touta reveals his belief that Nikitis was going to turn on Ba'al after defeating Touta. Further, Touta mentions his observations on Nikitis. This has lead Touta to conclude that Nikitis likes humans.
Meanwhile, UQ Holder has great difficulty dealing with Ba'al. After Ba'al basically defeats them, he states that he supports Ialda Baoth's (MotB) Cosmo Entelecheia (Cosmo Entelekheia). As he mocks them for not being able to do anything to them, Juuzou punches Ba'al. Nikitis comes in, punches Ba'al's heart out and destroys it. Ba'al orders Dana to attack, but a second Dana arrives to destroy Ba'al's puppet.
Dana attacks Ba'al as punishment for going against other shinso. After thoroughly beating him, he's left in a large crater, apparently defeated.
Thoughts/Review:
Well, UQ Holder Chapter 165 is basically a ton of fighting and a small amount of exposition.
The Fights
Maybe it is my age, but the fight stuff isn't that interesting to me. Well, maybe it is just manga fights, 'cause I still like well animated battles in anime. Or maybe it is just that the fight in UQ Holder Chapter 165 feels like it is just going through the motions and that's about it. Yes, these are incredible battle sequences, but I think back to how the fights in Negima! used to make me feel (not counting tournaments). I don't feel that when I look at the fights in UQ Holder.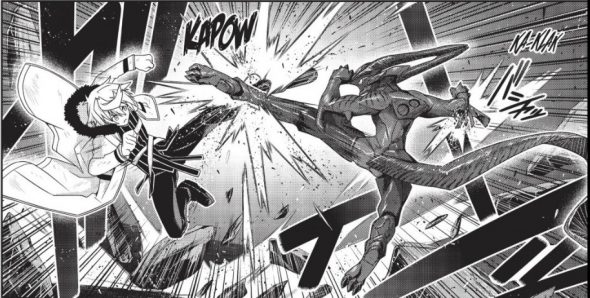 As I ponder this, I think that maybe the real problem is that we are dealing with two sets of immortals. So despite taking grotesque damage, we know that everything will be OK 'cause our heroes are immortal. Ditto the villains.
Ultimately, I think that's the problems. It is impossible to have proper stakes with immortals. In Negima!, I may have "known" that our characters would be OK, but the drama was there. Akamatsu-sensei might do something to our immortals to break the rules of immortality, but that too would kill the manga for me in another way.
One last problem is how things are just getting resolved 'cause "reasons." Nikitis switches sides 'cause "reasons." Ditto Juuzou before him. Dana suddenly overcomes possession 'cause "reasons." That's just not very interesting writing.
The Exposition
Basically, the only thing we learned from UQ Holder Chapter 165 is that Ba'al approves of Ialda Baoth's Cosmo Entelekheia (not sure why the spelling here got changed from what it was in Negima!). I would have liked to have seen more though. MotB supposedly took Eva and turned her into a pseudo shinso vampire. (I say "supposedly" 'cause these things could be retconned if Akamatsu-sensei decides to do so.) So what is Ialda's connection to the shinso in the first place?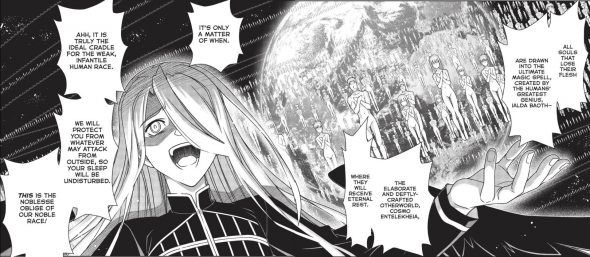 There's still time before UQ Holder ends to answer this question. I hope Akamatsu-sensei does do this. And frankly, I'd like the answers to be tied to Kuroumaru's people. That way, we have an excuse to visit Kuroumaru's world and people.
Final Thoughts and Conclusion
In the end, UQ Holder Chapter 165 is a lot of battle and a little bit of story. But sadly, I just wasn't jazzed. And yes, that does make me sad.
What are your thoughts? Let me know in the comments!