Tonikaku Cawaii Chapter 111
Tonikaku Kawaii Fly Me to the Moon 111
トニカクカワイイ 111
Spoiler Summary/Synopsis:
Tsukasa reads a flyer for a local ramen restaurant. She convinces Nasa to try the place out since it has a new menu.
Meanwhile, the ojousama MIYAKO (Myaako) Haru has a "dark secret" no one knows. She secretly goes to ramen restaurants and blogs about them. There's a line, but her research leads her to believe that she'll gain entry in about five minutes.
Her prediction is correct and she's seated with other guests. It turns out to be Nasa and Tsukasa. Miyako freaks out since Nasa is her computer teacher. Her hopes that he doesn't recognize her are dashed when he greets her. However, her panic is briefly forgotten when she's introduced to Tsukasa.
Miyako plays down her being at the ramen restaurant. Tsukasa orders the super spicy ramen. Since Tsukasa doesn't know if she'll be able to handle the heat, Nasa orders something mild so he can switch with her if needed. Miyako also decides to order the super spicy ramen.
After their order comes, Miyako tries to focus on her ramen, but is distracted by Tsukasa. Tsukasa tries the spicy ramen, but finds it too spicy. So she switches with Nasa. And Nasa forces himself to eat it.
Thoughts/Review:
Ah, Hata-sensei. Thanks for making me hungry for ramen in Tonikaku Cawaii Chapter 111.
Ramen
It figures that Hata-sensei would do a chapter on eating ramen. And because of Tonikaku Cawaii Chapter 111, I'm now hungry for ramen. It has been quite some time since I've gone to a ramen place. And my friend and I had to share a table with others due to the small size of the popular establishment.
I can understand Tsukasa wanting to try spicy ramen. But alas, there's no way to just sample a bite or two to know if a menu item is the right one for you. I recall last summer, taking my sister's clan to a Japanese restaurant. My one young nephew got super spicy ramen, which he loved, but it was a bit too much for him. But he didn't have anyone to switch food plates with. 😂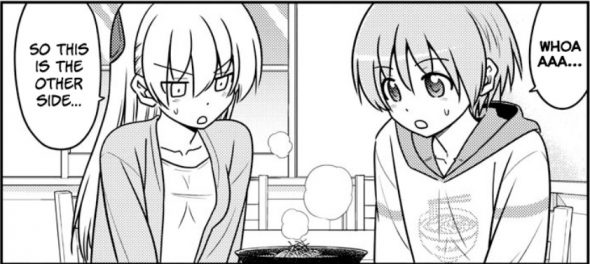 That aside, I may have to get some ramen sometime in the near future.
Miyako
For those of you who've read Hayate the Combat Butler, you'll remember the ojousama character Miki. That's who Miyako reminds me of. But I liked Miki, and I'm sure I'll like Miyako as well.
That aside, I did get a chuckle that her dark secret in life is being a blogger for ramen restaurants. I've followed a few food bloggers from Japan in my time. None were ramen bloggers. One was a cheeseburger blogger. The other one was just Japanese restaurants. But these food blogs are fairly popular.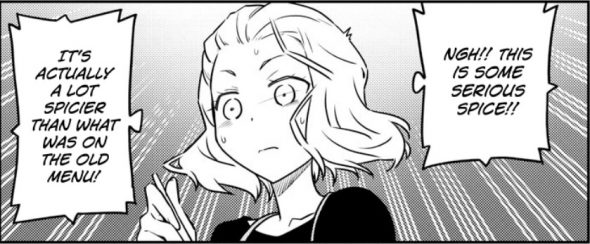 As such, I understood why Miyako would want to do a food blog. At the same time, I also understood why she'd want to hide things from her friends and family. Ramen and food blogging aren't ojousama activities.
Anyway, it was also amusing how her witnessing Nasa and Tsukasa together kept her distracted. No doubt Miyako will report back to her friends at school.
Final Thoughts and Conclusion
In the end, Tonikaku Cawaii Chapter 111 is a fun chapter that made me hungry for ramen.