D-Frag! Volume 13
ディーふらぐ!
D-Fragments 13
–> Purchase D-Frag! Volume 13 from Amazon.com
I love D-Frag. And as I've mentioned previously, with as insane as the world is these days, I need something to give me a laugh. Or at the very least, something to give me a big smile. And thankfully, D-Frag! Volume 13 did both.
NOTICE!!! In the interest of full disclosure, I should mention that I am the adapter for the official English translation of the True Tenchi Muyo! novels, which are also published by Seven Seas.
* * * S P O I L E R S * * *
The Story, in Brief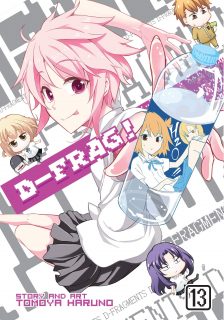 Roka and Kenji are playing a retro console game while Takao struggles to do her summer homework. By the time she finishes, Kenji is returning the game to an old friend. However, she manages to extend the game loan by a day so she can play.
Elsewhere, Noe and Ogawa are at a cafe trying to study. To Noe's horror, Tama joins them. When Tsutsuji shows up, Tama coerces Noe to go on a quest to rescue Naganuma's prized figure from Tsutsuji's school. They are joined by Ogawa and Sakura. However, while Sakura manages to secure the figure, she's leaves Noe to fend for herself. But, Sakura texts Kenji, who comes with Tama and others to rescue Noe.
Noe sulks because of this. As such, Sakura, Ogawa, and Tsutsuji have to find a way to bring her out of it.
Sometime later, Roka and Takao brave the heat to do club activities at school. However, they have to go out of their way to convince Kenji to come to school for his club activities. At school, Nishinaga-chan is horrified Chitose and Tama battle as they step on Ataru along with Akitsu.
At the Game Development Club, Inada becomes suspicious of Takao's attitude. She discovers Takao is living with Kenji along with Roka. As such, she attacks Takao, causing Takao to flee to the Game Development Club (Temp). However, they are playing a VR game and do not know Takao is there. Takao owns up to Inada.
Finally, Takao is upset with Roka and Kenji for eating ramen when they knew she was making nikujaga. At the grocery store, Takao has lost her family recipe, but Funabori helps her buy ingredients.
Good Times
With D-Frag! Volume 13, there's more story stuff dealing with Roka, Takao, and Tsutsuji living with Kenji than there was in the previous volume. This started with Takao trying to do her homework when she'd rather play retro video games with Kenji and Roka. I have to say that I was amused by this, mainly because I can empathize with Takao. When it came to school work, I always wanted to goof off instead.
The funniest part of Takao living with Kenji and Roka is when Inada found out. Takao freaking out over having brought a baby spoon with Kenji's name on it was funny. But Inada's reactions were funnier. And then when Kenji calls Takao for a dinner request while she's doing club stuff, Inada's reaction to that made me laugh out loud.
Still, once Inada calmed down, she's her usual, supportive self.
Noe-chan Love
Haruno-sensei decided to give Noe some love by giving her a story in D-Frag! Volume 13. I laughed at how Tama, without trying, ended up manipulating Noe to go on this quest to Tsutsuji's school. The quest itself was pretty silly. Heck, showing the shadows of Kenji, Tama, and the big gang Kenji defeated coming to rescue Noe seemed more interesting. But I still enjoyed this Noe-chan love.
The aftermath was fun. That said, when Noe was sulking, she turns OFF the A/C when she's clearly roasting while being wrapped up in a futon. I don't get that mindset. It seems a lot like cutting off one's nose to spite one's face. However, I have seen this in D-Frag before, and in some other manga that eludes me at the moment.
Final Thoughts and Conclusion
I'm desperate for sleep at the moment, so let me wrap up my review of D-Frag! Volume 13 with some final thoughts.
The weakest chapter came from the 100 chapter celebration. It was OK, but nothing special.
Ataru showing off his masochist side made me laugh more than it should. This was mostly due to Chitose showing off her skills at stepping on Ataru, then Tama and Chitose having a battle of sorts.
The one omake chapter had more Takao-mama trolling goodness. She really is one of my favorite characters in the manga. And clearly, Haruno-sensei loves her as well.
In the end, D-Frag! Volume 13 is a very fun, enjoyable manga with some good laughs to boot. And now I'm caught up with the American releases until the next volume drops.