Tonikaku Cawaii Chapter 125
Tonikaku Kawaii Fly Me to the Moon 125
トニカクカワイイ 125
Spoiler Summary/Synopsis:
Aya chats with Tsukasa about the paranormal. Their discussion leads to the abandoned mansion on the edge of town. Tsukasa mentions that Nasa's students wanted him to accompany them for a film trip, but he refused. Aya races to find Nasa so she can berate him. Since she really wants to go, Nasa says he'll ask.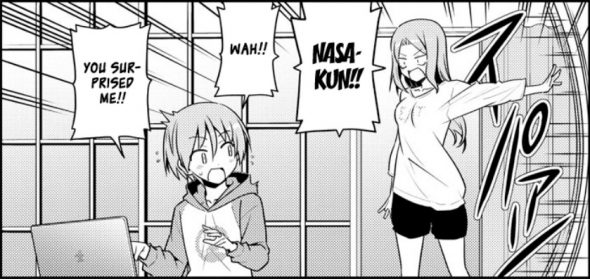 Meanwhile, Hakase has a problem with the film's development. They need a protagonist, and Kaguya is otherwise disposed. The night of filming comes and the group gathers outside the mansion. Nasa's students are stunned to see Aya, whom they know as the popular streamer Ayapi. As such, Hotaru asks Aya if she'll appear in their film, and she agrees.
Meanwhile, Tsukasa is interested in seeing the furniture left in the abandoned mansion. She gently teases him about being scared of ghosts. Nasa decides to ask if his wife is afraid of ghosts. Conveniently, Hakase calls everyone together to explain things, including a grudge that resides at the mansion. As she talks, Kaguya is already inside the mansion.
Thoughts/Review:
Hata-sensei used Tonikaku Cawaii Chapter 125 to prep for a return to one of the central locations in Hayate the Combat Butler.
Scheming Girls
I'm not sure what Hakase is up to, but clearly she and the other girls are up to something in Tonikaku Cawaii Chapter 125. And Hakase is the one up to the most. I suspect she dispatched Kaguya to the mansion to be the ghost and scare others. But why Kaguya would make a good person on screen eludes me.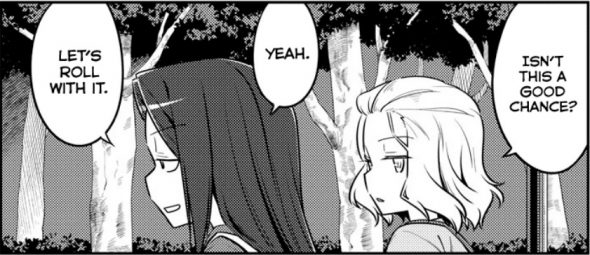 I got a kick out of Aya being a popular streamer who's now being used in whatever scheme is going on. But it will be interesting to see this scheme unfold. And considering this is Hata-sensei, I can see the scheme backfiring on the girls.
Furniture Hunt
I don't get why Nagi would (1) abandon her mansion and (2) leave all her furniture there. I could see Nagi selling the mansion, with or without the furniture. And I could see her selling her furniture if she weren't going to live in the mansion. However, Tonikaku Cawaii Chapter 125 seems to indicate there will be enough furniture there for Tsukasa to get ideas on furnishing Nasa and her new apartment.
Still, I do remember seeing something online where folks explore abandoned homes. And some of them are still packed with furniture, clothing, and other belongings. It is a weird notion to me, but I guess it happens.

Final Thoughts and Conclusion
In the end, Tonikaku Cawaii Chapter 125 preps us to return to a central location in Hayate the Combat Butler–Nagi's mansion. I'm looking forward to seeing what happens.