ユーキューホルダー! 魔法先生 ネギま!2 Manga Review
UQ Holder! Mahou Sensei Negima 2
UQ Holder!: Magister Negi Magi! 2 Chapter 179
UQ Holder Chapter 179
SPOILER Summary/Synopsis: 
Gengorou opens a portal so that he, Jinbee, Kuroumaru, and Touta can escape. On the other side of the portal, Touta sees a town on the back of a giant, floating ship. Sept greets them as Jinbee explains they are in the World of the Rift, which is why Touta's pactio cards ceased to work.
Nikitis comes out to greet Touta and to brag. He then takes Touta on a tour of the ship. Nikitis describes himself as Captain Curator, as he's the ship's captain as well as the curator of the massive libraries on board. Apparently, this ship had been Negi Springfield's final workshop. After finishing the tour, Nikitis goes to bed while Touta is shown to his luxurious room.
Touta inquires as to the status of Kirie, Karin, Santa, and Ikku. Jinbee informs him that Ikku has joined the enemy, after being infected with the Internet virus. Further, Ba'al's people created the virus by first evoking a lesser version of Cosmo Entelekheia (Entelecheia). This was fused with the necromancer Sayoko's technology.
Jinbee states that Karin, Kirie, and Santa are gone. But he feels that with Touta, they might be able to undo everything. Kuroumaru says that they've sealed Santa in an Ojizou-san statue to save him. Touta is about to free Santa when the ship comes under attack. One of Ba'al's minions, Fleurety, is there with a massive army.
Nikitis orders the ships engines activated, but Ikku shows up and takes over the ship. Ikku slices Nikitis and injects him with nanobots, which negates Nikitis's regeneration. Ikku easily evades counterattacks and scolds immortals for scoffing at science. Juuzou slices off Ikku's arm, causing Ikku to get serious.
Thoughts/Review:
Man, Akamatsu-sensei seems determined to prevent anyone from guessing what he's going to do with UQ Holder. And UQ Holder Chapter 179 certainly continues that move.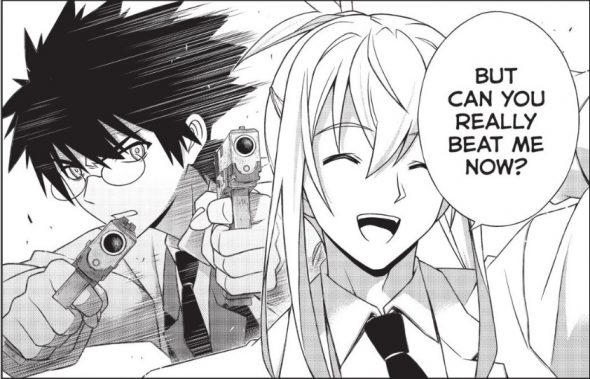 The Same, but Different
For a while now, I've speculated that the UQ Holder members would hiding in the rift, specifically with Dana. However, with UQ Holder Chapter 179, it was shown that UQ Holder are in the Rift, but not with Dana. Further, they are on some battleship with a large town on top. So the concept is the same, just the location is different.
Further, they have a workshop on the ship, that belonged to Negi Springfield. Unlike other workshops we've seen, this was is insanely huge, almost like the place under the Mahora library, only without the weirdness. So again, the same, but different.
Immortals vs. Science
In a world of magic and immortals, it is interesting to see Akamatsu-sensei inject science into the fray. As such, even a true shinso vampire like Nikitis succumbs to the power of nanobots as they prevent him from regenerating.
Then we see Ikku easily defeating Gengorou in combat, and mostly eluding Juuzou's attacks. Again, science is trumping the magical and the mystical.
As such, I wonder if science is what killed Kirie and Karin. Jinbee wouldn't talk about how they supposedly died. Now that I think about it, the phrasing of things is a little to clever. They may not be dead, but they may be indisposed.
Final Thoughts and Conclusion
It is 4:30am as I write this, and I'm falling asleep. So I need to wrap things up with some final thoughts on UQ Holder Chapter 179.
With the removal of Karin and Kirie, all that remains is Kuroumaru. The Japanese have been "discussing" Kuroumaru as a lovely girl for weeks on end now. I suppose Akamatsu-sensei could decide to be rid of the harem stuff for good, and just have Touta and Kuroumaru (as a lovely girl) together.
I liked how Sayoko was brought back into the story. It would be cool if she could come back somehow, but not as a villain.
Akamatsu-sensei brought out the big, red, reset button in this chapter. Now it is a matter of pressing it.
In the end, UQ Holder Chapter 179 was interesting. But for some reason, didn't feel satisfying. I think that's in part to the loss of the harem girls.