Yashahime: Princess Half-Demon 08
半妖の夜叉姫 08
Hanyou no Yashahime episode 08
SPOILER Summary/Synopsis:
Towa bribes the tanuki Takechiyo to follow Setsuna and Moroha. Meanwhile, the pirate Riku pays Jyuubei a visit. He informs the youkai corpse merchant that he met Towa and plans to take all of the Rainbow Pearls for himself. Meanwhile, Yotsume flees to Kyuki, but is unable to elude Setsuna and Moroha. Kyuki bars the youkai from entering her cave, but grants him a purple Rainbow Pearl so that he can battle the yashahime.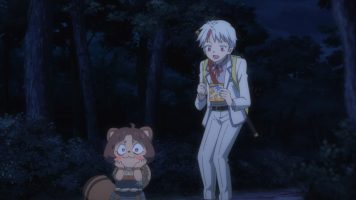 Moroha pins the now monstrous to the mountain, but he uses his new power to knock her out. Yotsume's powers don't work on Setsuna as she doesn't dream. Meanwhile, Towa arrives, but she and Takechiyo are also knocked out by the pinned Yotsume. Setsuna realizes that Yotsume is probing the others' minds and viewing their dreams. Setsuna slays Yotsume, freeing the others.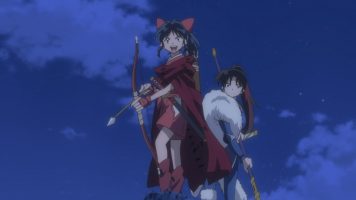 However, Kyuki uses the purple Rainbow Pearl to absorb Towa's and Moroha's youki, making them powerless. Setsuna engages the transformed Kyuki while Moroha educates Towa on Towa's youki stealing powers, which she'd previously used. Towa manages to absorb youki from the Rainbow Pearl, but is easily thwarted by Kyuki. Setsuna saves Towa from defeat, but is injured. This causes Towa to use her father's Souryuuha (Blue Dragon Blast) ability to defeat Kyuki.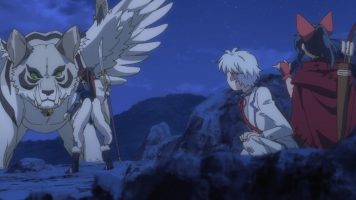 Towa returns to her sister while Riku slays the defeated Kyuki and takes her Rainbow Pearl. Riku presents himself to the girls as Takechiyo introduces him as Jyuubei's client. The tanuki gives Moroha a bag of gold for defeating Kyuki.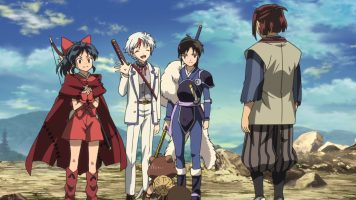 Thoughts/Review:
Whew. Well, it took a while, but I'm back and have finally watched Yashahime: Princess Half-Demon 08. And thanks to a convenient plot device, we got teased with a bit of backstory.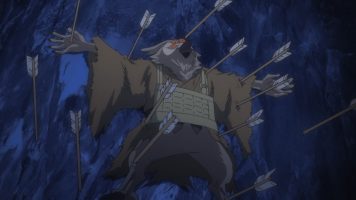 Takechiyo
I can understand why the tanuki Takechiyo would be with Miroku. After all, Miroku's frequent assistant was the tanuki Hachiemon (whom Viz decided to rename "Hachi" 'cause Viz sucks). What I can't understand is why Miroku would take a child tanuki and place him into servitude with some sketchy youkai corpse dealer. I guess the situation was so dire, he had no choice.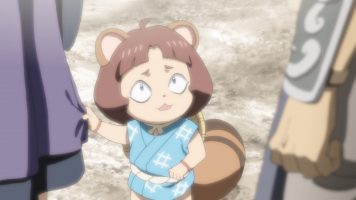 Moroha
I don't know how Moroha can have a memory dream from when she was an infant. Nevertheless, that's what Yashahime: Princess Half-Demon 08 wants us to believe. Now it makes sense why Inuyasha and Kagome were separated from their daughter. They gave her to Hachiemon to save her from Sesshoumaru and Kirinmaru. The fact that Inuyasha and Kagome aren't around suggests that they are dead, or (since this is a shounen-type anime) sealed away somewhere.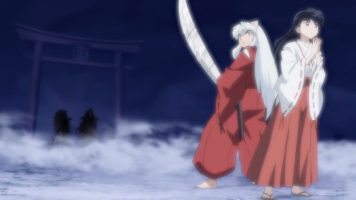 Setsuna's Dreams
Yashahime: Princess Half-Demon 08 gives us more of an understanding as to why Setsuna is plagued by the Dream Butterfly. I'm all but sure that the young woman sealed under the (Sacred Tree) Tree of Ages is Rin. And I believe Rin is the mother of Setsuna and Towa. As such, it would make sense that the Dream Butterfly steals Setsuna's dreams and gives them to Rin. I suspect this is to help keep Rin alive, or at least to a point where she doesn't give into despair.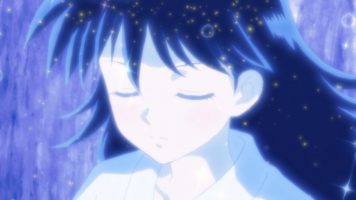 That aside, while I appreciated this memory dream fragment, how did we see it at all? Setsuna has no dreams, so how did Mary Sue Towa have a vision? Why weren't Towa's dreams visible to Kyuki?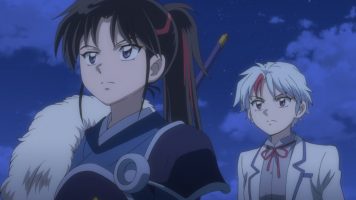 Mary Sue Problem
I don't know why Towa is being given the hard Mary Sue treatment. She's the weakest of the trio of girls, yet Towa is the one to save the day. And that's what happened in Yashahime: Princess Half-Demon 08. Even the powerful Riku, whom I suspect will turn out to be a youkai lord, seems ultra keen on Towa, more so than Setsuna and Moroha. Why?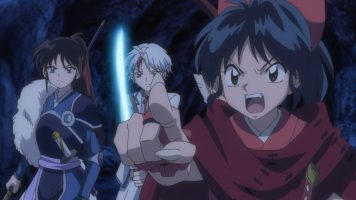 Are we supposed to believe that Towa, who lived in modern times, is more powerful than her well trained sister Setsuna? Or that Towa is more powerful than her well trained cousin Moroha? It really sucks that the writing for Towa is so poor. Going the Mary Sue route may not bother little kids, but after that, it becomes more and more troublesome.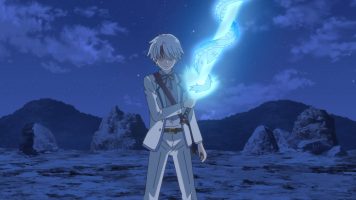 Final Thoughts and Conclusion
In the end, Yashahime: Princess Half-Demon 08 raises more questions than it answers. And it continues to push Towa as the Mary Sue heroine we've all dreamed of. But despite this, I still enjoyed the episode on the whole.