ユーキューホルダー! 魔法先生 ネギま!2 Manga Review
UQ Holder! Mahou Sensei Negima 2
UQ Holder!: Magister Negi Magi! 2 Chapter 185
UQ Holder Chapter 185
SPOILER Summary/Synopsis: 
Kirie happily reunites with Kuroumaru and Karin. Nanako (female Sept) decides to meet with the girls to find out how far they went with Touta. This leads to discussions on how often they had sex with Touta and where. Now that Kirie is no longer immortal, Karin asks her feelings on the matter. She's still happy to be part of the harem, even as a mortal.
Kirie is given a tour of the giant ship that was previously owned by Negi Springfield. This allows Kirie to be reunited with the other members of UQ Holder, who've been doing research. Jinbee discovers Negi's old artifact, hidden in a book.
They are interrupted by a transmission from Fate, who reports Cosmo Entelekheia (Csomo Entelecheia) has been started by Ialda, the Mage of the Beginning. As such, they only have a few days to stop her. Fate lays out a plan, which Touta and UQ Holder agree to. Nikitis instructs Touta to go to the rare book collection part of the ship, where the Great Paru-sama is docked.
Inside, Isana and Konoka are in cold sleep. The now somewhat older girls are awakened and ready to fight. Nanako, Santa, and Kirie are on Earth, looking for Negi's secret weapon. Karin, Kuroumaru, Isana, Honoka, Jinbee, Gengorou, and Touta prepare to be launched to Pluto. During this time, Gengorou explains his immortality and past to Touta. They launch to Pluto's orbit, but instead land on the planet. Meanwhile, Pluto's moon Charon is now on a collision course with Earth.
Thoughts/Review:
UQ Holder Chapter 185 contained 42 pages this time, which is two more than normal. However, Akamatsu-sensei did put these pages to some interesting usage.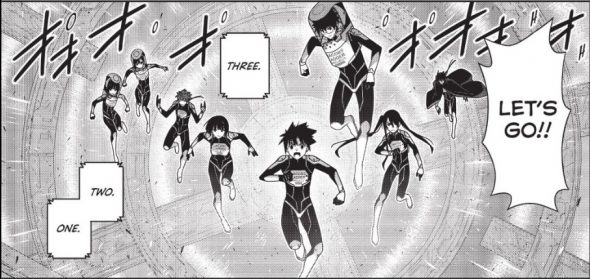 Girl Reunion
Akamatsu-sensei decided to use the first part of UQ Holder Chapter 185 to get a final bit of comedy in before getting into the action. As such, thanks to Nanako, we get the girls discussing the wheres, whens, and hows of their intimate moments with Touta.
However, we do get a bit of character stuff for Kirie, who reaffirmed her desire to remain in the harem, not just for Touta, but also for her friendship with Kuroumaru and Karin.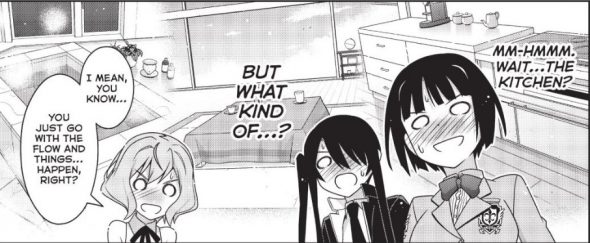 Gengorou Character Stuff
Speaking of character work, UQ Holder Chapter 185 also takes time to take a peek into Gengorou's past. Apparently, Gengorou came from the world that Kirie ended up getting sent to. He got hit by a truck and sent to the alternate Earth in the future, in a scenario similar to a popular yakuza game. He also picked up the ability to see this world as if it were a video game, complete with stats and the like.
What Akamatsu-sensei doesn't explain is how Gengorou got this ability nor his extra lives immortality. But we do learn that Gengorou apparently had a demi-human girlfriend (only seen from the back). Further, he has a reason to defend this new home of his.
So while ultra late in the game, no pun intended, at least we do get a bit on Gengorou.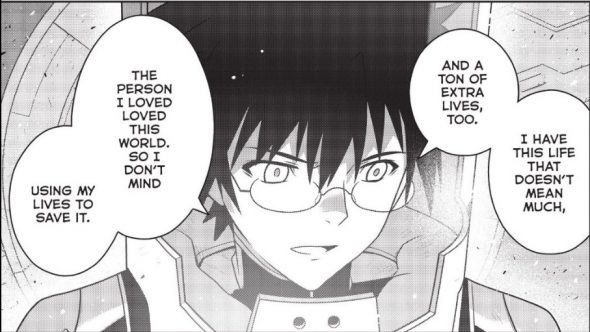 Negima! Connections
The first Negima! connection in UQ Holder Chapter 185 is Negi's artifact, which was hidden in a book. While it was cool to see, my thought was, "Why isn't this a pactio card? Why would Negi leave his pactio artifact active? Further, what mage is powering the artifact? After all, Negi had to partner with Princess Theodora. I think she's still alive (I can't remember for sure since I don't get a chance to reread UQ Holder), so she could still be powering it.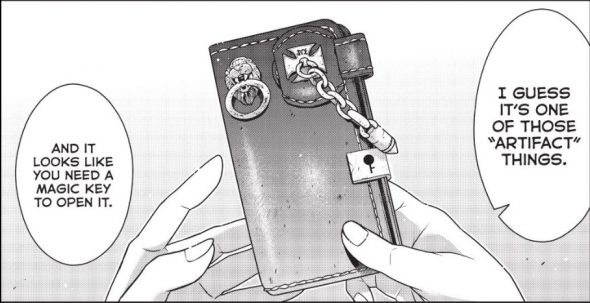 The second Negima! connection was the cameo appearance of Great Paru-sama. I do know that ship has appeared before in UQ Holder.
Finally, Isana and Honoka return. While they weren't in Negima!, they do appear to be the clones of Konoka and Setsuna. Akamatsu-sensei's method for having them around was interesting–keep them in cold sleep until needed, thus they've only aged a few years. And their reasons for agreeing to this made sense to. So yay.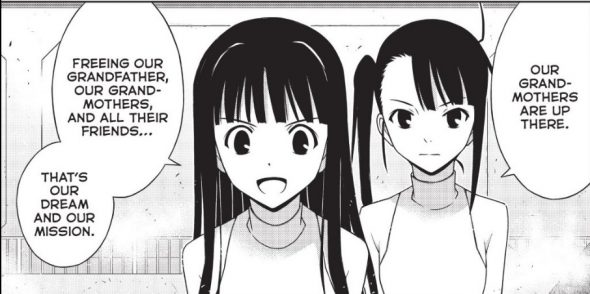 Final Thoughts and Conclusion
I'm way behind on getting my review of UQ Holder Chapter 185 published, so let me wrap up with some final thoughts.
You know, I have to call BS on space suits that are vaporized in route to Pluto for everyone BUT Gengorou, Isana, and Honoka, who'd of course die without them.
Sending Pluto's moon Charon to Earth smacks of the Negima! movie. Supposedly, the movie drew inspiration from an abandoned plot idea from Akamatsu-sensei. I guess he's going to use that plot idea after all.
In the end, UQ Holder Chapter 185 was a pretty enjoyable chapter. Now it is time for the big shounen battle.