Back to the Vaults! Tenchi Muyo! War on Geminar (Part 1)
Isekai no Seikishi Monogatari
異世界の聖機師物語
Having recently watched Tenchi Muyo! Ryo-ohki OVA 5, which serves as a prequel to Tenchi Muyo! War on Geminar, I felt the strong desire to finally break open my old Blu-ray set from FUNimation and rewatch the series for the first time in eleven years. And I must say, the experience of the second viewing was better than the first.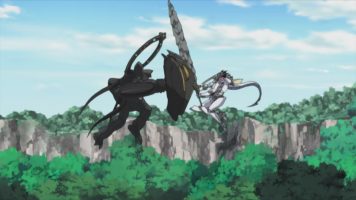 Note! I will be doing this in two parts. The first part will stick to the story and the FUNimation Blu-ray release. Part two will delve more into the lore aspects and its connections to other titles in the canon Tenchi-verse. You can check that out here.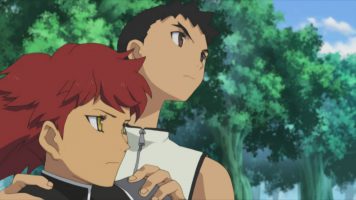 * * S P O I L E R S ! * *
The Story, in Brief
The story of Tenchi Muyo! War on Geminar starts with coronation of 12-year old Lashara Earth XXVIII. MASAKI Kenshi, who's a stranger to the world of Geninar, is tasked with helping assassinate her on her floating "island" ship, Swan. The assassination mission fails and Kenshi is captured. However, Lashara realizes that Kenshi is not a true threat. When she learns that Kenshi is from another world (Earth), she agrees to help him return home in exchange for officially being her attendant.
At the Holy Land, Lashara and her bodyguard Chiaia return to the Church school, which specializes in training Sacred Mechamasters (Sekishi) to pilot Sacred Mechanoids (Sekijin). Kenshi becomes very popular and is shown to be a very skilled worker. However, the fun ends when Lashara's uncle, Babalun, attacks the Holy Land in a bid to take over Geminar by resurrecting Gaia, an ancient and powerful Mechalord (Sekishin).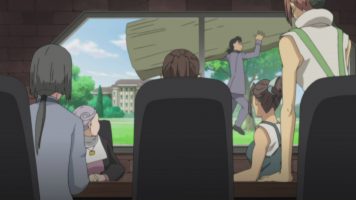 Kenshi escapes with his allies on the Swan, where Lashara attempts to get an alliance together. However, Babalun's forces and mercs, led by his son Dagmyer, press their attack. Kenshi's secret becomes known to the Church, so Kenshi purchases the Swan from Lashara and declares it to be an independent state to preserve his independence. Now with his allies and improved Mechanoid, Kenshi has to defeat Gaia.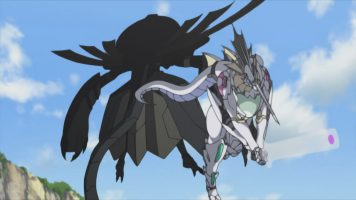 Story Thoughts
I'll be honest. The second viewing of Tenchi Muyo! War on Geminar was much more enjoyable to me than my initial viewing. That's not to say that I didn't enjoy the first viewing. For example, I loved the harem aspects (I'll discuss that more later). I enjoyed other comedy aspects of the show. I liked the story in my initial viewing. But I was frustrated because canon Tenchi franchise creater Kajishima-sensei left us in the dark so much.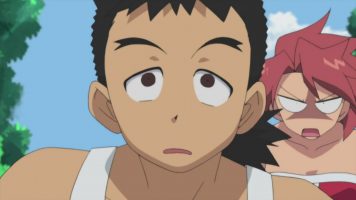 In the eleven plus years since I originally watched the series (man, where does the time go?), Kajishima-sensei has let us know a lot more about the story via other means. And I'll write more about them in part 2, where I discuss lore. That aside, now that I have that greater understanding of things, it made rewatching the series more of a joy, especially having just watched Tenchi Muyo! Ryo-ohki OVA 5, which acted as a prequel.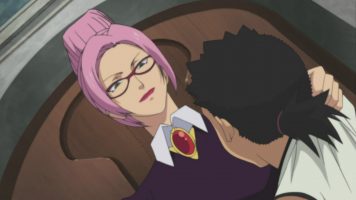 Still, I cannot deny that Kajishima-sensei's weakness in writing comes from his getting caught up in texture, then having to scramble to deal with the plots, which are quite good. And I enjoyed the plot of War on Geminar quite a lot. But to do a better job with the plot, Kajishima-sensei would have to sacrifice more of the fun, and he obviously didn't want to do that.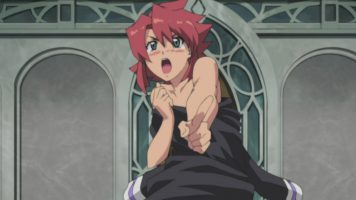 Plot Twists
One thing that Tenchi Muyo! War on Geminar has a lot of are good plot twists. Since it had been over eleven years since I last watched the anime, I only vaguely remembered what they were. As such, even though I thought, "I think there's something up with this character", it was a pleasure to rediscover that plot-twisting secret when it came up.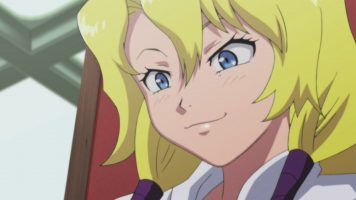 Sometimes, plot twists can be done in an annoying fashion. However, for this anime, I think Kajishima-sensei does them well. Obviously, having more lore knowledge makes the plot twists even more understandable. That said, even without that lore knowledge, Kajishima-sensei's story lays things out so that when one thinks back, one can see the subtle hints throughout that pointed to the plot twist.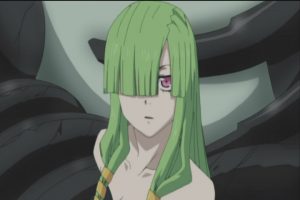 If you watch the English dub, and most will, some of the plot twists will be given away by it. That's rather unfortunate. Sadly, by the time FUNimation had licensed War on Geminar, they had already started going downhill as a company. But if you watch this in Japanese with subtitles, you'll be fine. More on the subtitles in a bit.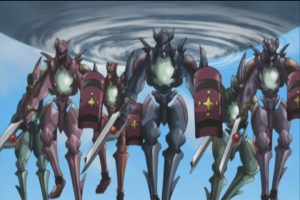 Characters

The main cast of characters in Tenchi Muyo! War on Geminar are very memorable and fun to watch. Because this is a harem title, Kajishima-sensei has created a wide range of male fantasy waifu types that at that point, weren't in his other works. For example, we get a Dark Elf princess babe, Aura. However, just because Kajishima-sensei worked to create waifu trope characters that weren't in GXP or Tenchi Muyo! Ryo-ohki, it doesn't mean the waifu characters were just 2-dimentional things.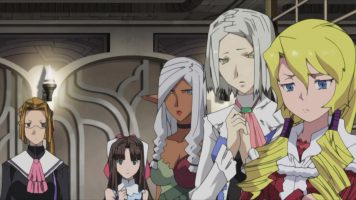 I mentioned Aura, but I'd actually like to focus on my favorite character, Lashara. One one hand, this 12-year old queen has some sharp political insight, thanks to her training and education in the matter. As such, she's no fool when it comes to her chancellor, and his political machinations. To that end, she's able to figure out that Kenshi meant her no real harm, even though he was involved in the plot to assassinate her. Later, she also gives her bodyguard Chiaia the freedom to commit a murder for love.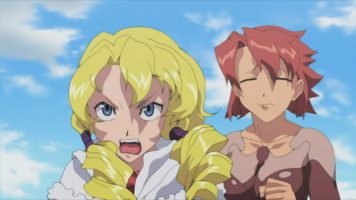 On the other, she's a scheming, greedy girl, looking for a financial score. Her maturity goes right out the door when she deals with her cousin Maria, who's the same age as Lashara and the princess of the neighboring Havoniwa kingdom.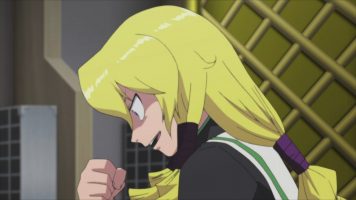 And yet, some very poignant moments came from Lashara's character development as the reality of losing Kenshi sets in on her.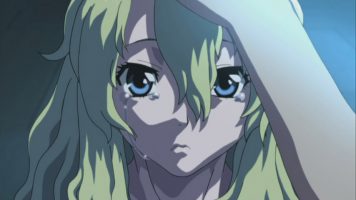 MASAKI Kenshi
Speaking of characters, the main character of Tenchi Muyo! War on Geminar should be talked about. On paper, Kenshi is a Mary Sue character. I think that if one has not watched any of the canon Tenchi Muyo! Ryo-ohki OVA series, this Mary Sue feel may come off much stronger. However, a lot of Kenshi's Mary Sue abilities are used to comedic effect throughout the entire first half of the series. To me, this negated a lot of the boring, Mary Sue trope traps as things are being done for laughs.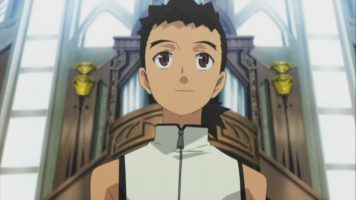 That aside, if one has seen at least some of the the canon Tenchi Muyo! Ryo-ohki OVA series, I think folks will further or completely excuse any Mary Sue elements. When the series first aired, I figured Kenshi's abilities were just inherited by blood. While War on Geminar does indicate that Kenshi did undergo some sort of training, it isn't until Tenchi Muyo! Ryo-ohki OVA 5 that we learn why Kenshi is so OP — he was trained by some of the most powerful people in the galaxy from the time he was born.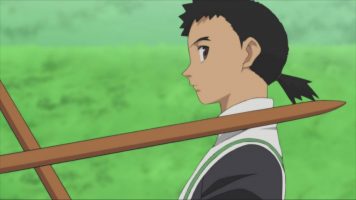 As such, the second viewing of War on Geminar was even more enjoyable, knowing that in fact what could appear to be Mary Sue elements, are in fact nothing of the sort. Kenshi earned his abilities by being trained to function on Geminar.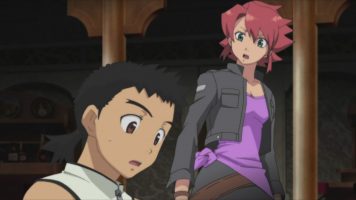 Harem, Ecchi, and Rape?
When it came to the harem antics in Tenchi Muyo! War on Geminar, I found them to MOSTLY be pretty fun and funny. Kenshi's popularity and being chased by the girls (for plot specific reasons) made me chuckle. And though it was wrong, Kenshi being hypnotized to give orgasmic massages to girls made me laugh in spite of myself. 😅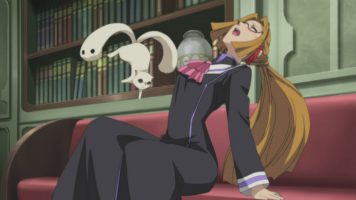 However, in typical Kajishima-sensei style, there's far too much unnecessary ecchi stuff in this anime series. Earlier, I mentioned how Kajishima-sensei gets caught up in texture and thus sacrifices time for plot. The ecchi stuff, whereby we waste a lot of time viewing and admiring semi-naked babes could be cut without any loss. However, Kajishima-sensei loves this ecchi stuff, so there it is.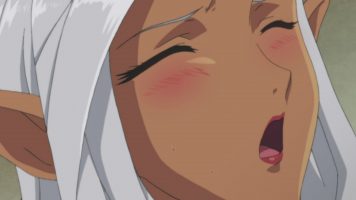 That said, I think Kajishima-sensei went a bridge too far with War on Geminar. I got the feeling that Mexiah may have forced sex on the 15-year old Kenshi. We were shown that she sleeps with her female students, so her banging Kenshi isn't remotely out of the question.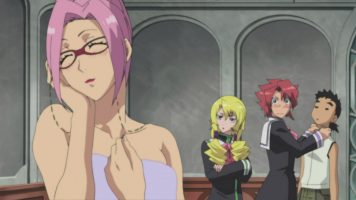 I has a stronger ick feeling with Queen Flora, whom Lashara and Maria had Kenshi give one of his orgasmic massages to. While I like her as a character, I didn't like her desperation to boink Kenshi. Yes, there's a plot reason for her and all female Sacred Mechamaster to want to mate with a rare male pilot. But man, it was too much for me.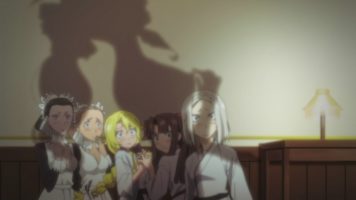 FUNimation Blu-ray Release
I bought the Tenchi Muyo! War on Geminar Blu-ray set when the "Complete Series" edition was released. However, I never bothered to open it until now. This release contained the series on DVD and Blu-ray. However, FUNimation makes no easily distinguishable means of determining the DVD from the BD. As such, I initially watched the DVD release and lamented how awful it looked.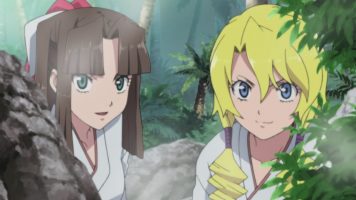 However, I eventually realized that there were too many discs for a 13-episode series, even at an hour each. It was then that I discovered that the disc "pages" shifted from holding DVDs to BDs. But other than a tiny logo, it is impossible to tell the two apart, and that sucks. (The 2021 release drops the DVDs, so that'll help.)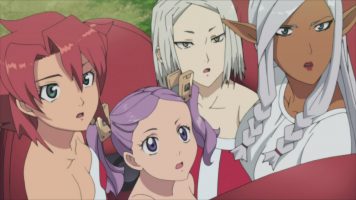 That said, I don't think there's any real difference content-wise between the DVD and BD releases. The BD release is visually better than the DVD, and the subtitles are easier on the eyes.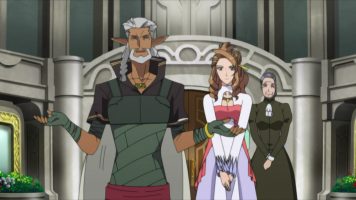 FUNimation Subtitles
As I mentioned before, by the time FUNimation licensed Tenchi Muyo! War on Geminar, they were already going downhill as a company. As such, FUNimation had gone from a company that cared about fans, to just a corporate "who cares, just give us the money" entity. That aside, I don't think the subtitles were bad in terms of trying to be accurate but readable, save in one area. And indeed, I think things are a bit more understandable in the official subs than the old fansubs.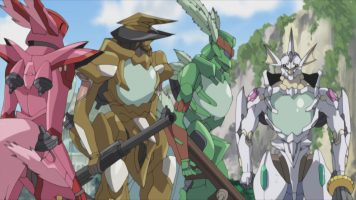 However, I do have my usual beef with the Japanese honorifics being stripped out. My goodness, the twists the author of the subs had to go through to try to come up with some forced English equivalent (or ignore completely) the Japanese honorifics. Lore-wise, the reason the galaxy has such a strong Japanese influence, including honorific usage, is due to what happened after Dual! Parallel Trouble Adventures. So in reality, what the English subtitles give you is wrong, wrong, wrong when it comes to the removal of Japanese honorifics.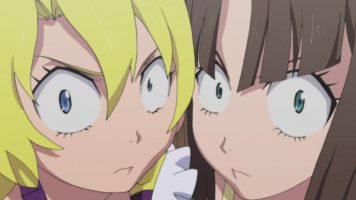 Final Thoughts and Conclusion
In the end, Tenchi Muyo! War on Geminar works quite as a harem comedy series. As a mecha series, it works pretty well. However, I felt the series main appeal comes from a cast of memorable characters, and a story that is quite interesting to follow. And if you are a fan of the canon Tenchi Muyo! Ryo-ohki franchise, watching War on Geminar is a must, more so if you saw OVA 5, which acts as the prequel.
Look for part 2 to come soon, where I'll discuss more lore-related aspects of the series.
Personal Ad: If you want to see and hear me playing some games, check out my YouTube channel, give me a subscribe, and say "Hi" in the comments of a video. 😃 https://www.youtube.com/c/AstroNerdBoy