Lupin the Third Part 6 – 07
Lupin III Part 6 07
ルパン三世 PART6
SPOILER Summary/Synopsis:
On the Thames, Lupin and Jigen sneak back into London by boat. Elsewhere, Inspector Lestrade escorts Lily home, where she has an intense headache. Still elsewhere, Sherlock Holmes solves a big case. That night, Zenigata and Yata find Lestrade at a pub. As such, the three go through a lot of booze.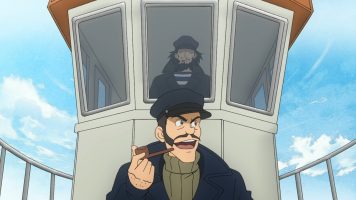 On a roof outside Sherlock Holmes's residences, Zenigata finds Lupin staking out the place. Zenigata demands to know if Lupin killed John Watson. Their talk is interrupted by a noise from what turns out to be an assassin. Zenigata and Lupin chase the man to a graveyard, where the assassin pins them down. Lupin IDs the assassin as Colonel Sebastian Moran.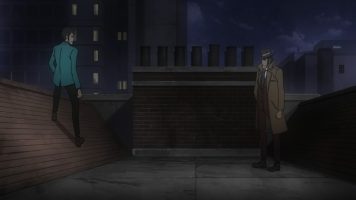 Lupin gets a call from Jigen, informing him that Moran isn't part of Raven, but is working for someone called The Professor. Since Moran still has the pair pinned down, Zenigata asks Lupin to explain what happened ten years earlier. Lupin states that Homes had been working on a case when a supposed member of Raven came forward to make a deal. He was put into protective custody, but escaped.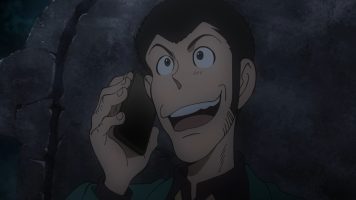 Lupin tailed the man, who met with a member of Raven. The Raven member kills the man. However, Watson showed up. The Raven man shoots Watson before Lupin can assist. Lily shows up as the Raven man escapes. However, she sees Lupin with a gun and assumes he killed her dad. Lupin speculates that Watson knew the Raven man and Lily saw him unmasked as well.
Zenigata decides to flush out the assassin. Lupin provides cover. They chase the assassin to a ruined church. There, Colonel Moran mocks them for suspecting Raven and escapes. Lupin reveals he knows Zenigata is really Holmes in disguise. With things settled, Holmes goes home to have breakfast with Lily.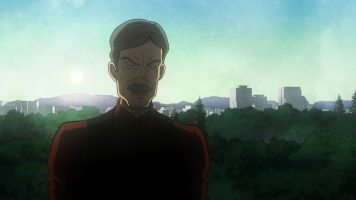 Thoughts/Review:
After some lackluster episodes, Lupin the Third Part 6 – 07 finally gets us back on track with the main story.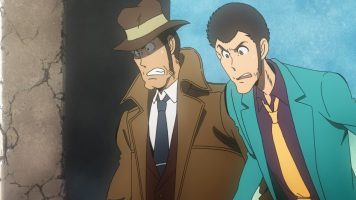 Calling on the Holmes Lore!
The writers of Lupin the Third Part 6 – 07 really called on the Sherlock Holmes lore. First was Lupin observing Sherlock Holmes's figure in the window of his residence. Clearly, this was a nod to "The Adventure of the Empty House" short story.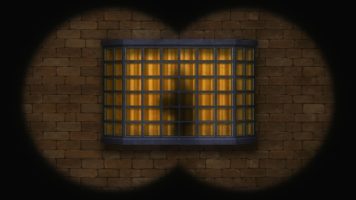 Further to that, Colonel Sebastian Moran is also the antagonist of that same short story. In that short story, Colonel Moran has a unique but powerful air rifle. And in this anime episode, the writers give him an equally unique and powerful air rifle.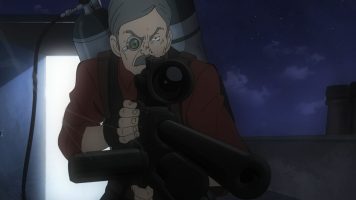 Finally, the episode mentions "The Professor". That is almost assuredly Professor Moriarty, whom Colonel Moran worked for. So I guess we can look forward to seeing Lupin and Holmes take on The Professor.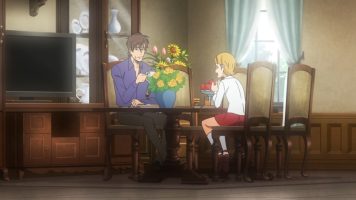 Sherlock Holmes and Lupin III
I have to hand it to the writers of Lupin the Third Part 6 – 07 — I was completely taken in by Sherlock Holmes being disguised as Zenigata. Sure, I initially questioned how Zenigata went from being drunk in the pub to sober on the roof with Lupin. However, I wrote this off as either happening later at night, or even another night.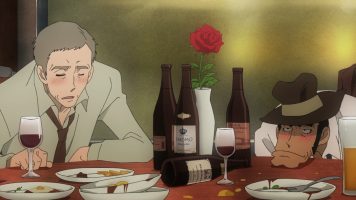 Still, since Sherlock Holmes used to disguise himself in the classic stories and novels, it makes sense that TMS would do the same for this anime episode. Thus disguised as Zenigata, the writers provided a great deal of backstory, explaining how Watson died and how Holmes knew Lupin didn't kill Watson. I really enjoyed how things played out.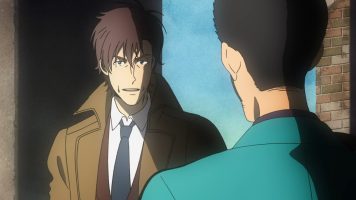 Now that Holmes and Lupin have basically squared things with each other, as I stated earlier, I look forward to the pair working together.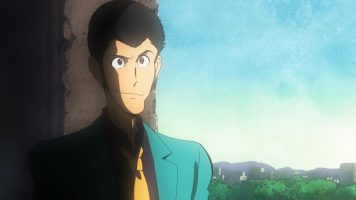 Final Thoughts and Conclusion
Let me wrap up my review with some final thoughts.
I still with the Japanese would have used English honorifics since this was set in London. Its so weird how sometimes they will, but most of the time, they won't.
Albert gets a cameo at the start of the episode. It will be interesting to see how he fits in later.
Goemon and Fujiko were not present in the episode. Jigen's role was rather limited. However, I did get a chuckle seeing what he did to obtain the information on Moran.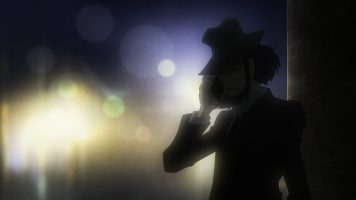 In the end, Lupin the Third Part 6 – 07 got us back to the actual story. The writers found an excellent way to provide a lot of exposition while paying tribute to more Sherlock Holmes lore.