My Senpai is Annoying 05
Senpai ga Uzai Kōhai no Hanashi 05
先輩がうざい後輩の話 Episode 05
SPOILER Summary/Synopsis:
Natsumi and Futaba are on their way home from a movie. They encounter a lost, blonde boy, whom they help. The grateful boy addresses both girls as "Oneesama", pleasing Futaba. However, Takeda notes that Futaba's pride is childish. Meanwhile, Kazama hears the guys discuss what kind of chocolates Sakurai will give. Later, Futaba is bummed Takeda isn't around. However, she cheers immensely when Takeda sends her a text to get some ramen.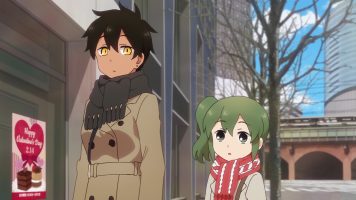 In the meantime, Takeda sees some thugs hassling the blonde boy. He saves the grateful boy. Futaba shows up, and the boy thanks her again for helping him the other day. Sakurai shows up, revealing this is her little brother, Yuuto. Takeda invites them for ramen, but Sakurai turns it down so that Futaba and Takeda can be alone. Futaba learns her senpai doesn't care much for sweets.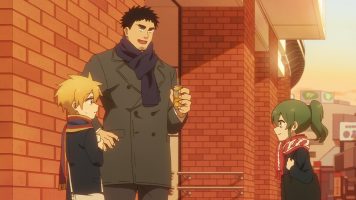 Elsewhere, Kazama is stunned when he observes a blonde guy with Sakurai. That night, Natsumi comes to Futaba's apartment. Futaba makes chocolate for everyone in the office. She ends up making something special for Takeda. The next day at the office, the guys are disappointed Sakurai hasn't given anyone honmei chocolates. Kazama is still stunned from what he witnessed the night before.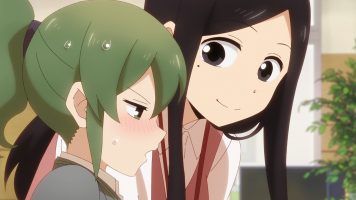 Sometime later, Futaba is depressed to see Takeda-senpai has expensive Govadi chocolates. However, she's cheered when she learns they are a client gift. Thus she gives her chocolates to him. Outside the office, Sakurai encounters the depressed Kazama. She gives him a unique chocolate bar. However, he thinks it is giri (obligation) chocolate. This offends Sakurai. However, when she learns Kazama saw her with her brother, she clears up his misunderstanding. This cheers him greatly.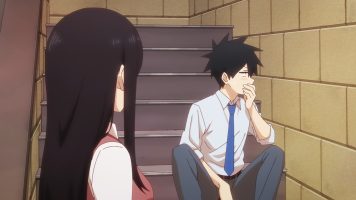 Thoughts/Review:
Time moves quickly as My Senpai is Annoying 05 takes us from Christmas in the previous episode to Valentine's day.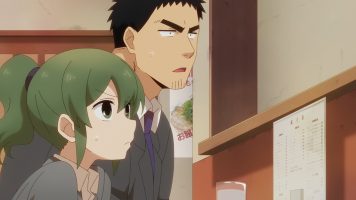 Valentine's Day Tropes
I can't say that My Senpai is Annoying 05 covers any new ground on the Valentine's Day trope. As the tsundere, Futaba acts the same as other tsundere girls at Valentine's day. Ultimately, she makes something she feels Takeda would like. Then she's happy when he does like it.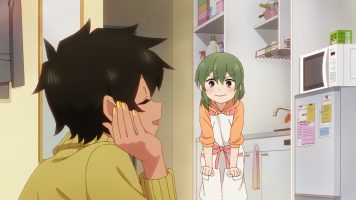 Next, we have the office guys wondering if the hot Sakurai is going to give honmei chocolates out. This too is a normal trope for Valentine's Day episodes. However, I did get a laugh when the "Russian" girl Mona injected herself into this trope. (I don't think she's actually Russian, but I can't remember what the manga said about her.)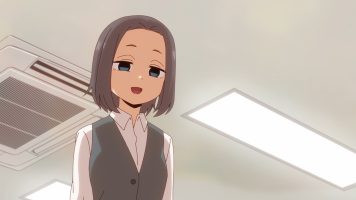 While Sakurai's and Kazama's relationship doesn't break ground (they aren't an official couple, which is another trope), their actions in the episode were very real to me. For Kazama, since he has a crush on Sakurai, seeing her with another guy was a devastating blow. I think most guys have been there before.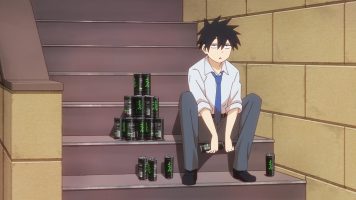 On the other hand, we have Sakurai's anger with Kazama. Women are fickle and unexpected things can set them off. When Kazama remarked on the chocolate bar that Sakurai gave him, he didn't mean to anger her. Yet his words pissed her off. It wasn't until Sakurai realized that Kazama thought she was dating the guy he saw her with (her brother) that she calmed down.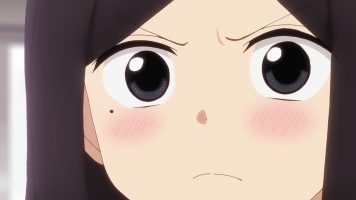 Final Thoughts and Conclusion
I'm running behind, so let me wrap things up with some final thoughts.
We finally get the introduction of SAKURAI Touko's little brother, Yuuto. I'm kinda curious how the anime will handle him, considering how he's a shounen trope type in the manga.
I did get a kick out of Futaba's pride at being called "Oneesama." Shame that really doesn't come through in the English subtitles.
You know, it wouldn't surprise me if somewhere in Japan, some ramen shop did sell Chocolate Ramen as a dish. 😅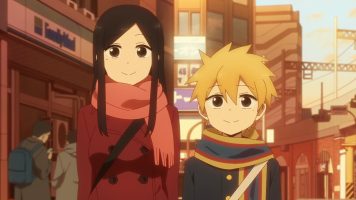 In the end, My Senpai is Annoying 05 was a mostly typical Valentine's Day episode. However, it was still a lot of fun to watch.