Yashahime: Princess Half-Demon 32
半妖の夜叉姫 弐の章 08
Hanyou no Yashahime: Sengoku Otogizoushi episode 32
SPOILER Summary/Synopsis:
Towa uses a lavender hand lotion, which causes the young spirit Akuru to show up. Rion and Riku arrive to warn Towa that Zero is planning to kill her. Zero pays a visit to the nobility youkai Nanahoshi. She snares him, planning to use his place as a trap. Elsewhere, Setsuna is with the youkai exterminators and uses the same lavender hand cream. Here too, Akuru shows up to smell the scent.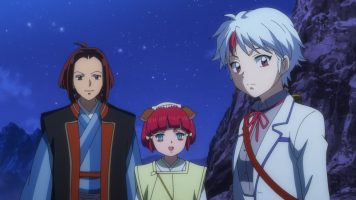 Towa has Rion ride on the back of her bicycle and the two talk. Kirinmaru descends. Riku comes to help defend Towa. Kirinmaru talks with Rion and is disappointed she doesn't understand why he sealed her away. However, he has to eliminate all who would stop his plans. Towa activates Zanseiken, so Kirinmaru decides to go all out. Towa starts to attack, but sees Akuru, who plays with the pedal on her bicycle. Kirinmaru realizes what Towa saw and departs, but not before blinding Riku.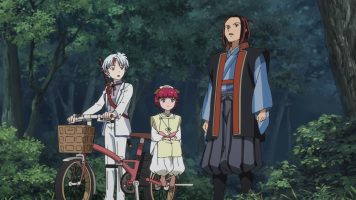 Kohaku's youkai exterminators meet up with the northern branch. They enter Gokoku Village, which is strangely prosperous thanks to a local shrine. They discuss the attacks by fiery cow youkai known as Engyuu. One attacks, so Setsuna defeats it. They meet with the village head, who informs them about the local deity, Mayonaka, who is supposed to control the herd.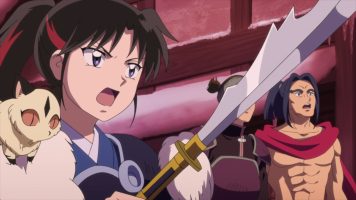 Meanwhile on Mamiana Island, Moroha is thrown into prison. She escapes as Takechiyo's little brother, Kikunosuke, takes a briefing. His adult aide, Mamiana-shogen wants Moroha to take revenge on her parents. Moroha flees, then turns and attacks. The Shogen is there with the giant Mangetsu-Danuki. Moroha becomes Beniyasha and attacks, though the Shogen isn't concerned.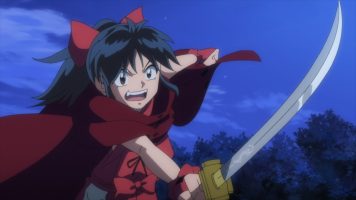 Thoughts/Review:
The yashahime are on separate quests as of Yashahime: Princess Half-Demon 32. Personally, I think this makes for somewhat more interesting viewing.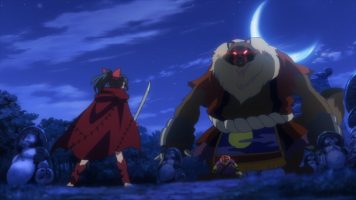 Moroha
Of the three storylines, Moroha's seems to have the least importance, at least at the moment. She's helping Takechiyo reclaim his "throne" in Yashahime: Princess Half-Demon 32. But so far, she's not doing that great a job. She was immediately captured last episode. Then she escapes prison and gains some intel. The episode ends with her confronting the Shogen and Mangetsu-Danuki.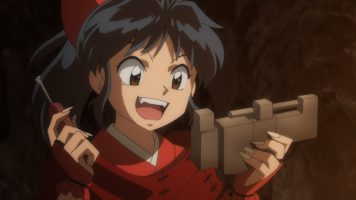 The only way I can see her story having relevance is if it helps her reunite with her parents. The Shogen apparently fought Inuyasha and lost. And he hates Kagome too. But will this lead to anything more? It is really hard to say.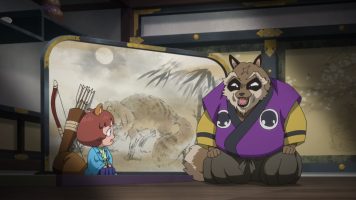 Still, I will stay that I got a good chuckle out of Moroha using a Swiss Army Knife to break out of her prison cell.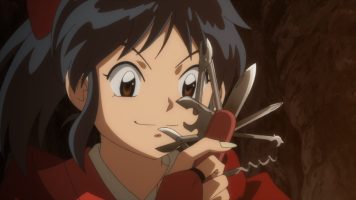 Setsuna
As to Setsuna, her youkai extermination mission north does tie into the main story via Akuru. As such, when Setsuna uses the lotion in Yashahime: Princess Half-Demon 32, Akuru shows up.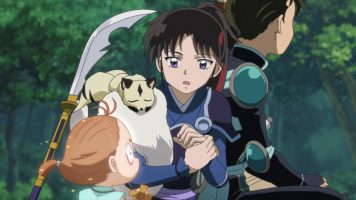 Beyond that, I don't know if the mission will help Setsuna in any way. The story so far feels more like a side story that will have no ultimate consequence on the main story. I predict Setsuna will defeat the local deity or change him from being evil to good. Well, I say "evil" because that's how Mayonaka is portrayed. We'll see how the story goes.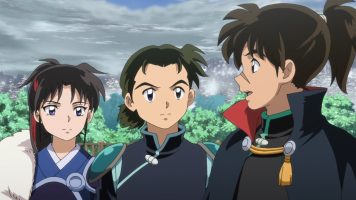 Towa
It figures that the writers would give Towa the main plotline to carry in Yashahime: Princess Half-Demon 32. She gets Riku and Rion as companions, thanks to Zero's threat against Towa. Towa gets to confront Kirinmaru. Through this, we learn that Kirinmaru needs whatever Akuru can do and thus Towa gets to live for now.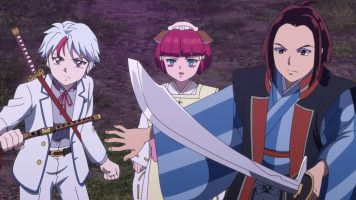 While the writers had Towa reference her combat flaw in this episode, they also seemed to try to sweep it under the rug. I guess Mary Sue still needs to be Mary Sue. And since Riku has been blinded (presuming this stays the case), Mary Sue has two people to protect, thus giving her MORE powers (or something like that). But we'll see where the story takes these three.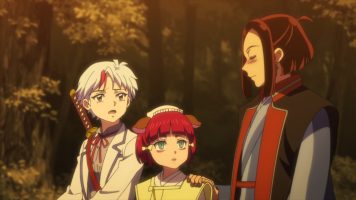 Final Thoughts and Conclusion
In the end, Yashahime: Princess Half-Demon 32 has us into three stories, one for each of the yashahime. While the importance of the three stories seems to be out of balance, I still am enjoying all three.