My Senpai is Annoying Anime Review
Senpai ga Uzai Kōhai no Hanashi
先輩がうざい後輩の話

Since I'm on Twitter, I follow a number of Japanese artists, manga-ka, and seiyuu. As such, some of the people they retweet open my eyes to some really good things. (And the occasional naughty thing, especially during Comiket. 😅) The My Senpai is Annoying josei manga by MANTA Shiro was one such good thing I was introduced to. So when it scored an anime adaptation, I was down for that.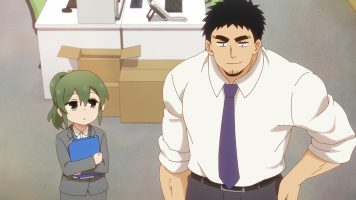 The Story, in Brief
The story of My Senpai is Annoying centers around IGARASHI Futaba. Because she is short and very youthful looking, people often presume she's in junior high school rather than a 20-something office lady. Her first office job has her paired with the older, very tall and muscular TAKEDA Harumi. Futaba has trouble with her senpai because he's big, loud, and she feels he treats her as a child.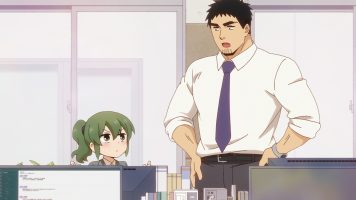 Over time, Futaba starts developing feelings for Takeda, but her tsundere nature won't allow her to admit this. Futaba's best friend is KOROBE Natsumi, whom she has known since middle school. Natsumi recognizes Futaba's feelings and sometimes does things to push Futaba toward Takeda.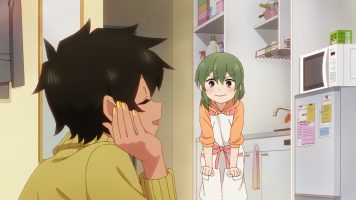 SAKURAI Touko is a popular, female coworker and friend of Futaba's. She has a romantic interest in fellow coworker KAZAMA Souta. However, Sakurai does not tell Souta her feelings beyond dropping hints. For his part, Kazama feels Sakurai is out of his league. So even though they've done stuff together, he cannot accept that she might have romantic feelings for him.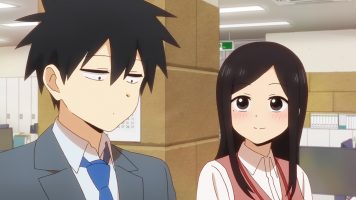 Changes from the Manga
For most anime adaptations of a mana series, I want the anime to be pretty close to the source material. However, the nature of the My Senpai is Annoying manga is such that this is not possible. That's because Manta-sensei isn't doing a traditional manga. Sensei published the chapters online via Twitter or other such places. Each chapter is about four pages long. The chapters may or may not be linked, but they all take a peek into the lives of the characters.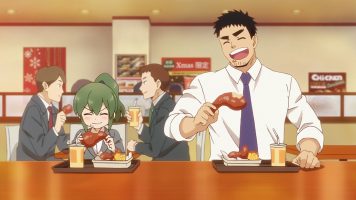 So when it comes to doing an anime adaptation of a manga series where the chronology is not followed, it is natural that the anime would do its own thing. And the first thing the writers did was try to put together some chapters in a way to make a cohesive story. Since Manta-sensei's omake chapters in the tankoubon are quite a bit longer, the writers often tried to use these as anchors for the anime episodes.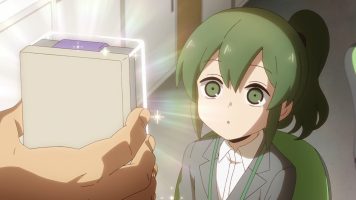 For the most part, I think they succeeded. A lot of padding had to be done to accomplish this. However, the padding helped further flesh out characters.  And the writers were careful not to advance relationships in the anime beyond where they were at in the manga.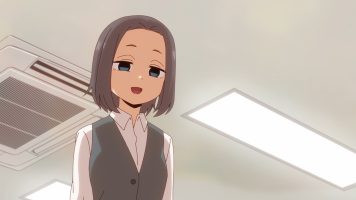 Yuuto x Natsumi
The only change I didn't like in My Senpai is Annoying was the anime playing down the crush Sakurai's little brother Yuuto has on Natsumi. Yes, he's a young, high school boy (maybe 15), and Natsumi is in her 20s. And yes, Yuuto represents the straight shouta fetish. But his crush on Natsumi in the manga is pretty cute. And I think a lot of guys can relate to having a hard crush on an "older woman".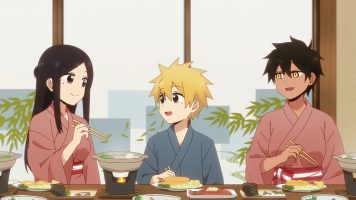 Though Natsumi initially has fun teasing Yuuto (she knows his feelings), eventually she cuts back on that in the manga. She even agrees to attend some function with him (if I recall correctly — I need to read all of the volumes). And she becomes a bit more of a mentor to him.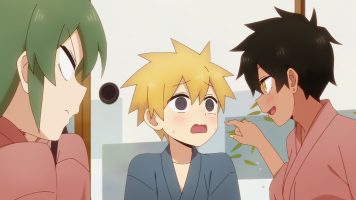 The anime latches onto this mentor aspect and really plays down Yuuto's crush on Natsumi. They do lightly acknowledge it, but for the most part, it isn't a thing. Maybe the anime production staff were afraid of "problematic" content, even though it is innocent enough in the manga. Nevertheless, I was disappointed that the anime adaptation didn't play this the same as the manga.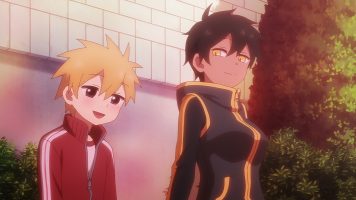 The Good: And Enjoyable Romp
The best part of My Senpai is Annoying is that it is an enjoyable, slice of life romp, covering a small group of characters. Normally, we'd see this kind of anime featuring a group of high school students, or possibly college students. But to set things in an office environment is different and fun. We get some minor taste of what it might be like to work in a Japanese office. But since the series isn't focused on the job, that's all we get.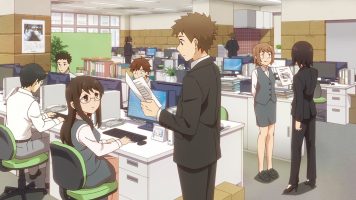 The characters in the series are all fun and likeable. Futaba is a traditional tsundere type with a complex over her small stature and youthful appearance. But she's not hardcore tsundere, which makes her not get irritating. Takeda-senpai is also a fun character. He is a bit oblivious when it comes to romance, despite being "middle age". But then the age-gap between himself and Futaba likely causes him to not initially think of her that way.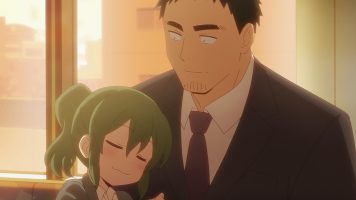 Sakurai fills the "hot office lady" trope. And because she's so popular with men, it is understandable that fellow coworker Kazama sees her out of his league. Their "romance" in the anime is pretty much the same as in the manga. I do like how Kazama isn't a total wuss with Sakurai, despite finding her out of his league. I just wish Sakurai was more open and honest with him about her feelings.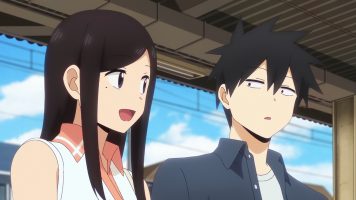 The Bad: Romance to Nowhere
That leads me to the one part of My Senpai is Annoying that I didn't like. The romantic pairings go no where. Maybe it is my age, but I find that I just hate it when it becomes clear that the romantic elements between two characters are going to go no further.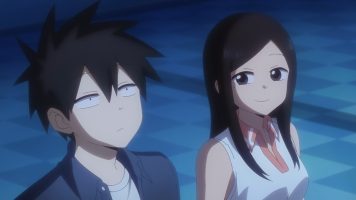 I mentioned the Sakurai x Kazama pairing. By the time the anime is over, those two should have been an official coupling. Both characters have asked the other out, and have accepted. They've spent a lot of time together. Sakurai is doing the typical female thing in waiting for Kazama to man up and just officially ask her to start dating in a romantic fashion. Kazama is doing the typical thing for a guy with no self confidence, meaning he'll never truly believe Sakurai would be his girlfriend or wife.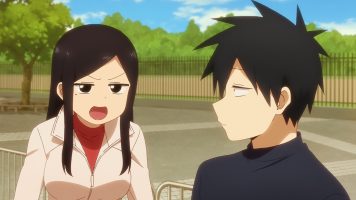 As to Futaba and Takeda, I didn't have as much of a problem with their "romantic thread" not proceeding any further than it has. After all, Takeda is Futaba's work senpai, so that's a barrier right there. There's also an age gap, so as I said earlier, I can see Takeda not initially seeing Futaba in a romantic light. Further, he's an honorable guy, and he wouldn't want to do something that would take advantage of her.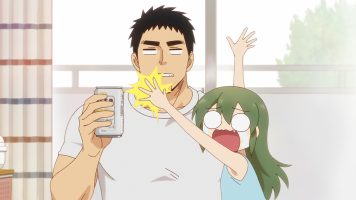 Final Thoughts and Conclusion
In the end, My Senpai is Annoying is a fun, slice of life series with a side of romantic elements. While I didn't like the lack of romantic progress, the series was still a fun romp, as is the manga.