D-Frag! Volume 14
ディーふらぐ!
D-Fragments 14
–> Purchase D-Frag! Volume 14 from Amazon.com
It has been a disgustingly long time since I read some of the comedic awesomeness that is the D-Frag manga series. I mean, I literally had to knock the fine dirt off of it that had blown in during the fall. I need to have my cleaners dust better. That aside, it was nice getting back into things with D-Frag! Volume 14.
NOTICE!!! In the interest of full disclosure, I should mention that I am the adapter for the official English translation of the True Tenchi Muyo! novels, which are also published by Seven Seas.
* * * S P O I L E R S * * *
The Story, in Brief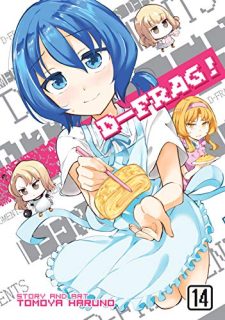 Tsutsuji and Roka's mother comes by Kenji's residence with her bodyguard and a ham pack gift box. After inspecting the place and chatting with the alone Kenji, he wearily accepts her invitation to get unagi.
Sometime later, Kenji, Ataru, and Yokoshima are at a ramen restaurant that Higashi-senpai's father owns. She works to get Funabori to come by since Kenji is there. As such, Kenji ends up coming home with Ataru and Funabori. Takao and Roka are distressed to see Funabori there, but happy she liked their food. Ataru decides to cause trouble and have Funabori inspect the place, hoping to get the girls kicked out of Kenji's home. He decides he will have an observation trial, and Funabori asks to spend the night.
While Ataru challenges Takeo and Roka, Kenji escorts Funabori and his sister Noe to the store so Funabori can get some clothes. Kenji gets a call from his dad, who has just returned home and is questioning the situation. As such, Kenji, Noe, and Funabori rush home to try to explain. Kenji's dad has a hard time accepting Roka's home being destroyed by a meteor. Eventually, he accepts the truth, but ends up getting Roka and Takao into a card game with himself and Kenji. Kenji's mother returns home and Kenji ultimately wins the game.
The next morning, Takeo and Roka are submissive to "Kenji-sama" to try to win his favor. In frustration, Kenji tells them they can continue to live in the house. However, Takao decides she should return home. Roka's mother returns with another food gift. She announces that their home is to be rebuilt, but she needs Kenji to attend the ground breaking ceremony. Takao and Funabori decide to go as well.
The Father Arrives
We've long seen Kenji and Noe's mother Kiku in the D-Frag series. However, their father Kenichi makes is debut in D-Frag! Volume 14. Unlike his wife and kids, Kenichi isn't snapping off insults and comebacks in frustration. He's mostly calm and mater of fact. Even when he got upset, it was controlled for the most part. And because he's the opposite of Kenji while also being an authority figure, it made his character humorous, even if he's not trying to be.
Nevertheless, I did get a kick out of Kenichi's character. He's so straight forward, it is kinda amazing he married Kiku at all. But, that's what made him a formidable "boss" for the girls to deal with in their quest to stay at the Kazama home.
Roka's Mother
Although she's not a new character, I found Roka's mother's return in D-Frag! Volume 14 to be pretty humorous. She bookends the volume, which is pretty fun. Roka definitely takes after her mother. And Shibasaki-san is a force to be reckoned with.
That aside, it looks like Shibasaki-san is the catalyst to advance the story from "living with Kenji" to "rebuild Roka's home." I can only imagine what nuttiness awaits as Roka's mother is keen to have the angelic Funabori assist with purifying their plot of land for their house. And naturally, Takao wants to be involved. Plus, we get a hint that the rest of the "power" girls are going to show up, so it should be fun.
Finally, I've never had unagi (eel), but Shibasaki-san seems to love it. After reading this volume, I'm kinda interested in trying it.
Final Thoughts and Conclusion
Let me wrap up my review of D-Frag! Volume 14 with some final thoughts.
Takao-mama does her bit of scene stealing in the omake chapter in the volume. She's so awesome.
The other omake chapter is more like a string of 4-koma comic strips. Those featured Funabori and Kenichi chatting.
In the end, D-Frag! Volume 14 was a lot of fun. It wasn't as funny as other volumes have been, but I enjoyed it all the same.