D-Frag! Volume 15
ディーふらぐ!
D-Fragments 15
–> Purchase D-Frag! Volume 15 from Amazon.com
I used to read some manga volumes before going to sleep. Over the past several months, that hasn't happened as I'm usually too exhausted to read, even if my spinning mind isn't letting me fall asleep. 😅 However, I did want to finally read D-Frag! Volume 15, so I ended up reading it at my office desk.
NOTICE!!! In the interest of full disclosure, I should mention that I am the adapter for the official English translation of the True Tenchi Muyo! novels, which are also published by Seven Seas.
SPOILERS
The Story, in Brief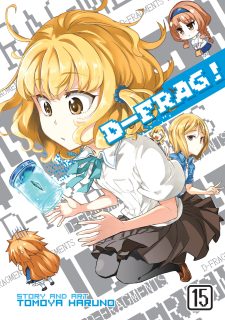 Things pick up from the previous volume. Shibasaki-san promises unagi for all who are at the land purifying ceremony. Hata thinks her luck will get her onto the Shibasaki, but it repels her back. Funabori and Takao attempt to enter, but get stuck after one step. Kenji has doubts, but those are erased when he too gets stuck. Sakura comes with holy water, allowing Kenji to free Funabori and Takao.
Chitose doesn't want to be involved, but is "drafted" in to sense the evil meteor. Sakura leads the way with a bound Chitose, Roka, Kenji, Funabori, and Takao following. After a detour, they run out of holy water. However, when the unagi delivery guy arrives and has an accident, Roka finds an inner power to not only save the meals, but also retrieve the meteor.
At Kenji's home, a reluctant Takao packs up to return home. However, she's missing a bra. Kenji and his dad are kicked out while the girls search. However, the guys discover the bra outside. Kenji is convinced to escort Takao home to sneak the bra to her. However, Takao's father comes home. Takao's mom forces Takao and Kenji into the closet, along with Takao's bound and gagged older sisters.
Takao's father becomes suspicious of Kenji's bag, so Takao emerges to salvage the situation. As such, Kenji is forced to dress as a girl, complete with wig, and claim his bag. This works and the bra is discovered. However, Kenji is forced to spend the day there. Another day at a club outing, Inada is distressed to learn Takao is no longer at Kenji's house. Takao refuses to speak of the dress incident, but Roka and Inada find the wig and dress.
Cursed Land
The wrap up to the story over the cursed Shibasaki land plot in D-Frag! Volume 15 was pretty funny. I got a kick out of everyone's desperate desire to eat unagi. There are the usual hijinks from the usual suspects. Tama does her pot stirring. Funobori and Takao get "held" by Kenji for a bit as he tries to free them. And then the girls are out of it for a while, recovering from that moment. 😂
I still hate that Chitose has been so "nerfed", to used gaming parlance. She was such an awesome, "tough as nails" girl who didn't take Jack. Sadly, once Haruno-sensei gave her a fear of the supernatural, she's just a pathetic character. I know seeing the mighty fall is supposed to be funny. But in this case, it isn't. I preferred her as she was.
Kenji's Cross-dressing Adventure
As humorous as the cursed land arc was, Takao going home in D-Frag! Volume 15 was a funnier story on the whole. This was due to Kenji being forced to escort Takao home and thus smuggle her bra in. I don't understand why Kenji's dad made him do this, other than pushing the Kenji x Takao ship.
Nevertheless, having one of Takao's sisters come up with a plan to make Kenji wear a dress and a girl's wig was hilarious. Kenji is pretty quick on his feet and was able to roll with it, despite how much he hated the situation.
The other humorous part was with Takao's mom dealing with her older daughters, so as not to ruin Takao's experience bringing home a boy. Haruno-sensei doesn't give her a lot of screen time, lest she steal the show. And sadly, she's not in the Takao family omake chapter at the end of the volume. But she did punish her husband for apparently taking a shine to "Kazamako-chan". 😂
Final Thoughts and Conclusion
My usual refrain of "work has me super busy" is still in effect, so let me wrap up my review of D-Frag! Volume 15 with some final thoughts.
The omake chapter was just the jealous sisters, trying to give Takao stank breath when she returned to Kenji's home. It was fun, but not that funny.
The two "summer club" activities chapters were fine. The first about Chitose wanting to be an exorcist and Tama advising against it was interesting. The second was funny in that Roka and Inada found Kenji's dress and wig.
In the end, D-Frag! Volume 15 was a fun and funny chapter. I can't help but enjoy the wacky goodness of this manga series.