Tonikaku Cawaii Chapter 178
Tonikaku Kawaii Fly Me to the Moon 178
トニカクカワイイ 178
Spoiler Summary/Synopsis:
Hotaru startles Nasa with her arrival. Chitose is not pleased to see Hotaru, Hakase, and Kaguya since they are trespassing on Tsukuyomi property. Hakase and Hotaru are surprised by this. However, Kaguya knew, but pretends to not have known. Hotaru begs Nasa, as their teacher, to let them stay since it is late. Chitose rejects this, but Tsukasa overrides her.
Nasa questions if this is really okay. Tsukasa says that it is dangerous for the girls to return at this hour. Further, she doesn't think it was chance that brought the trio to the residence. Kaguya asks if this really is Tokiko's land and if they are there to sort out her things. Further, she wants to know why there was a fake Kyoumaru Mansion further down the mountain.
Tsukasa knows Kaguya's name. However, Kaguya doesn't know Tsukasa's name until Tsukasa states it. She then remembers giving Nasa beatings as he tried to remember his lost memory of his wife. However, Kaguya cannot understand why she's feeling something else when it comes to Tsukasa.
Thoughts/Review:
And so we finally have the third meeting between Kaguya and Tsukasa in Tonikaku Cawaii Chapter 178. And it didn't go like I thought, but that's just fine.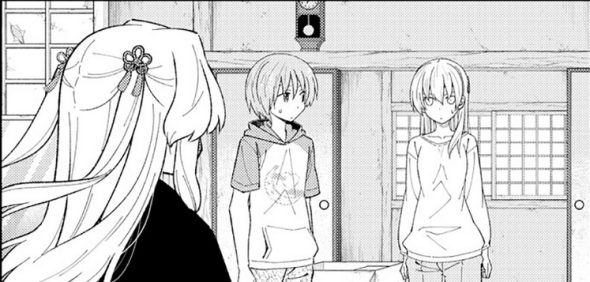 A Kaguya Chapter
As I understand it, the narration parts of Tonikaku Cawaii Chapter 178 are all from Kaguya's point of view. As is normal, Hata-sensei is being cagey when it comes to the full meaning of Kaguya's words. However, it seems that much like Tsukasa was wishing on the stars, Kaguya was wishing on Earth, specifically Japan. The implication in the prelude part of the chapter is that Tsukasa was the one to respond to Kaguya's plea.
If I had to guess, it seems that prior to leaving Earth, Kaguya had a wish. Her wish was denied her. But what could Tsukasa provide to Kaguya that would grant her wish? We know Tsukasa cried out to Kaguya because she felt Kaguya could lift the curse of immortality from her.
Still, I can't help but wonder if the elixir Tsukasa took linked her to Kaguya in some fashion. Thus Kaguya was forced back to Earth. But then, what happened to Kaguya's people on the moon?
Tsukasa and Kaguya
As I stated, Tonikaku Cawaii Chapter 178 marks the third time Kaguya and Tsukasa have met. Kaguya seems to have no memories of previous encounters. She seems to have some vague feeling that she cannot identify. Assuming Kaguya is the original, then her memory issues might be tied to the robe she wore when leaving Earth. It was designed to make her forget her time on Earth.
Tsukasa did recall Kaguya. However, she's not giving away anything if she recognizes her from the distant past. Still, there is tension between Kaguya and Tsukasa. Kaguya fires shots, designed to uncover whatever secrets are hidden here. This certainly puts Tsukasa on guard. It will be interesting to see what else plays out in upcoming chapters.
Final Thoughts and Conclusion
Let me wrap up my review of Tonikaku Cawaii Chapter 178 with some final thoughts.
If it is so dangerous for Hotaru, Hakase, and Kaguya to return, what about the rest of their party? 😅
I had to laugh at Chitose's rage over the arrival of Kaguya's party.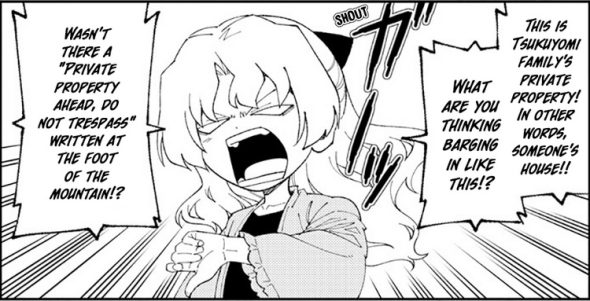 That aside, I really enjoyed this chapter, even if it wasn't the kind of showdown I expected.