Yashahime: Princess Half-Demon 47
半妖の夜叉姫 弐の章 23
Hanyou no Yashahime: Sengoku Otogizoushi episode 47
SPOILER Summary/Synopsis:
Riku prevents Kirin-sensei from landing the finishing blow on Towa. He attempts to strangle Towa, since Riku kills those whom he loves. Riku attempts his own final blow, but Towa turns him around to attack Kirin-sensei. Unfortunately, Kirin-sensei critically injures Riku. Towa follows and stabs Kirin-sensei. Riku uses the last of his strength to bind Kirin-sensei, allowing Towa to kill him. With that, Riku properly confesses and dies.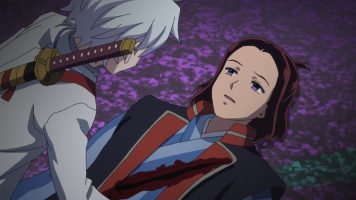 Towa joins Setsuna and Moroha as they cut more fate threads, learning more of what is in Rion's heart, eventually setting her free. On the ground, Sesshoumaru and Kirinmaru battle it out. Kirinmaru is incensed by Sesshoumaru comparing him to a human. Yet as they fight, Kirinmaru ponders things and realizes what Sesshoumaru meant. As such, Kirinmaru partially transforms, causing Sesshoumaru to acknowledge him as a worthy opponent.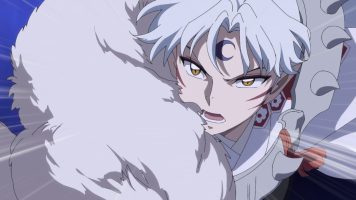 The two resume their battle, but Kirinmaru finds he's no match for a serious Sesshoumaru. Rion senses her defeated father and brings him into the Grim Butterfly. However, she's unable to touch her father. The resentment of Kirinmaru takes form in Kirin-sensei, who then causes Rion to relive the day she was killed. The yashahime witness this via a fate thread. Meanwhile, Sesshoumaru has brought Rin and Jaken into the butterfly to witness.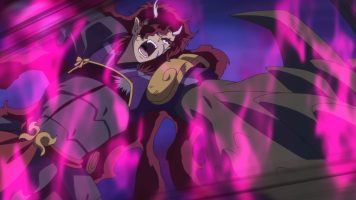 Towa uses Zanseiken to absorb some of the youkai. She, Setsuna, and Moroha encourage Rion to fight. She catches a glimpse of her father and finds the courage to do that, killing the phantom Kirin-sensei. Towa becomes and empty shell, but her spirit invites Rion to use the body. Rion merges Zanseiken and Bakuseiken to allow herself and her father to go to the afterlife. She returns Towa to normal. Towa and Setsuna finally hug their mother as it is all over.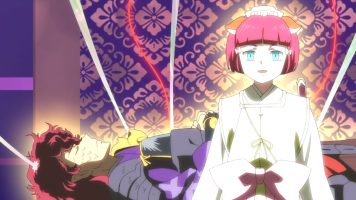 Thoughts/Review:
Technically, pretty much everything wrapped up in Yashahime: Princess Half-Demon 47. However, we still have one episode to go to wrap up what was a good episode.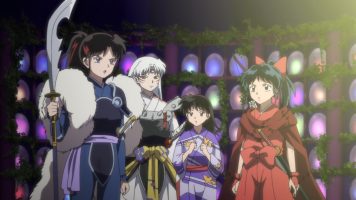 Father and Daughter
While there was plenty of action in Yashahime: Princess Half-Demon 47, the episode was much more character driven than I expected. Forgotten was the prophecy that stated Kirinmaru would be killed by a hanyou. Instead, he was beaten by Sesshoumaru. And while Sesshoumaru said he didn't kill Kirinmaru nor Rion so that his daughter's hearts could be saved, I think deep down, he wanted Kirinmaru to learn a lesson.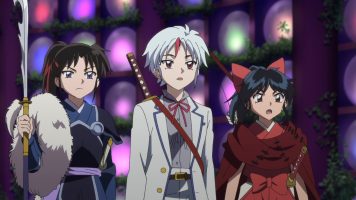 For his part, Kirinmaru was overprotective of his youkai daughter, Rion. Even after her death, he couldn't let her go and was overprotective of her. It is a shame we never learned about Rion's mother. Nevertheless, I think that Kirinmaru wanted to show off for his daughter, which is why he took her to the field of battle. So when he lost to Touga, it was devastating to Rion. And ultimately, I think that moment is what ended up causing Rion to be slain by the hanyou, Sakasa.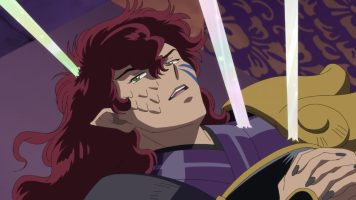 For her part, Rion never wanted to see her father fight again after his one loss. However, she never had the courage to tell him that. That lack of courage and feeling helpless is what caused Sakasa to kill her. Thus in the "dream" sequence, she runs until she gets the signal from her father that it is okay to stand and fight. Thus father and daughter were able to reconcile. I liked that.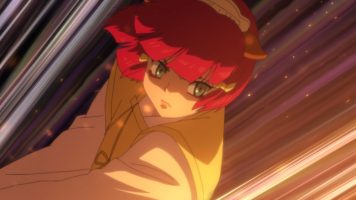 Sesshoumaru
Shockingly, Sesshoumaru got most of the traditional, shounen battle stuff in Yashahime: Princess Half-Demon 47. Indeed, he was the one who defeated Kirinmaru, not Towa, Setsuna, nor Moroha. So much for prophecy, as I stated earlier. Nevertheless, Sesshoumaru was the correct opponent for Kirinmaru, not the yashahime. So I appreciate the production team doing this.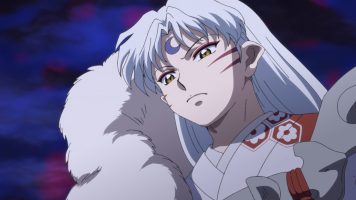 As to Sesshoumaru's battle with Kirinmaru, I was a tiny bit disappointed we didn't see Sesshoumaru go full youkai mode. I kinda thought we might once Kirinmaru got serious.  However, the fight just went on with swords and powers. And Sesshoumaru got his lesson across, even as Kirinmaru was utterly defeated.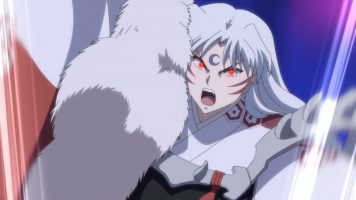 Finally, there was the moment at the end where Jaken asks Sesshoumaru why he didn't just slay Kirinmaru and Rion. Sesshoumaru responds by saying it was to save his daughter's hearts. Indeed, Sesshoumaru stood back and allowed things to proceed without interfering, save to prompt Setsuna once.  That said, I think Sesshoumaru was also motivated by Rin. I feel he wanted to let Rin see how far their daughters have come, and then finally get to hug their mother.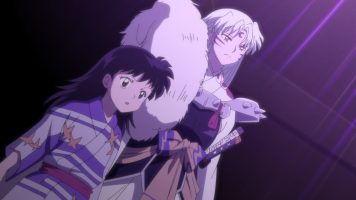 Basically, Sesshoumaru is just awesomeness. I don't know if Sunrise will do another Yashahime series or not. But if they do, I hope Sesshoumaru is a big part of it.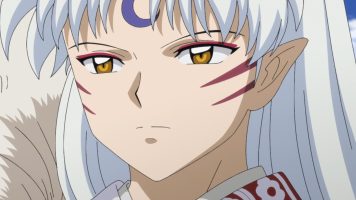 Final Thoughts and Conclusion
I've been up for 27 hours at this point, sans three 30-minute naps. So I'm wasted and need to get to bed. As such, let me wrap up my review of Yashahime: Princess Half-Demon 47 with some final thoughts.
I was happy to see Riku get off a final, heartfelt confession to Towa. It was a nice moment, even if Towa "manned up" quickly after his death.
Speaking of Towa, she wasn't quite the Mary Sue I expected. Her fight with Kirin-sensei was a collaborative effort with Riku. She didn't use special powers or the like. Although technically, she saved the day by laying down her life for Rion, it didn't feel like a horrible Mary Sue thing. Hey, at least she didn't get some mega power. That was what I expected, complete with defeating Kirinmaru.
Moroha is clearly a Daddy's girl. After rejoining her parents, she's leaning back against Inuyasha.
I liked the final shot of Miroku and Sango's family together. They were spread out, but it was nice to see.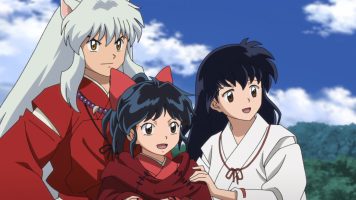 In the end, Yashahime: Princess Half-Demon 47 was a good episode. The villain received some character work. Sesshoumaru got to shine. And the yashahime were used in a better way. One more episode to go.