Lupin the 3rd: Part 1 10
ルパン三世
Lupin III Episode 10
SPOILER Summary/Synopsis
Lupin and Jigen ambush a car belonging to Baron Ukraine, carrying a case full of cash. The cash is counterfeit, so Lupin has Jigen dump it from the plane they escape in. Baron Ukraine is unhappy and hires Fujiko to go after Lupin. She gets in a prop fighter plane and shoots down Lupin's prop plane. When she lands to check out the wreckage, but this allows Lupin and Jigen to steal her plane and resume their journey to find the world's best counterfeiter, Ivanov.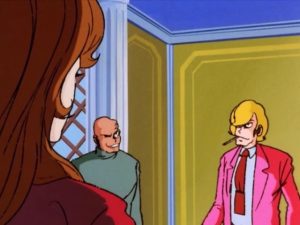 Meanwhile, Baron Ukraine pays his aunt, Silver Fox, a visit in her mountain hideout. She claims Ivanov is not there and wants him to stop with counterfeiting. Inspector Zenigata comes to visit Silver Fox, but she recognizes him as Lupin. She sends him packing down the side of the snow-covered mountain with a large, clock face in it. Lupin and Jigen get a hotel room, where Fujiko is waiting for them. She has a deal for Lupin, so Jigen bails.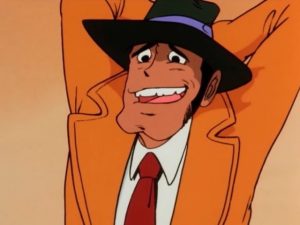 Fujiko provides a picture, proving Ivanov is in a room behind the clock face. Lupin scales the mountain and waits for the clock's minute hand to get to 10. Meanwhile, the Baron's men infiltrate the mountain residence to find Ivanov. Lupin finds Ivanov first, including his printing press setup. Ivanov isn't interesting in Lupin's offer and sends him packing, where he ends up with the Baron's men.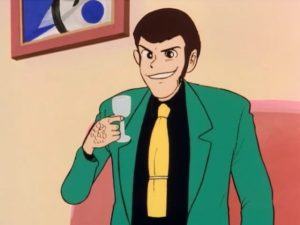 Baron Ukraine manage to elude expulsion and attempts to take Ivanov. The elderly Silver Fox shoots him, but before he dies, he shoots her dead. Meanwhile, Lupin kills all of Ukraine's henchmen, save one named Flinch. As they duke it out, Fujiko arrives to get the goods. However, Ivanov has activated the mountain's volcano. Jigen arrives to take the battered Lupin away.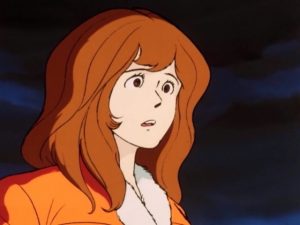 Thoughts/Review
Well, there were some interesting things going on in Lupin the 3rd: Part 1 10, but I'm afraid the story wasn't one of them.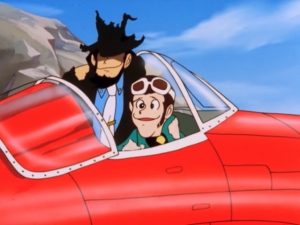 Search for a Counterfeit Master
One of the first things I noted about Lupin the 3rd: Part 1 10 is that there are elements here that are later reused in Lupin III: Castle of Cagliostro. The first one was stealing a case of cash that turned out to be counterfeit. The next was Lupin getting Jigen to dump said fake cash. Further, the creator of said counterfeits was a member of the aristocracy. However, this time, Lupin decides to get into the counterfeiting business and recruit the man who created perfect counterfeit cash.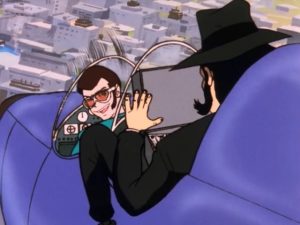 What I didn't understand is Lupin's interest in getting Ivanov. If it is to get rich, he does that doing jobs (though we rarely see the successes). Creating a lot of counterfeit bills seems boring for Lupin. For Fujiko, it seemed up her alley, but not Lupin. I did get Lupin's appreciation for Ivanov's skills. But that was it.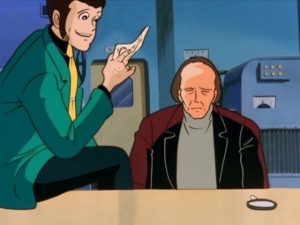 Other Items of Interest
Another element that was reused for Lupin III: Castle of Cagliostro was the massive clockworks. In this episode, it was inside the mountain, rather than a clock tower, but the idea was still the same. And this time, Ivanov was maintaining the clockwork.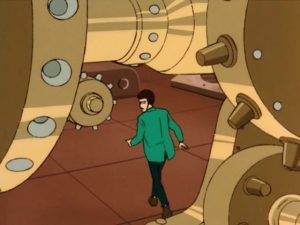 Finally, Lupin doesn't just lose the prize in Lupin the 3rd: Part 1 10. He gets his butt handed to him left and right. The old lady (Silver Fox) immediately saw through his disguise, then sent him fleeing. The Baron had Lupin fleeing. Ivanov "flushed" Lupin out of Ivanov's workroom. Then Ivanov expelled Lupin and the Baron's men from the mountain. That's a lot of losses for Lupin.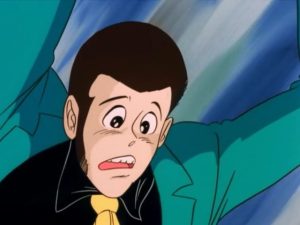 However, the biggest loss was Lupin's fight with Flinch. Lupin managed to kill all of Baron Ukraine's henchmen, save Flinch. As such, the two end up duking it out until both are pulverized messes. Jigen has to get Lupin out of there, and Lupin blathers about how he didn't lose the fight. I don't think I've ever seen Lupin taken down so badly.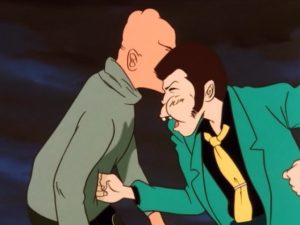 Final Thoughts and Conclusion
In the end, Lupin the 3rd: Part 1 10 is an episode that contained elements to be used in Lupin III: Castle of Cagliostro. It also had Lupin not only lose a prize, but lose a fight. However, that's what made it interesting to me.