Lupin the 3rd: Part 1 14
ルパン三世
Lupin III Episode 14
SPOILER Summary/Synopsis
On board a custom built mega yacht, the wealthy Catherine Martin shows off her Eye of the Nile gem at her pre-wedding party. She confirms the rumors that Lupin has sent notification of his intent to steal the gem. Zenigata enters and is not happy that Catherine seems to be unconcerned about the potential theft. Meanwhile, Jigen and Goemon are disguised as chefs, delivering the wedding cake to the dock. Lupin is inside said cake.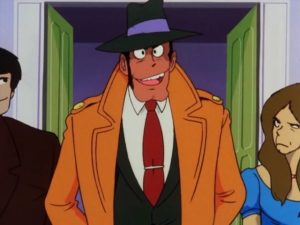 Meanwhile, Fujiko has infiltrated Catherine's staff as her personal maid. As Fujiko dresses Catherine for the wedding, she swaps the gem for a fake. Zenigata barges in, but is sent away. Meanwhile at the wedding, Lupin is still in the giant cake and sees Fujiko through a peep hole. Lupin manages to steal the gem off Catherine's wedding dress. Again, Zenigata is confused by Catherine's lack of concern.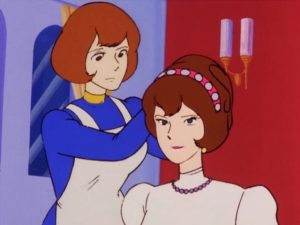 Lupin escapes the cake and disguises himself as a guest. He encounters Fujiko, who reveals she'd already stolen the gem. However, when she accidentally drops it, the gem shatters, revealing it is a fake. Fujiko and Lupin agree to try to find the gem. When Zenigata shows up, Fujiko provides him cover, addressing him as Count Nipul. Catherine dances with Lupin (as the Count), while Fujiko dances with Zenigata.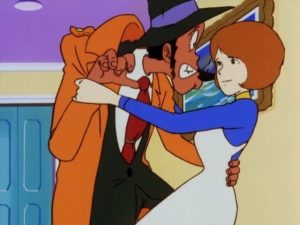 Meanwhile, Zenigata discovers Count Nipul is not an invited guest, despite Catherine covering for Lupin as well. Catherine, having lured Lupin and Fujiko to her wedding, leads the pair on a merry chase. Lupin is frustrated when he learns he and Fujiko were there to liven up the place. However, Lupin figures out the gem is Catherine's cat's fake eye. He steals it and escapes with Fujiko.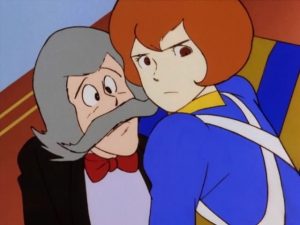 Thoughts/Review
I have to say, I rather enjoyed Lupin the 3rd: Part 1 14 and even had a few laughs.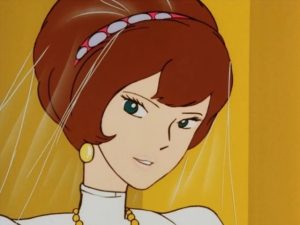 Playing with Fire
As I said, I really enjoyed the story of Lupin the 3rd: Part 1 14. I can see some ultra wealthy young woman wanting to spice up her wedding by conning Fujiko and Lupin to come and steal her Eye of the Nile emerald (not to be confused with the Jewel of the Nile 😉). I felt fairly sure when Fujiko attempted to swap out the gem that Catherine knew what Fujiko was up to. The fact that she was unconcerned told me that the gem wasn't real.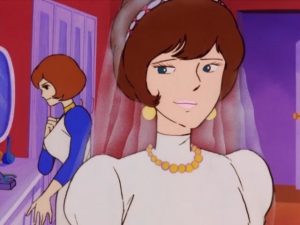 Although it was amusing to think of Lupin in a cake, like a stripper, it was ridiculously bad. Even if you had a real wedding cake that large, "cakes" with people inside aren't meant to be eaten. They have to be structured to look like a cake, when in fact it is a transport. That aside, it was even more nuts how Lupin stole Catherine's gem off her wedding dress during the ceremony. Yeah, I'm sure she made sure it happened, but still, it was all nuts.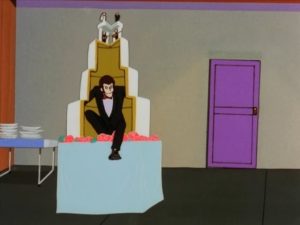 Where I got a laugh was after Catherine revealed she'd conned Fujiko and Lupin to be at her wedding. Then she has Lupin running all over to get the gem, not realizing she's jacking with him. But in the end, Catherine played with fire, and the real gem was stolen. Okay, making the gem be the fake eye of a cat makes no sense. Poor cat. 😅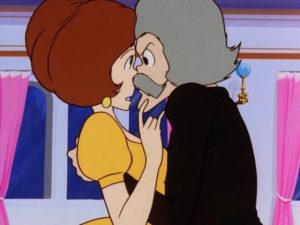 Still, despite some of the obvious silly stupidity, it was fun seeing Lupin and Fujiko get their prize and escape together.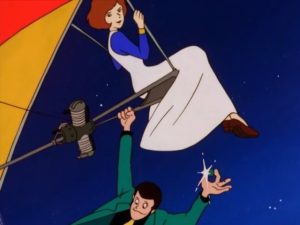 Final Thoughts and Conclusion
In the end, Lupin the 3rd: Part 1 14 was a fun tale of a wealthy young woman, attempting to make her wedding more exciting by getting Fujiko and Lupin to attempt to steal her Eye of the Nile gem. And we even got to see Goemon and Jigen have a cameo as chefs. Good stuff.