Lupin the 3rd: Part 1 17
ルパン三世
Lupin III Episode 17
SPOILER Summary/Synopsis
Fujiko invites Lupin, Jigen, and Goemon to an upscale club for a night of partying. Goemon decides to bail. Around 5am, the trio fall exhausted into cushioned chairs, only to find the chairs binding their hands and ankles. The club owner, HOSHIKAGE Ginko, knows of Lupin's thieving skills. As such, he has 24 hours to come up with ¥3 billion as ransom. To make sure they comply, tamper-proof watch-bombs are attached to all three.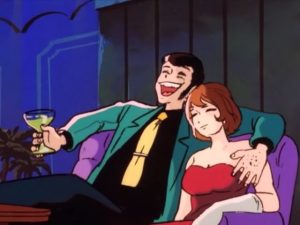 At their hideout, Goemon is amused by the situation. He offers to cut off their watch arms in the least bloody way possible. Fujiko is not amused, so Goemon leaves, laughing. With time winding away, Lupin decides their only option is to take over an official, money printing press. Unfortunately, with no planning, infiltrating the building proves difficult.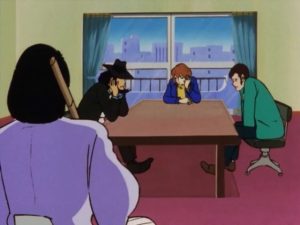 Eventually, Jigen and Lupin take an advertising balloon to get to the roof of the building. After infiltrating the facility, Lupin pours out a substance in the air duct, causing everyone in and around the press room to fall asleep. Lupin and Jigen round up all the money and print enough to make the ¥3 billion. However, as they leave, the facility goes on alert as a guard spots sleeping folks all over. This immediately brings Zenigata to the field.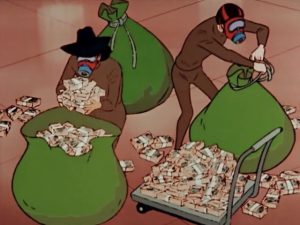 After a long chase, Lupin and Jigen have to ditch their dying ad balloon. They manage to stash the cash before Zenigata can find them. With minutes to spare, Ginko agrees to give him three days to get the cash, with Fujiko hostage. After three days, Lupin takes Ginko to the spot. The cash is loaded into her car, where Fujiko reveals she was in on Ginko's scheme. They leave, but a bomb left by Lupin destroys the cash.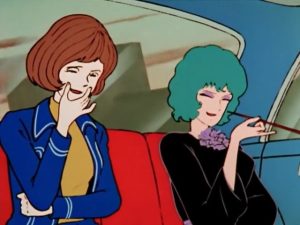 Thoughts/Review
There has definitely been an uptake in silliness with this series, and Lupin the 3rd: Part 1 17 is no exception. This primarily took place during the escape on the ad balloon. It was already a massive stretch to think it would hold Jigen's and Lupin's weight. But after it is shot full of holes, it should have sunk immediately, not flown on for blocks and blocks. And then there's the slapstick element of crashing into everything, which I didn't find funny.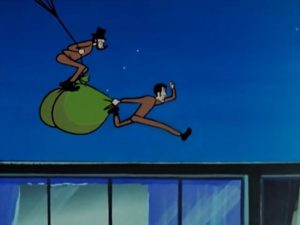 Beyond that, although it was also a stretch, I was okay with Lupin and Jigen's infiltration of the money printing facility and the subsequent money making.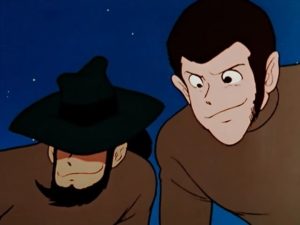 Fujiko betraying them in the end was utterly predictable. I remember thinking that it would be cool if Lupin already had payback waiting for Fujiko. And he did. Okay, it is BS that he changed the bills like he did. How no one noticed this is beyond the realms of suspending disbelief. And yet, knowing that Fujiko got double payback along with Ginko made me let this BS moment ride.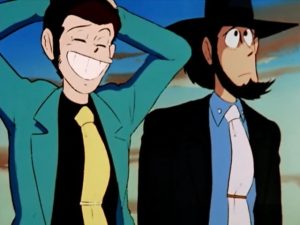 Finally, even though Goemon doesn't have much of a role in Lupin the 3rd: Part 1 17, I appreciated his amusement at the mess Lupin and the others were in. I don't remember this side of Goemon in modern series, OVAs, or movies.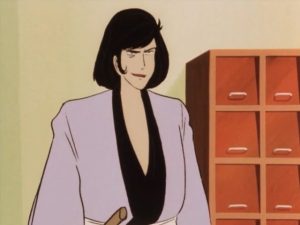 Final Thoughts and Conclusion
In the end, Lupin the 3rd: Part 1 17 has some silly elements to it, but also has some fun, especially when Fujiko gets hers.