A Look At "Eroko-san on the Attack"
進撃のえろ子さん~変なお姉さんは男子高生と仲良くなりたい~
Shingeki no Eroko-san ~Hen na Oneesan wa Danshikousei to Nakayoku Naritai~
A Perverted Oneesan Who Wants to Become Close With a High School Boy
I follow a lot of manga-ka on Twitter. As such, they will often retweet other manga-ka works they like. Therefor, the works of KONOGI Yoshiro came to my attention. As is fairly common these days, Konogi-sensei uses Twitter to promote her works. One series that seemed to get retweeted more often was Eroko-san on the Attack, which is published in the seinen magazine, Young Animal. As such, I thought I'd give it a look.
Note: Eroko-san on the Attack is a spinoff from the Henjo – The Strange Female High-Schooler Amaguri Senko manga series by the same manga-ka.
The Story, in Brief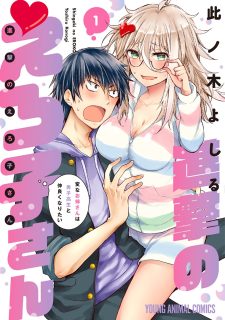 A 27 year old NEET (Not in Employment, Education, or Training), otaku woman named SHINDOU Eruko runs a social media account under the name "Shingeki no Eroko". There, she posts her fantasies about hooking up with a high school boy. Unfortunately, Eruko has run out of money. As such, she's forced to take a job as a handyman. To her happy surprise, she's assigned a cleaning job at a local bathhouse with a 17 year old high school boy named Hoshi-kun. He's just her type. And for Hoshi, Eruko is the perfect, large-breasted "oneesan" type.
While working at the bathhouse, Eruko "accidentally" hoses Hoshi down so that she has an excuse to cover and hold him with a towel. At another job, she briefly loses control of herself and climbs a ladder to be with Hoshi-kun, but falls off. However, this gives him an excuse to carry her home on his back. For her, it is heaven because she is so close to him and gets to smell him.
Over time, the pair get closer and reveal they have feelings for each other. They go on a date, though Eruko worries about the social and legal consequences of dating a 17 year old man. Things are further complicated when Hoshi's female classmate and friend, Koharu, turns out to be Eruko's next door neighbor. However, since Hoshi picked programming as a career, and Eruko knows how to do this, she agrees to teach him.
She didn't expect Hoshi to move in with her for the summer, with the permission of his parents. Not only that, she has his father's permission to be intimate with Hoshi. And thus their life as a romantic couple starts.
Age-Gap Romance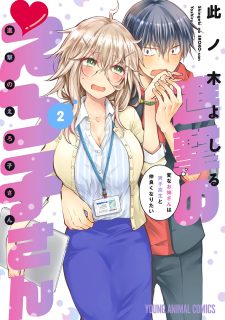 The idea of a 17 year old young man and a 27 year old woman having a romantic (and sexual) relationship may be off-putting for some. For me, I remember what it was like to be 17. Biologically speaking, 17 is when males are hitting their sexual peak, or coming close to it. Guys want to have sex all the time at that age, and frankly, and "older woman" in her 20s who could teach one the ropes would be highly desired. As such, I didn't let this aspect of Eroko-san on the Attack bother me. Plus, in the story, the parents gave consent for the relationship to happen.
That aside, the fantasy aspects of such a relationship from both the male and female perspective are covered. If that were the only thing the manga did, it wouldn't be worth reading. However, Konogi-sensei goes deeper. She takes a look at the insecurities a 17 year old guy would have dating someone 10 years older than him. For example, Hoshi-kun worries about whether he can keep up with an adult woman since he's still in high school.
Transversely, Sensei also peeks into the mind of a 27 year old woman who always wanted to date a teen boy, but for obvious reasons, couldn't. Eruko has very understandable concerns about dating a 17 year old lad. Despite having Hoshi's parental consent, she still worries about the police arresting her. She worries more about what society will think of a 10-year age gap between them than Hoshi does.
So as I said, if it weren't for some serious introspect about Hoshi worrying about his immaturity, or Eruko worrying about all manner of things, I wouldn't find Eroko-san on the Attack so interesting.
On the Ero Front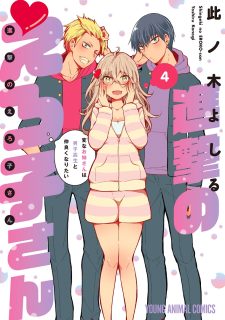 As one might suspect, Eroko-san on the Attack is a seinen manga series. As such, it goes into more adult areas. However, Konogi-sensei doesn't dwell much on the visual, ecchi aspects of the story. Indeed, when Hoshi-kun and Eruko finally have sex, that's not shown, nor did it need to be. I suspect a male author might have gone a little more erotic on the drawings and shown more.
That's not to say that Konogi-sensei doesn't show anything. There will be glimpses of erotic moments, but they are generally kept brief. And Barbie Doll nudity is all that is shown in those moments.
Most of the erotic elements are in the thoughts of characters, especially Eruko. Konogi-sensei accents this by having hearts appear in Eruko's eyes. But weirdly enough, as lewd as the thoughts and some visuals might be, there's a wholesome element that runs through the series as well. Part of this stems from the fact that both characters are virgins.
Another element that gives this manga a wholesome feeling is that both characters want to marry. And beyond sex, both have become accustomed to living together and spending all their free time together. As such, when Hoshi has to return home after the summer break, both feel lonely and miss each other greatly. I couldn't help but like that.
On the Official Tip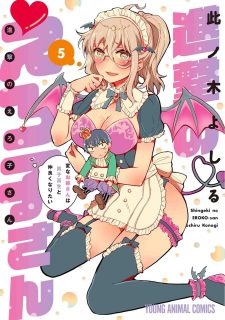 Shockingly, Eroko-san on the Attack is a licensed manga series. Unfortunately, it is licensed by a small, digital-only firm called Comikey. As such, if you are a print manga collector, there's no way this series is getting licensed for print. All of the major publishing houses that could license it almost certainly won't because they wouldn't have the digital rights. So for me, that's a major negative.
Further, Comikey requires folks to buy their digital currency to unlock chapters on their app or on their website. It is supposed to be a cheaper cost than most publishers, but I don't know about that. For simulpubs, they claim to allow free access to a chapter for the initial week before it goes behind a paywall. I don't like exclusivity if I'm paying for digital copies of something. That's why I haven't minded Irodori, as I can download a PDF copy of my manga and read it anywhere.
So while I'm happy that Konogi-sensei's work has an official license, I'm not thrilled with the kind of license at hand.
Final Thoughts and Conclusion
Despite its mildly ecchi and lewd aspects, I find I like Eroko-san on the Attack. I think the series is on hiatus. I suppose that's not surprising since the parent manga, Henjo – The Strange Female High-Schooler Amaguri Senko had to go on hiatus for a time to launch Eroko-san on the Attack. And running two manga at once takes a ton of effort. So I may take time to read the parent manga while I wait.