Shakugan no Shana Second 18
灼眼のシャナ II Episode 18
SPOILER Summary: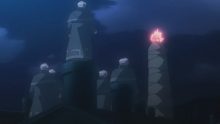 The Bal Masqué Tomogara Zarovee and his "copies" (for lack of a better term) is on a cell phone to a "Bifrons-dono," and complaining about how though part of his mission is reconnaissance, constantly having to regroup as the deadline draws near can only increase the chances of something going wrong. However, the signal is terrible and Bifrons appears before him, having turned off his cell phone to communicate in person, reminding Zarovee that while his presence may be small, Bifrons isn't. Zarovee reminds Bifrons of their delicate and important mission to remove the Mystes that's part of "Taimei Shihen" and get rid of those in the way. Bifrons laughs and says he'll massacre everyone responsibly, reminding Zarovee of why he hates "battle freak Wanderers."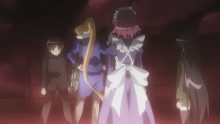 Within a Fuzetsu, Margery Daw is training Yuuji to be a spell caster like herself, since it is agreed that he has the power to do so. Margery agrees because doing so can also provide her more information on the Silver. She shows him how to create a small fireball and then has him hit one of her bookmarks as a target practice, which he does, his flame being silver still. Wilhelmina, Tiamat, Shana, and Alastor find Yuuji's focus and drive to be a good thing, showing he's serious about the task ahead of them. When Margery has Yuuji work on shooting down multiple targets, she comes over and disagrees with their assessment of his motives, calling it obsession. Indeed, when he demands more training after she called it a night, she calls off the following day's training as well, stating he needs to cool off. Before leaving, she extracts a bookmark, which turns into the giant vampire sword Blutsauger and tells him that he can carry it if he can turn it into a bookmark. He does so.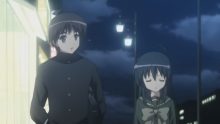 As he walks home, he's joined by Shana, who wants to walk with him and she claims to want to pick up some melon pan. Yuuji seems distant and when Shana inquires of it, he tells her that he'd wanted to remain as SAKAI Yuuji, but can no longer do so based on the events of the school festival. So to keep up with Shana, he has to become stronger, something she'd previously said to him. With that, the two part company.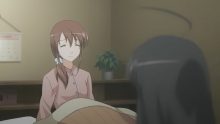 Yuuji returns home to find his mother napping at the table and when she tries to get up, she collapses, apparently ill. Yuuji doesn't come to school the next day, and when Shana and Yoshida hear of his mother's illness, Shana immediately heads for Yuuji's house after school. Yoshida wants to make food for both Yuuji and his mother, but doesn't want to intrude. Ike-kun, despite his feelings for Yoshida, tells her to do it, so she does. Shana rushes to see Chigusa, who's in bed. Chigusa tells Shana that her visit makes her happy and Shana is welcome to come back the following day, which Shana gladly agrees to, saying she'll bring Wilhelmina, who's apparently great at medicine. Chigusa doesn't want to bother Wilhelmina with that.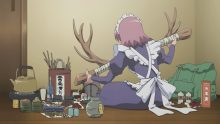 A little later, Yuuji and Shana walk, and Yuuji speculates on what would happen to his mother when he disappears. Shana comes home and tells Wilhelmina about Chigusa, and because Chigusa has been such a great help to Wilhelmina, she immediately starts making a get well gift for Chigusa. Shana reflects on her conversation with Yuuji and how some of the things he said were both correct and wrong. Meanwhile, Yoshida brings a bento over for Yuuji and Chigusa, having considered Pheles' Hougu again, only this time without the normal fear and trepidation. After she delivers the bento, she tells Yuuji she'll do it again tomorrow.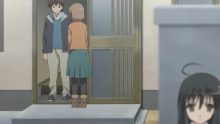 The following day is a Sunday, and so Yuuji is taking care of his mother still. He's been thinking about things and decides he needs to set things straight with Yoshida, knowing her feelings for him. Elsewhere, Shana has Wilhelmina's gift and is going to deliver it to Chigusa. Wilhelmina has to get a package from Outlaw first but she will come to see Chigusa as well. Yoshida has another bento and brings it over. However, Yuuji refuses to accept it on the basis that he's not human and she is, so he will be leaving with Shana to continue the work.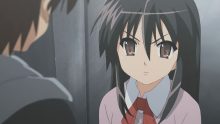 Shana, who's just outside the wall of Yuuji's property, hears this and more. Yuuji continues, and apologizes to Yoshida, who's offended that he would apologize for her being in love with him rather than just turn her down straight. She rushes off upset and leaves the bento. He gives chase, but then discovers Shana, who's angry about what she just heard. She tells him off, telling him she doesn't want to be with him and leaves without delivering the package.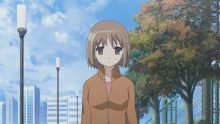 Yuuji is confused by this turn of events and goes for a walk, where he's observed by one of the Zarovee. Yuuji thinks that he has everything understood about who he is and can't understand why Shana thinks that the things he's been saying are lies to cover the real truth. Meanwhile, Shana runs into Wilhelmina and doesn't have an answer when Wilhelmina asks why she didn't deliver the package. Elsewhere, Yoshida walks and wonders what she should do now that she said what she said.
Back with Yuuji, Zarovee and his "brothers" surround Yuuji, who realizes he's a Tomogara but wonders why he didn't sense them (him?).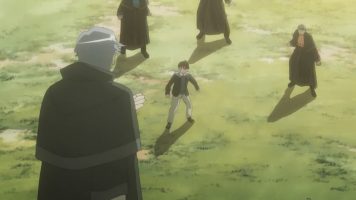 Thoughts/Review:
Well, we appear to be having the re-separation of Yuuji from Shana and Yoshida. I wonder why only Margery Daw picked up that Yuuji's actions in the training were obsession rather than a positive desire to improve. Then, after being warned about how Bal Masqué is still after the Reiji Maigo, Yuuji still wanders off and gets himself captured by a Tomogara who's working for them. Granted there's that whole teen angst thing to deal with combined with immaturity and whatever forces Zarovee is bringing to bear on the situation. It seems that his mission isn't to get the Reiji Maigo, but rather extract Johan out of it. But what is "Taimei Shihen?" The Silver's name?
Now that I think of it, I wonder of Yuuji's mother's illness is part of Zarovee's doing.
Tanaka and Oga got a cameo. Sato did as well, with Tanaka not even saying anything when Sato made a casual greeting as he passed him in the classroom. I wonder if the writers will pick that thread up again since they are tossing it out there as something to potentially be resolved.