xxxHOLiC◆継 Episode 12
xxxHOLiC Kei 12
SPOILER Summary/Synopsis: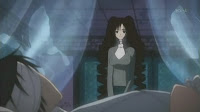 Himawari-chan tells the injured Watanuki her story of the misfortune she causes others (though she is human and not Ayakashi). She points out all of the misfortunes she's caused Watanuki and had long wondered when he'd notice she was the cause of it all. She thanks him for his kindness to her and the bentos he's made her and she bids him a final farewell. Watanuki calls out to her from his bed and tells her that she has made him happy by simply calling his name or giving him a sweet. He confesses that he really likes her and would do nothing to make her cry. Further, he wants to make something for her to eat. She concedes and requests a Strawberry Chiffon cake with pink cream. He agrees.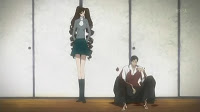 Himawari-chan leaves Watanuki's room, this time with a promise to see him again. Outside the room, a bloodied Doumeki sits (having paid a price in blood to save Watanuki), clearly weakened and unable to move. She tells him that the cake is a secret between herself and Watanuki and that he may not partake in it. He agrees, but says he'll have to partake in the bento though. She agrees to this. As she leaves, she begins to cry because of Watanuki's words to her, telling her he was glad to have met her (something she's never heard before). As such, she's also glad to have met Watanuki and glad to have taken the scars of his injuries on her back as payment for saving his life.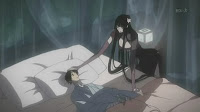 Inside Watanuki's room, Yuuko-san pays Watanuki a visit. She explains to Watanuki that Himawari-chan's curse cannot be lifted without her sacrificing all of her happiness. He falls asleep and six days later, he and Yuuko-san continue their conversation on Himawari-chan. Before Watanuki falls back asleep, Yuuko-san gives Watanuki an egg as payment. As Watanuki sleeps, the egg communicates with Watanuki and detecting his kind heart and desire to make Himawari-chan happy, it hatches into a bird that will not be affected by Himawari's bad luck curse.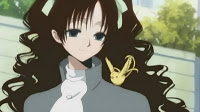 Once Watanuki is able to return to school, he is feeling very good. He encounters Himawari-chan and Doumeki. He gives Himawari-chan the bird, telling her that the bird will not be affected by her cursed state. She's very happy with the gift and ends up asking Watanuki to name the bird. The bird looks at Watanuki expectantly, so he comes up with the name Tanpopo ("Dandelion") because the bird is yellow. The name please both the bird and Himawari-chan, who notes that the bird's name is that of a flower as is her own name (sun flower).
Thoughts/Review:
I'm sad to see that the visit from Zashiki-Warashi and Ame-Warashi was cut from the anime adaptation of the story-arc. Sadly, it doesn't appear she'll be in the final episode either.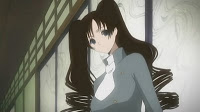 As to the story, I remember how great it was learning about Himawari-chan when I read it in the manga. I figure those who are only watching the anime will have a similar sense of enjoyment. Of course, the manga story had the egg as another linker to the Tsubasa story, which of course does not exist in the anime version (which has always been a shame).
Thus far, I think that xxxHOLiC Kei is a better adaptation than the xxxHOLiC anime was. I doubt that the final episode will change that feeling, but I can't really say that this will be a series I'll want to come back and re-watch.