ルパン三世 GREEN VS RED (OVA)
Rupan Sansei: Green vs Red (OAV)
Lupin III: Green vs Red (OVA)

SPOILER Summary/Synopsis: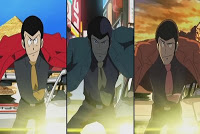 A Lupin impostor in Tokyo committing shoplifting gets caught and the news is broadcast around the world. This brings Lupin's from all over converging on Tokyo, each claiming to be the real one and wanting to prove it. Zenigata returns to Tokyo to help the police try to sort out the real Lupin from the seemingly endless fakes; all of the different Lupins looking as Lupin has looked over the years complete with the red, green, and even pink jackets.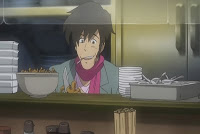 Yasuo works at a ramen restaurant (he might own it, I wasn't clear on that point) and is dating the pretty news reporter Yukiko. However, things aren't going well for him financially and after a customer leaves a green jacket behind, Yasuo starts adding to his income by walking the crowded streets of the Tokyo metroplex and stealing people's wallets. With this, he's able to buy his girlfriend and nice ring even though she says he didn't need to do this for her.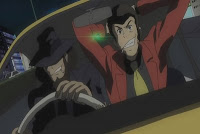 Over time, Yasuo becomes obsessed with becoming Lupin to the point that he reads and watches everything regarding him. He even works with Goemon for a time, disguised as Lupin. However, when Yasuo learns of the Ice Cube diamond, he knows that if he can steal this, he will be the real Lupin. With Fujiko at his side, he attempts to make the theft, only to have the "real" Lupin interrupt. This leads to the red jacket Lupin and the green jacket Lupin in a face-off with the winner becoming the real Lupin. When the battle is over, a red jacket Lupin leaves with Goemon, Yukiko's ring hanging on a chain from the rear-view mirror.
Thoughts/Review: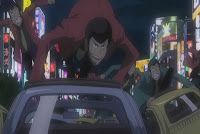 Considering my love for lengthy summaries, you might wonder what the heck is up with a 1 hour 19 minute OVA being compressed into a three paragraph summary. Frankly, this OVA defies the normal summary routine, mainly because it is all over the map. It doesn't follow traditional story flows as there are flash forwards, flash backs, flash side-ways, and flash-flash to leave the audience going, "huh?" Don't watch this when you are tired because you will get lost in a hurry, especially trying to keep up with all the different Lupins.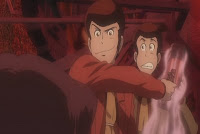 As to the story, Ice Cube element is almost worthless here. It is a tool to tell another story since this OVA is not about stealing the Ice Cube (supposedly a diamond but actually a form of Plutonium). The writers make a token effort at making some explanations, even trying to make some anti-nuke, anti-military political statement with an anti-U.S. pickle on the side in the form of Mr. Mike Logan, who actually has a native (American?) English speaker play the part — Josh Keller. As an aside, it is nice that Josh got to speak as a normal American and not be given Engrish lines.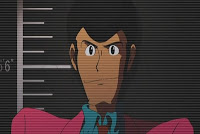 So, what is this 2008 OVA about then? For starters, it was done to celebrate 40 years of Lupin III. Its hard to believe the Lupin franchise has been around so long, but it has (and I'll go into the age thing more in a bit). Because of this celebration, the OP has a clever bit of tribute, showing how Lupin's character designs have changed over the years (depending on the series, movie, OVA, or special) by having all of these Lupin's descend upon Tokyo. There are scenes in the OVA which long time fans of Lupin III will recognize as having come from other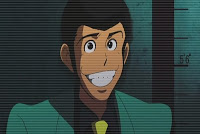 titles — I could only identify Castle of Cagliostro because I've seen it so many times. I could see a nod to Miyazaki-sensei's other influences on the franchise (he was a big part of the first TV series and directed a couple of episodes in the 2nd TV series before doing Castle of Cagliostro) in the form of the giant robot that made a bizarro appearance and the insane faux Lupin in the attack helicopter who's helmet and mask looked to be a Miyazaki creation.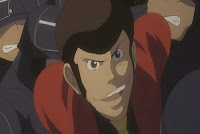 The story then is not about Lupin or his companions trying to steal something and getting caught up in an adventure. Instead, it is about Yasuo not being happy with his life and in wanting something else, slowly becomes Lupin. Not only does he own a yellow Fiat, have the looks and clothing of Lupin, but he also has the good heart, saving a child from drowning. Yasuo may have hated his life, but he had a good woman at his side and there were other ways to improve his lot. He chose a life of crime, a chance at Fujiko, and all the excitement that brings.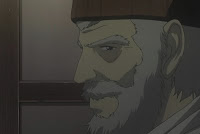 In the end, Yasuo finds that the only way to become Lupin is to defeat Lupin in a duel, which a 3rd party sets up. Yasuo is wearing the green jacket and "Lupin" is wearing the red one. However, red-Lupin states that they are both frauds which is why a duel will settle the matter once and for all. I couldn't help but wonder if this was a comment on seiyuu KURITA Kanichi (who does the voice of this red Lupin) taking over the role of Lupin III in 1995 after YAMADA Yasuo passed away, more so because the Yasuo was named after the original Lupin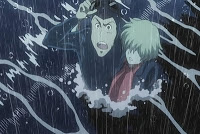 seiyuu. The OVA strongly suggests that Yasuo wins the duel and breaks up with Yukiko, based on her ring being on the Fiat's rear-view mirror. What happened to the "real" Lupin? The OVA suggests that he may have retired and runs a small bookstore in Tokyo disguised as an old man who knows all about Lupin. That would explain why he left a green jacket at Yasuo's place as well as slipping him the P38.
After all this craziness, I began to wonder if maybe the production team is trying to prepare fans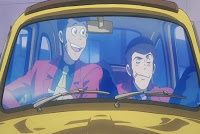 for seiyuu changes by showing how Lupin has changed in character design over the 40 years and how things like how Lupin looks (or sounds) doesn't matter, it is how he behaves that is ultimately key here. When Kurita-san took over as Lupin, the amazing thing is that he sounded almost identical to Yasuo-san's Lupin. So for fans, the change in seiyuu wasn't much of an issue.
All of the other parts (Fujiko, Goemon, Jigen, Zenigata) have been played by the same seiyuu for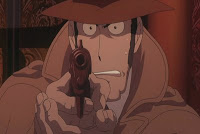 all these years save for one OVA (which I really need to re-watch) — Plot of the Fuma Clan. The fact of the matter is that the seiyuu are getting old and they sound it, especially Zenigata's seiyuu NAYA Goro, who's 79. MASUYAMA Eiko (Fujiko) is 72. KOBAYASHI Kiyoshi (Jigen) is 75. INOUE Makio (Goemon) is 68. Kurita-san is the baby, being only 50. I'm guessing the production team will keep using the same seiyuu until they can't make it to a studio to gasp out lines, at which point we'll have to see if Japanese fans can accept a change in seiyuu or not (there've been so many American VA casts for Lupin titles over the years that it doesn't matter to American fans).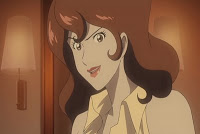 Speaking of Lupin's gang, they don't get used much in this episode. All of them get speaking cameos and that's about it. Goemon teams up with Yasuo for a bit as does Fujiko while another Lupin briefly captured Jigen before he escapes. Zenigata fares a little better when it comes to speaking time. Further, he's not a bumbling imbecile for this series. He's a cop who's been after Lupin for years and despite his failures is better equipped to handle him than the entire Tokyo police force. I'm glad the writers didn't make him an idiot as too many of the recent specials have done.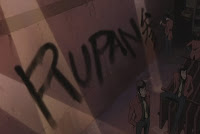 The humor aspect of the Lupin series is all but missing here. Oh there's some humor at the beginning with so many Lupin's coming to Tokyo at the same time. Also, the production team has some fun with the "Rupan" vs "Lupin" spelling of Lupin's name. Because of the controversy with the use of the name Arsène Lupin III (the character Arsène Lupin being created by Maurice Leblanc and apparently the Leblanc family didn't like the Japanese using the name or claiming Lupin III is a descendant of the French character), AnimEigo refused to use the name "Lupin," choosing instead to use "Rupan" which is the actual Romaji spelling of Lupin's name. Other instances of early Lupin in English simply called him "The Wolf" (or something like that). Today, the whole controversy thing is a big joke and that is reflected in one scene of the OVA.
Finally, there's this — McDonald's.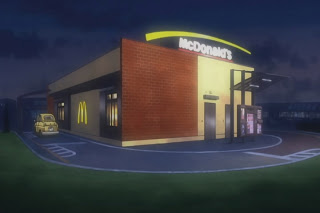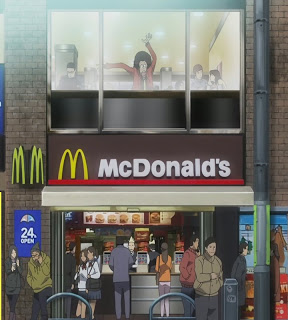 I wonder how much they paid for spots in the OVA, considering how real-life businesses like McDonald's are usually parodied and not actually shown.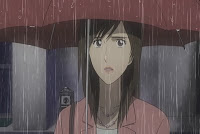 Ultimately, this is the strangest Lupin title I've ever seen and one that I have no intention of seeing again. I can't say it is a bad anime — it is a different anime and different does not equate to bad. However, I don't like the jumbled style of story presentation, nor do I care much for the style over substance stuff that came up either. The anime does provoke some thought for Lupin fans, which if the goal of the production team, they succeeded. That alone make this worth a rent (should it ever be licensed in the U.S., which I doubt).