FUNimation continues to grab Geneon titles by scoring Gad Guard. Gad Guard? Never heard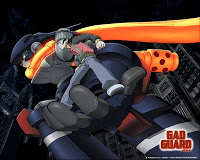 of it and what little I've seen from the imagery, it isn't grabbing me either. Geneon had completely released the series so it has been dubbed and subbed. The only interesting thing about this announcement for me is that FUNimation's Gad Guard page does not mention Geneon nor show the Geneon logo anywhere, which FUNimation has done for titles that they are just distributing for Geneon. So I think that this is a true license rescue vs. a distribution deal. Even if that's the case, I highly doubt that FUNimation's release will be anything other than Geneon's work in a FUNimation package.
Looking around different anime forums, anime fans are mostly unimpressed with the first two announcements from FUNimation. As I said, I've never even heard of this anime title, but FUNimation obviously feels that there's money to be made here.
Well, onto the next license tomorrow.
Update: As I thought, this is a true license rescue and not a distribution deal for Geneon (press release). That gives me hope that FUNimation just might be able to completely take the entire Tenchi franchise from Geneon at some point.
Originally posted at
astronerdboy.blogspot.com
. If you are now reading this on another blog, it has been scraped from
AstroNerdBoy's
blog. You are encouraged to shun this pirate blog and come by the real McCoy. ^_^