So, FUNimation pulls another two titles out of the Geneon stable — Vandread and Vandread Second Stage. I already own the Geneon singles for this, so barring a new subtitle treatment to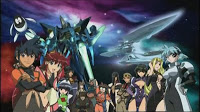 FUNimation standards, there's no reason for me to buy this. However, if you guys haven't watched Vandread, you are missing a real treat. As I rambled about a while back, Vandread (and Vandread Second Stage) are on the surface nothing more than a Gonzo mecha-harem title. However, the premise of making the "war of the sexes" into an actual war and forcing three male prisoners to serve on a female pirate ship as they attempt to travel home actually gives this franchise something special. Further, the characters are very likeable (at least in the Japanese), there are very funny moments that happen, there are touching moments that happen, and there's a lot of action. Basically, this anime has a bit of everything and is able to overcome some of the standard shounen cliches, enough that this is a top-10 favorite anime of mine.
This time, it appears to be a distribution-only deal and not a true license rescue since Geneon's logo is slapped on FUNimation's official Vandread page. Then again, maybe not since it says it is licensed by FUNimation and not "distributed" by FUNimation. Who knows. I'm sure ANN will clear this point up once the official press release comes out. (Update: It is a true license rescue.)
I know people aren't going to be happy with another Geneon title now in FUNimation's hands being the 3rd announcement rather than have a new title fill that role. However, I for one am glad that Vandread and Vandread Second Stage won't fall off the R1 anime map.
Congrats to those who guessed this right.
Originally posted at
astronerdboy.blogspot.com
. If you are now reading this on another blog, it has been scraped from
AstroNerdBoy's
blog. You are encouraged to shun this pirate blog and come by the real McCoy. ^_^