Negima! 238 SPOILER Images
魔法先生 ネギま!Chapter 238 (Images)
Here's what many of us have been waiting for — the original-sized, sneak-peek images for Mahou Sensei Negima! 238 as brought to you buy anonymous Japanese fans (click pic to make bigger, y'all).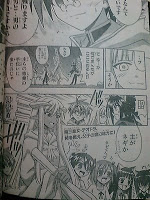 I'm sure there will be more later but I've got to get to sleep. Meanwhile, Eva? What the…?! This image is not what I expected to see at all.
Update: Here's the 2nd round of SPOILER images –> CLICK HERE!
Originally posted at
astronerdboy.blogspot.com
. If you are now reading this on another blog, it has been scraped from
AstroNerdBoy's
blog. You are encouraged to shun this pirate blog and come by the real McCoy. ^_^