Negima! 239 SPOILER Images
魔法先生 ネギま!Chapter 239 (Images)
Here's what I know many of you have been waiting for — the original-sized, sneak-peek images for Mahou Sensei Negima! 239 as brought to you buy anonymous Japanese fans (click pic to make bigger, y'all).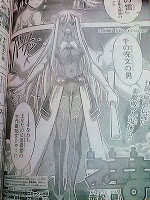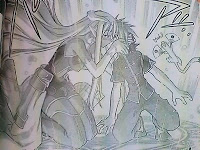 If that bottom image shocks you, I can tell you it has caused all kinds of activity on the Japanese side. I know American fans are big on speculating about who the next girl Negi will pactio with will be, but I know no one thought Theodora would be it. So again, another surprising development.
If there are more spoiler images, I'll post them.
Update: And here are the next batch of images (though a bit late…sorry about that). –> HERE
Originally posted at
astronerdboy.blogspot.com
. If you are now reading this on another blog, it has been scraped from
AstroNerdBoy's
blog. You are encouraged to shun this pirate blog and come by the real McCoy. ^_^