とらドラ!Episode 19
Toradora! 19
SPOILER Summary/Synopsis: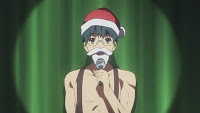 Ryuuji calls Minori and leaves a message asking her to come to the party as Taiga is yelling from across the way for Ryuuji's attention. Taiga has a present for Ryuuji — a nice suit that had belonged to her father. Taiga is also dressed up and looks good. They head to the party where they see Yuri-sensei, who's heading for a seminar on buying an apartment. Inside the party, Yuusaku is dressed as a shirtless Santa and gets things started. Ryuuji can't stand how the fruit punch is being done so he takes over serving. After some time, the lights go out and Ami and Taiga are on stage and perform a Christmas song, idol style.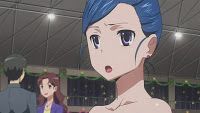 After the performance, Ami comes over and sees Ryuuji, who compliments her on the singing. Ryuuji is surprised to learn that Taiga went to get Minori and then go home to wait for Santa-san. Ryuuji is confused and Ami gets irritated by Ryuuji's ignorance and reminds Ryuuji of what she had told him previously — stop playing house with Taiga. She leaves in a huff and Ryuuji realizes that what Taiga intends. So he takes off from the party.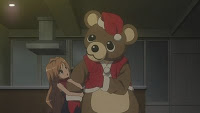 Meanwhile, Taiga has paid a visit to Minori to tell her that Ryuuji is waiting and then comes home. She's feeling a bit sad and lonely, more so knowing that she's setting Ryuuji up with Minori. Taiga nods off and is awakened by pounding coming from her bedroom window. She goes and finds a person in a Santa-bear costume. Taiga is excited by Santa-san's visit and shows him her little tree. Taiga is very happy but she knows who's in the costume — Ryuuji. She thanks him and then shoves him out so that she won't be a liar. After all, Minori is going to the school to meet Ryuuji. Reluctantly, Ryuuji takes off.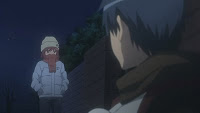 After Ryuuji leaves, Taiga becomes sad and suddenly doesn't want Ryuuji to be taken from her as he's been the only always there for her. So she races outside to see if she can see Ryuuji. Since he is not, Taiga sinks down to the ground and cries. This is seen by Minori, who is inexplicably outside Taiga's apartment complex. Minori heads to the school and finds Ryuuji waiting. She reminds Ryuuji of their conversation at Ami's summer place regarding UFO's and ghosts. She tells him that she doesn't feel she needs to see those things any more and then leaves. The stunned Ryuuji realizes that he's been rejected by Minori.
Thoughts/Review: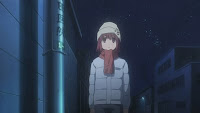 I had only one real problem with this episode — why was Minori outside of Taiga's apartment? The series has shown that Minori doesn't live in the same nearby area as Ryuuji and Taiga as they would meet Minori on the way to school. Since the Christmas party is at the school and presumably Minori was out to see Ryuuji at school, then why would she be at Taiga's house? That seemed a stretch to me. If she wanted to talk to Taiga, she could have called. Taiga stopped by Minori's place rather than call because she wanted to make a personal plea to Minori. There's no reason for Minori to see Taiga in person. As such, the whole scene of Minori getting to see Taiga weep smacked of unbelievability.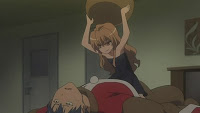 Ryuuji is really rather dense. Ami could see that Taiga was developing feelings for Ryuuji (as could Maya). Ami could see that Minori had feelings for Ryuuji. Ami knows her own feelings for Ryuuji. Ami had tried to warn Ryuuji about "playing house" and Ryuuji didn't listen. Ryuuji does feel very protective of Taiga and doesn't want to lose her, but romantically, he's still more interested in Minori. Taiga, who'd recently suffered having Yuusaka confess to someone else, knew she had no chance with Yuusaku despite how nice he is nor how others were forcing them together. Yeah, she liked the idea but in reality, Taiga knows the one guy who's the perfect companion for her — Ryuuji.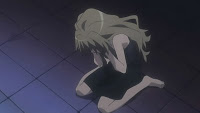 I've read some people complain that this episode was full of lazy writing and was all but a "jump the shark" moment. I don't see that at all. One of the complaints was how Taiga just changed gears from Yuusaku to Ryuuji, but as I said before, Taiga already knew that she wasn't going to be with Yuusaku. Plus, Taiga has already noticed how close she and Ryuuji are. When they were in Ami's large summer home, Taiga and Ryuuji spend the evening in the living room with Ryuuji sitting on the floor and Taiga on the couch using him as a foot rest. I don't know about you, but I'm not getting that cozy with a female friend without some acceptance in my mind that she could be a potential girlfriend, and I believe girls feel much the same in reverse. So at least in the back of Taiga's mind, Ryuuji was potential boyfriend material (as I see it).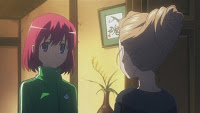 Another complaint is that the characters are acting like idiots and everything depends on coincidences. For the idiot part, I didn't see the characters acting any differently. Minori has been depressed for a long time and I suspect her happy-go-lucky nature was to cover her depression. Taiga has often shown a softer side so no difference there. Ryuuji is pretty thick so no difference there. Ami is the one character who seems to see everything clearly but she's not really acting any differently. So I don't know where this idiot charge is coming from.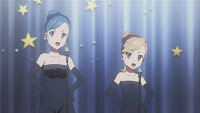 The coincidence part has one valid argument — Minori (and I've already addressed that). The other things that happened didn't feel coincidental. However, everyone has their own opinions for what they like and don't like as well as what they perceive and don't perceive.
One side note — Ami and Taiga performing the duet sorta helps cement in my mind that they are indeed friends. I don't think they would have bothered to sing together otherwise. Yeah, the song may have been done to get otaku to buy the single, but I liked the moment just the same. No, I won't be buying the CD, even if I had a job. 😉