Negima! Manga Vol 27 (Ch 244) SPOILERS
魔法先生 ネギま!Volume 27 Chapter 244 (manga)
Mahou Sensei Negima! Manga Chapter 244
Summary/Synopsis: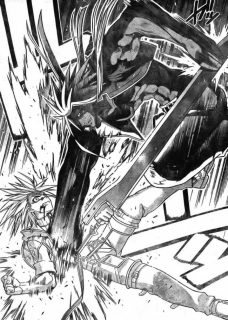 Negi and Kotaro are being owned in the arena but Negi tries to counter attack. Jack explains the weaknesses in Negi's new technique, which he does admit is impressive for Negi to learn. In addition, Jack tells Negi that this new technique gives itself away to Jack, almost as if Negi called Jack, told Jack he would punch him, then hung up. So Jack has time to defend against the attack, which he does. Jack uses the Eternal Negi Fever attack which blasts Negi but Negi activated Asuna's artifact to deflect some of the energy. However, Jack is behind Negi and puts him down. Everyone is stunned and Shiori-Asuna challenges Negi to get up. As Jack and Kagetarou discuss how serious things got for a moment there with both Negi and Kotaro's early success, Negi thinks of how it might be impossible for him to catch people like Asuna, Eva, or even Nagi.
Ako sees Negi down and thinks of Negi's promise. In a flashback from two days earlier, Tosaka confronts "Nagi" about really being the wanted criminal Negi. He even produces evidence showing Negi transforming and while this kind of magic impresses Tosaka, Tosaka has blackmail in mind. Tosaka is stunned to learn that Negi's true form is actually the kid one. Since Tosaka knows that even the girls with Negi are wanted, he wants Negi to become his slave, thus giving him control over the son of the Thousand Master.
Ako has overheard all this and just as Negi is about to give into Tosaka's demands, Ako interrupts, spilling a pot of curry on Tosaka. Tosaka tells Negi he has a day to decide. In the bath, Ako cries at the truth that the Nagi-san she fell in love with is actually Negi-kun. Akira finds Ako in the bath is is about to tell her the truth about Negi-Nagi but Ako reveals she already knows and hugs Akira. Akira apologizes and Ako understands.
Thoughts/Review:
I laughed out loud when Jack described Negi's "telephoning" the new technique. On the serious side, Jack used the moment to teach Negi a lesson in addition to schooling him with an actual beating. Pointing out the new technique's weaknesses in a situation that is not life-or-death will give Negi something to draw from when facing Fate down the road.
The count is on for Negi to lose. Traditional hero moments would dictate that the hero gets up against all odds and makes a comeback. I really hope that doesn't happen because that's an old storytelling format. That said, IF Akamatsu-sensei does do this, I hope he makes it in such a way that feels fresh.
Here are some things to consider as Negi is being counted out. For starters, there's the Tosaka issue. I can't believe that Negi was about to again make himself a slave of another person in some misguided attempt to protect the people he cares about. As a slave, he can no longer protect them but despite the near disaster with Fate where Fate would have bound Negi and made him powerless, Negi again somehow thinks that this is the best strategy. Thankfully, Ako interrupted.
Anyway, what we don't know is what Negi ultimately decided. I can't imagine Negi submitting to Tosaka in the end, especially since I get the impression that Ako and Negi will speak again (though I could be wrong). Also, Negi was not wearing a slave collar yet though if Negi did submit to Tosaka, the deal may have been to wait until after the match was over. I looked back at chapter 240 to see if there is any clue on what might have happened. I can't see anything beyond Negi giving Tosaka a look.
So that raises the obvious question, "What ultimately happened?" I said I can't see Negi ultimately submitting but if that's true, then how did Negi get away with things for two days? Did Negi avoid everything by training? We do know he and Kotaro emerged to continue their matches before returning to training and Tosaka would very likely have nailed Negi there. Maybe Negi countered Tosaka by pointing out how much Tosaka could lose by having harbored a wanted criminal and even making money off him when Tosaka knew the truth about Negi. I'd be interested to hear some thoughts on this.
The other thing to consider is that if the fight ends next chapter, does Tosaka do something to end it? Does Fate make his move (I'm leaning against that at the moment)? Does Jack win and Negi hopefully learns some valuable lessons? Frankly, I think the later is the resolution with the highest chances of coming out but we'll see how things go.
As to the Ako story, I have never disliked her as a character. In fact, I've liked her well enough and this resolution to her unfortunate love of someone who's not real is showing that she's pretty strong. I don't think she's putting up a front as she watches the match. She's had her cry and maybe even said something else to Negi about things. Frankly, I think it will be Ako who keeps Negi from making another mistake dealing with Tosaka but even if she isn't, she's still a fine character. I really do wish that Akamatsu-sensei would flesh her out even more, explaining how she got that scar but we may never get that answer.
Shiori-Asuna's support of Negi in the fight is something that Asuna would really do — challenge Negi to get up. That is such a scary ability she has to emulate another person, though as we've seen, it isn't 100% perfect. I do look forward to seeing how that story thread is resolved.
I'm really looking forward to seeing things wrapped up next chapter and a move forward to the next phase of the Magic World arc.