xxxHOLiC Manga Chapter 174
SPOILER Summary/Synopsis: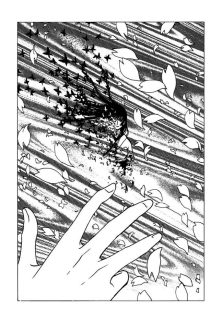 Watanuki sees Yuuko-san dissolve away and vanish and when he awakens, he has a butterfly in his hands which too dissolves away.
On the way to school, Watanuki tells Doumeki that he cannot find Yuuko-san anywhere. While he concedes that there are possibly hidden rooms within Yuuko-san's store-residence, the fact that he hasn't seen Maru and Moro in ages as well as not finding Mokona makes Watanuki suspect that he may not be able to meet them anymore. Watanuki decides that maybe they just have something to do and so Watanuki will try to grant Yuuko-san a wish.
They stop by the house of the woman who wanted Watanuki to teach her to cook. They get no response, so Watanuki leaves a note on the gate. He vows to keep making onigiri until she eats them.
Thoughts/Review: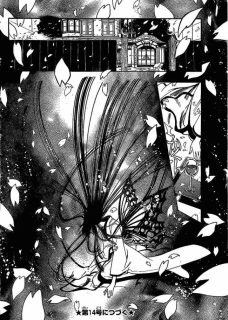 Whatever mess is going on in Tsubasa -RESERVoir CHRoNiCLE- is the reason that Yuuko-san is missing. Chapter 214 of that manga clearly shows that she's been affected but doesn't give any great details otherwise. However, I've added the image from that chapter to illustrate another perspective on what's happening to her.
Regardless, xxxHOLiC continues to be marking time. All CLAMP can do is acknowledge that "something" is happening to Yuuko-san so in the meantime, let's have Watanuki obsess over that loser woman who has the weird eating problem. Yeah, that's a real interesting story.
You know, when I initially got into both xxxHOLiC and Tsubasa -RESERVoir CHRoNiCLE-, I thought that CLAMP had clear ideas of where they wanted to take things and a good understanding of the linkages. Maybe they did, but frankly I have been really disappointed with how both of these mangas are winding down. Its a case of the premise being good but the end being pretty tedious. Sad really.
I'm in this until the end (Lord willing) so we'll see how things end. I figure the end will come in a few months, tops.