Better Archive Those Old GeoCities Anime Sites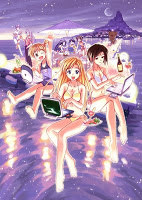 It has been reported in many places that Yahoo is going to close down GeoCities, that now ancient-of-days free homepage hosting site that so many people used back in the 90's when the Internet was new, fresh, and exciting. In recent years, I'm not sure how many people are creating new accounts in order to build a home page but with the advent of blogs, social networking sites, and cheap domains, the age of GeoCities has come to an end.
I never used GeoCities for any of my own stuff because I've had a domain for a number of years. However, as I looked through my list of bookmarks, I was surprised to see how many of these were bookmarked to a GeoCities site. Case in point, Punistation's Tenchi Muyo fandom site, with lots and lots of goodies one likely won't find elsewhere (I have talked with Punistation and she's going to look for a new place to host all her stuff). How many GeoCities' anime and manga sites for older titles will simply vanish.
"Well ANB, the Wayback Machine will have everything archived, so no worries, right?"
Ah, if that were only true. There have been a number of sites which have disappeared off the Internet and while traces of them may exist on the Wayback site, often images and whole pages won't be archived for whatever reasons.
So, if you've got any old GeoCities sites bookmarked and they contain great stuff (but maybe not something you'd visit too often), you might want to think about saving those pages, images, and other materials to your hard drive, JUST in case.