Hagane no Renkinjutsushi – Fullmetal Alchemist Ep. 03
鋼の錬金術師 FULLMETAL ALCHEMIST Episode 03
Fullmetal Alchemist Brotherhood – 03
SPOILER Summary/Synopsis: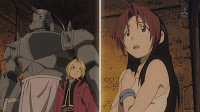 Arriving in Liore to investigate the miracle performing priest named Cornello, Al and Ed meet Rose, a devout follower of Cornello who believes the priest can raise the dead. After talking with her about faith and alchemy, they do convince Rose to set up a meeting between them and Cornello. When Cornello hears of their arrival, he realizes his plans are in jeopardy as Elric brothers are working for the government.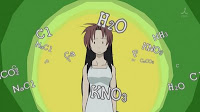 After being shown in, they are beset upon by Cornello's people, but those people are quickly defeated. Cornello shows up and after exchanging words with Ed over miracles and alchemy, Cornello has a chimera set upon them, which Ed defeats. Cornello instructs Rose to shoot the brothers after realizing they had attempted to perform human transmutations but she hesitates. Cornello creates a Gatling gun with his Philosopher's Stone ring, but Al grabs Rose and with Ed they escape.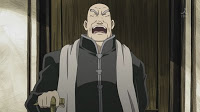 Cornello gives chase and has his followers try to stop the trio, but Ed is too strong for for them. Al is with Rose on a balcony with Rose struggling regarding her faith and the revelation of what Al and Ed did. Ed confronts Cornello in Cornello's office and tricks the priest into going off on his followers to reveal the truth. This is broadcast over radio and loudspeaker in Liore.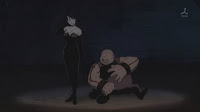 Cornello is infuriated and in an attempt to attack Ed, his Philosopher's Stone rebounds and basically turns Cornello into a chimera. Ed is the better fighter but when he attempts to grab the stone, it falls out of the ring, breaks, and dissolves. Ed declares it a fake and leaves. Rose confronts Al and Ed one more time since her dream of having her lover brought back to life is shattered. After Al and Ed leave town, Cornello discovers Lust and Gluttony waiting for him. Lust kills Cornello for failing his mission and Gluttony eats him.
Thoughts/Review: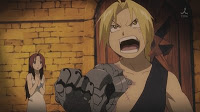 I remember in the first series that this story covered two episodes and that Rose had a baby. There was a distinct, darker feeling to the original series' story and while those elements are here, the production team opted for a mix of comedy and drama. Rose has no baby (does she have one in the manga?) so that added extra of danger is removed (actually, I'm told the baby didn't come until later in the first series — I had to sell it a couple of years ago so I didn't remember when the baby showed up — thanks for the corrections!). However, Rose's character design gives her a less cutesy feel and a more genuine one, thus making her belief feel real despite the added danger element of a baby. Things move at a rapid pace rather than take a leisurely stroll as in the original anime. Both versions of the story have good and bad to them and I can't say that I like one over the other.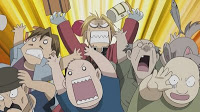 Animation-wise, the production team have been doing an interesting thing to cut costs — use the humor moment to have cheap animation. Normally, I'd be annoyed when animation shifts in quality as it does here, but now that the animators are using the cheap art/animation moments to exaggerate humor stuff, they get a pass. The cost savings from those moments are then channeled into the action sequences, resulting in some nicely-animated fight scenes. This method of production may account for why there has been an increase in humor moments and "chibi" jokes against Ed. I don't know how dark or comedic the manga is (those who've read, please feel free to enlighten me) .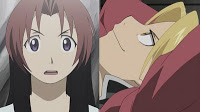 Another interesting production item is the use of split-screen. I know this method of story telling has been done on the American show 24, but I don't remember it ever being done in anime (and I'm not talking about those brief "show shock" splitting of the screen to show multiple characters but rather having an animation sequence done in two separate screens). That's not to say it hasn't been done, but in my limited viewing experience, its never been done.
T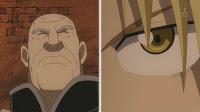 hat said, I have to say that it gave a more weight to the conversation between Rose and Ed about faith and alchemy. We could see his flippant attitude while at the same time we could see Rose's reaction to Ed's words. So I really like the judicious use of split screen and if needed, I hope we see it again.
The "Father" character gets name-dropped here, which I know comes from the manga.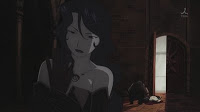 So that is the one element of newness to the story that is nice for me seeing as how Father was not in the original anime. I will enjoy watching how this element to the story plays out. I'm guessing that Father is the creator of the homunculi, otherwise he wouldn't be addressed as such (the Japanese word "otousama" was used, so I doubt there's a religious element to the title "Father" beyond parenthood of some sort).
Three down and I'm very pleased with this reboot of the franchise. ^_^