xxxHOLiC Manga Chapter 182
SPOILER Summary/Synopsis: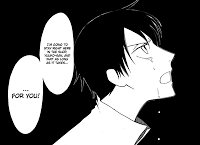 Yuuko-san tells Watanuki that she spent her days in that shop granting wishes in order to do what must be done. As her final act, Yuuko-san grants Watanuki's wish to not see spirits nor be troubled by them once she is gone. Watanuki pleads with her not to go and feels there has to be some other way. Watanuki says she can't die because he hasn't granted her wish but she cannot stay. Yuuko-san says her wish is for Watanuki to keep on existing. As Yuuko-san vanishes, Watanuki feels that if dreams can come true by wishing hard enough then he will wish for Yuuko-san to return. As such, he vows to stay in the shop and wait for Yuuko-san as long as it takes.
Thoughts/Review:
So, if Watanuki will be unable to see spirits, I guess that means that he will no longer be able to see Zashiki-Warashi and that will disappoint me because I like her so much. Plus, there are many others whom Watanuki wouldn't be able to deal with whom he's befriended. Assuming CLAMP keeps this up, it is rather sad for me.
I need to read the current Tsubasa chapter to see what the smeg is going on over there. I'm not convinced that Yuuko-san is gone forever but this is CLAMP and frankly they've gone all over the place of late. I can't imagine the manga continuing much longer without Yuuko-san there. I guess we'll see soon enough.
Really, not much more to say because xxxHOLiC has long been creeping along at a snails pace — lots of pages to cover very little ground. That said, I'm in for the long-haul. ^_^