フェイト/ステイナイト Ep 14
Fate/stay night episode 14
SPOILER Summary/Synopsis: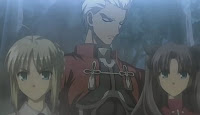 Rin, Archer, and Saber arrive at Castle Einzbern when Rin senses Ilya and has Archer disappear. Saber and Rin hide and wait for Ilya to leave before making their entrance. Despite her weakness, Saber is determined to save Shirou and is surprised when she finds him having freed himself from his bonds. The foursome them easily makes their way to the main entrance of the castle but as they start down the stairs, Ilya reveals she's been there all along, having fooled Rin's senses.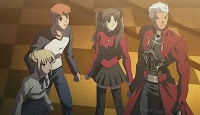 Ilya promises that none of them will escape and summons Berserker. Rin instructs Archer to buy them escape time before escaping himself. He's asks permission to unleash on Berserker and receives it. Before they leave, Archer has some advice for Shirou — master the one skill he's good at — creation.
Saber, Rin, and Shirou flee as Archer battles Berserker.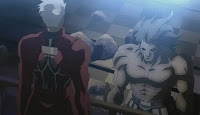 Archer takes damage even when avoiding Berserker's attacks. Even after losing two swords, Archer simply produces two more and continues fighting to Ilya's amazement. Though Archer has taken some damage, he lures Berserker into position where Archer then produces his bow and transforms a sword into an arrow and nails Berserker with it. However, the blow that would have killed other Servants does not kill Berserker. Their fight continues with Archer producing more blades and inflicting damage on Berserker.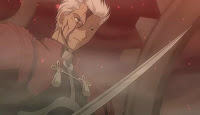 In the end, Archer realizes that he cannot win the fight and brings himself, Ilya, and Berserker into a "reality bubble" filled with unlimited swords and gear mechanisms. All of this stuns Ilya and she's even more surprised when Archer addresses her as "Ilya." Archer throws everything into one last attack and is killed, though he inflicts heavy damage on Berserker. The bubble gone, Ilya marvels at Archer's ability to stay alive so long since he should have been killed many times over. She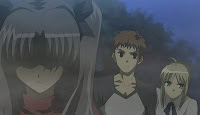 orders Berserker to heal himself and pursue Rin, Saber, and Shirou.
In the woods, Rin sees her command spell marking disappear and knows that Archer is dead. Rin tells them that they have to hurry since Ilya will be after them soon. However, Saber collapses from lack of energy.
Thoughts/Review: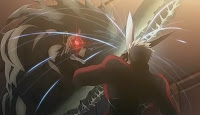 Archer — WHOA! Hold on — my mind is still processing this information and it doesn't help that I'm pretty tired at the moment.
If I saw this correctly, Archer was literally creating blades and even an alternate reality bubble of sorts towards the end of the fight. Other than the one attack where he turned a blade into an arrow, he didn't use any archery abilities but only sword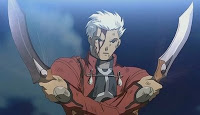 techniques. No wonder Ilya was asking who this guy is. Heck, I'm asking myself the same thing too. I mean, Archer addressed Ilya as "Ilya" and kept having flashes of Shirou. Heck, he even gave Shirou advice on mastering the creation of things which I found very interesting. Now if Shirou were dead, I'd say that Archer was Shirou but that can't be can it? I know Ilya offered Shirou a chance to be a Servant but Shirou declined. So I'm left wondering who exactly Archer is, if that will even be revealed.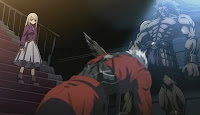 As for Archer's death, I had a hunch that might be coming. After all, if Rin and Shirou are to remain allies and not get into a fight, then one of the two had to lose their Servant. Since Saber wasn't going to be the one to die, then that only left Archer. For a moment, I thought Archer might actually take out Berserker but that didn't happen. Archer's being able to hang in the fight so long has to be in part tribute to Rin but also to whomever he was originally I'd guess. It is interesting that Archer wore one of Rin's gems as a necklace though. I wonder if that also played a part.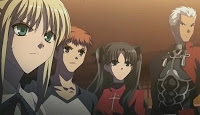 It is a shame that I didn't get to see Archer and Saber work as a team though. Oh well.
Oh — it was also interesting that Archer spoke English for his blade creations. I'm guessing that's part of his Nobel Phantasm usage?
Ilya must have some incredible magical reserves for Berserker to heal so quickly though. I fully expect her to now attempt to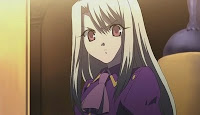 keep her promise and kill Shirou, Saber, and Rin. Frankly, that doesn't seem too hard, even for a weakened Berserker, which he does not appear to be unless Archer left some sort of surprise that will take Berserker down later. Berserker was pretty torn up by Archer's blades and one of those could have contained a booby trap (I think of Frodo getting stabbed by a Ring Wraith in Lord of the Rings).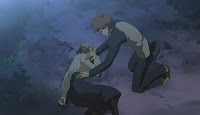 Of course the big gorilla in the room is Saber getting very little energy from Shirou. Now that Rin is effectively out of the war for herself, I'm guessing she might be able to have a way to get Shirou to channel power into Saber. Time to eat more gems on Shiro's part, thereby giving him energy that Saber can use?
I have to say that this episode just smoked by and despite nearly being asleep, I could not go to bed until I'd at least written my analysis. Hopefully, it will make sense when I get up again. ^_^;