Tsubasa: Those With Wings Manga Volume 1
–> Not available for purchase from RAKUTEN.COM (formerly BUY.COM)
–> PURCHASE FROM BARNES & NOBLE
–> PURCHASE FROM RIGHTSTUF!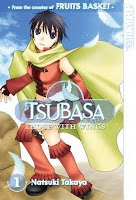 Continuing my discovering of other TAKAYA Natsuki manga titles, Tsubasa: Those With Wings comes off different from the start thanks to its larger size. In reality, what TokyoPop did was not license the tankoubon release from Japan, but the bunkobon release. For those who don't know, the bunkobon manga volumes in Japan are primarily re-releases of a manga series whereby two tankoubon volumes are merged into a single bunkobon volume. So the cover here is Takaya-sensei's new (and current) art style rather than use one of the original cover's art.
It also appears that these bunkobon volumes have stripped out Takaya-sensei's side-column pieces as well as her other commentary pieces and that's a real shame. Not only do these columns provide information on Takaya-sensei, she's also used them to provide information about the characters in the story so those are sorely missed. It is possible that TokyoPop may have stripped them out themselves as a cost-cutting measure (cheaper to remove the column than have someone translate it?), but I tend to think that the Japanese bunkobon release had these removed. If someone owns or has seen the bunkobon of this series, let me know.
The story is set in a post-apocalyptic Earth and features two characters. First is the teenaged female ex-thief Kotobuki. She became quite a good and well known thief due to the circumstances of the world she lives in but now is trying to live a straight life and work a real job where she can find one. The other main character is Raimon Shiragi, an ex-military officer who had encountered and confronted Kotobuki in her thieving days. Now, he travels around with her from place to place.
Kotobuki has feelings for Raimon but isn't very good about expressing them. She holds herself back because she wants to be a person who can be a strong support for Raimon. Raimon also has feelings for Kotobuki, but he has no problem expressing himself to her which often embarrasses her. He has shown that he will wait for Kotobuki to be ready but at the same time, he gently presses forward so that Kotobuki will allow him to kiss her from time-to-time.
One thing that sets this apart from a title like Fruits Basket is that the overall story arc is only an element that links the various individual stories together. That element is called "Tsubasa," which supposedly appeared at some point in the past and is said to grant any wish a person might make of it. Each story arc takes several chapters to weave. With Kotobuki and Raimon traveling from place to place so that Kotobuki can try to find a legitimate job, the "Tsubasa" element follows them and plays a role of some sort in the adventure they have.
Once the story arc is over, Kotobuki and Raimon move on and so leave behind the supporting characters whom they'd dealt with. So this manga has a strange "adventure of the week" feel. I say "strange" because one gets caught up in the different chapters (which are only denoted by the original chapter artwork surviving) having a group of characters but when that story is done, we are introduced to a whole new cast of supporting characters. While there is nothing wrong with this approach, I found myself liking a group of characters (Shouka for example from the first story) only to have them forgotten after the story they appear in is over. This may change as time goes on though.
The stories themselves are interesting enough with the added element of the romance (such as it is) between Raimon and Kotobuki. The Tsubasa element, which has played an important part already, hasn't really gripped me yet but I take it as it comes.
I can see the seeds of future Fruits Basket characters in this manga. Kotobuki has a bit of what will become Tohru. Yan looks and has a lot of elements that will become Hatsuharu. Finally, the character Ross has elements that will become Ayame. There may be others, but these three stood out.
Takaya-sensei's art here has the personalities come through and I like that a lot. When Takaya-sensei did a new manga short at the end of the volume featuring Kotobuki and other characters seen in the first volume, one sees how much more generic Takaya-sensei's art and character designs have become. I'm glad I won't have to deal with that issue as this manga proceeds though.
I am very disappointed with the adaptation of this volume. The lack of Japanese honorifics screamed out from the pages and I found myself missing them to gain the insite into how characters view each other. Apparently the Fruits Basket adaptation is an anomaly in that is used Japanese honorifics and became TokyoPop's cash cow. Well, whatever the excuse to remove the honorifics here, I didn't like that.
TokyoPop's cheapness oozes out here too. I am very careful about all my books and as such, most of my books could be passed off as new. Unfortunately despite my attempts to be VERY careful handling this book, the spine broke and pages threaten to fall right out of the book. *_* Yeah, that's a way to keep your customers coming back for more, TP. I understand that TP is replacing faulty books like mine, but considering the manga hasn't been adapted to ANB standards and I'll be replacing one cheaply made book with another, why bother?
So story wise, things are pretty interesting and TP-wise, not so much. Your mileage may vary, of course. ^_^