エンジェルビーツ Episode 01 Review
Angel Beats! – 01
SPOILER Summary/Synopsis: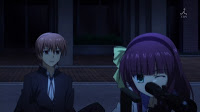 A teenage boy named Otonashi awakes to find himself near a high school girl named Yuri, who has a sniper rifle and is about to take out what she calls an angel (Tenshi). Seeing only a high school girl Otonashi rejects Yuri's explanation that he's dead, this is the afterlife, they are in a fight and refuses her invitation to join her cause. He tries to warn the girl of the danger, but she denies being an angel, calling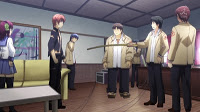 herself the student council president. She shows him he can't die by killing him, after which he awakes in the school infirmary with a bloody shirt as evidence. A guy comes in and kills Otonashi again for disrespecting "Yuri-pe." Otonashi awakes the third time to hear an argument amongst a bunch of students over what to call their group. After hearing the talk, he eventually decides to join up.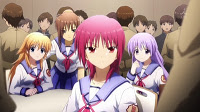 That evening, Otonashi observes what appears to be normal after school sports club activities with Yuri explaining that these are NPC's — non-player characters, like in an RPG game. If Otonashi decides to participate, he could end up disappearing and being reborn as something else. That night, Yuri sets up "Operation Tornado" to steal meal tickets. Giving Otonashi a hand gun, the plan starts with a concert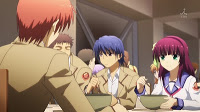 keeping the students occupied and Tenshi going to Otonashi's position. He shoots her but she advances. Additional shots are deflected by her. More of the SSS students show up to attack, but Tenshi deflects all of the bullets. They retreat as other SSS persons turn on giant fans, causing the meal tickets from the students caught up in the concert to fly away for the SSS to pick up. They do so and the following day, they eat udon in the cafeteria as if nothing happened, but Otonashi just wants his memories back.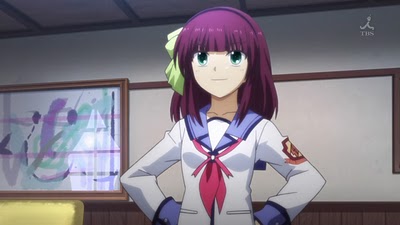 Thoughts/Review:
Hmmmm. The ONLY reason I started watching this anime is because it is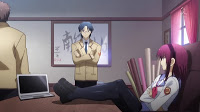 from Key, famous for its funny and tear jerking anime adaptations of ero dating sim visual novels like Kanon, Air, and the biggie Clannad. This isn't based on such a visual novel, but it is still a Key production, thus my interest.
As I watched this, I immediately found myself going, "Um. Hmmmm." The premise of someone waking up in the afterlife isn't new. I immediately thought of the excellent "afterlife transition"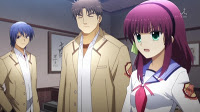 anime Haibane Renmei. Yuri's rapid fire manner of speech about what they are going to call themselves came across as supposedly being a joke, but I didn't laugh. I didn't laugh later on in the episode when the same "joke" came up again with the a whole bunch of SSS members.
Unlike previous Key animation titles, I didn't laugh at all. In Clannad when Tomoyo would beat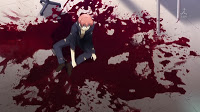 Youhei and kick him multiple times with a counter keeping score, it did come across as funny to me as Youhei was set up to be the comic relief character. Someone with a poleaxe butchering someone 100 times with a counter did not come off as funny to me. It was just a bloody mess (no pun intended) but I had the feeling that Key thought it would be funny if they just added a counter.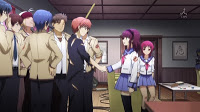 As long time readers of this blog know, I'm not a Kool-Aid drinker when it comes to the Haruhi franchise. I did watch the first series and it does seem to me that Yuri is set up to be a Haruhi-type character, only not as annoying to me. Haruhi aside, the character of Yuri felt like a cookie cutter character of things already done. I don't chalk that up as a negative now, but merely a feeling I have.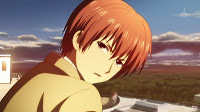 As to Otonash, I don't really have a feeling about him. There's nothing really remarkable about him thus far but his actions make me think that the anime writers have some sort of surprise in mind by the time the series ends.
None of the other characters stand out to me either. Even Tenshi, with her massive super powers, doesn't really stand out to me for some reason.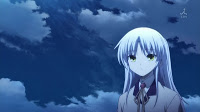 I think that ultimately, this anime feels like it is just going by the numbers and what they think will be popular or funny. The whole concert seemed out of place. This plan to just steal meal tickets seemed out of place. The fact that they pay no price for fighting Tenshi the following day and cash in on their "acquired" meal tickets seemed out of place.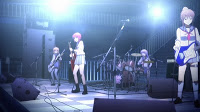 Nothing feels right to me from characters to story to humor and that's ultimately the problem with this first episode.
Because I'm a believer in being fair, I'm going to keep blogging this series. I remember not being that impressed with the first couple of episodes of the originalKanonanime and then that one got really good. The same thing could happen with Angel Beats! We'll see.