Isekai no Seikishi Monogatari OVA Ep. 11 Review
異世界の聖機師物語 OAV Episode 11 (Blu-ray version)
War on Geminar – 11
SPOILER Summary/Synopsis: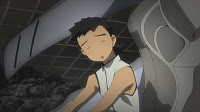 Kenshi learns that being king isn't all fun when he's forced to make compression bullets. When the Swan detects some Seikijin on approach, they determine the situation to be three of Dagmyer's Seikishi chasing one with Ceres Tyte in it. Kenshi gets into a Seikijin and goes to save Ceres, shooting Dagmyer's three Seikijin, all filled with women. They flee but when Kenshi goes to help Ceres, he is snared in a trap. Aura takes a Seikijin to rescue him with Yukine and Chiaia on standby as a barrier reactor is on the back of Ceres' Seikijin and rigged to explode.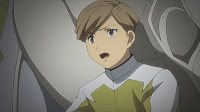 Ceres tells Kenshi (the others overhear the conversation on radio) that Dagmyer's people kidnapped Hazuki and forced him to do this. If he succeeded, they'd release Hazuki. Kenshi understands and orders Aura away. Kenshi taps into his rage and causes his Seikishi to partially go black. He compresses the barrier reactor and flings it. The explosion is felt at Dagmyer's camp and they assume Kenshi is gone. However when Kenshi shows up with his berserker Seikijin, he makes mincemeat of Dagmyer's forces. Aura, Chiaia, and Ceres rescue Hazuki from Lan while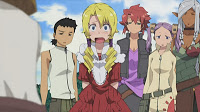 Kenshi kills Cliff and forces Emra to save Dagmyer from death at Kenshi's deteriorating Seikijin's hands.
Back on board the Swan, Ceres is told of the ship being an independent nation with representatives from Shurifon (Aura), Havoniwa (Yukine, Maria), Schutreiyu (most everyone else), and more (Leia is from the Church). As such, Kenshi grants Ceres and Hazuki assylum, leading Lashara to joke about making money from Ceres being a male Seikishi. No one laughs.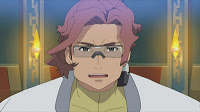 As Dagmyer cowers in fear in his room, the Swan heads to the Barrier Workshop where Naua, Chiaia's father, awaits. He's already heard the news about Mexiah and has information for them after sending Kenshi off to have some testing performed on him. Leia collapses and is taken away to rest while Naua tells Yukine, Maria, Lashara, Chiaia, and Aura of the Senshi Civilization and the creation of the Seikishin.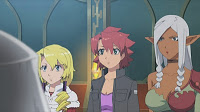 After the Seikishin went out of control and caused the destruction of the Senshi Civilization, one Seikishin named Gaia remained as it was the strongest. Three new dolls were created to defeat Gaia, one of whom was Mexiah. They defeated Gaia when one of the three were sacrificed in that cause. Mexiah was returned to infancy and sealed away and the indestructible shield of Gaia's was buried in the land of Seichi. Thousands of years later when , which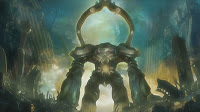 was under control of the country of Schutreiyu, a Seikishin was uncovered and experimented on. It went out of control and forced the Church to take control of Seichi and the new Seikijin project, whereupon all countries sent people to Seichi to become Seikishi.
Twenty-two years ago, the capsule containing the infant Mexiah came to the surface and Naua adopted the child as his own. When Chiaia was born, Mexiah simply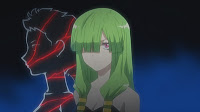 became her older sister. However because not all of the records about the dolls were in the Church's charge, Babalun apparently had some of the records and found a way to control Mexiah. Naua is interrupted with a medical report which appears to reveal that the second doll has been found. However, before he can continue, he's interrupted when Doll's forces attack, their target being the Swan.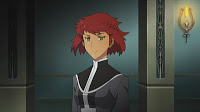 Naua has a soldier escort Lashara, Maria, Aura, and Yukine to the Swan while he and Chiaia go another direction so that he can offer some last moment coaching and give Chiaia a means of destroying Gaia. They discover Leia has not only left the infirmary, but has knocked out all of the staff in a research room and is stealing an artifact. She gets away as the enemy Seikijin advance, protected by replicas of Gaia's shield. Kenshi runs into Leia, who reveals she is in fact Neizai and escapes, covered by the black Seikijin, piloted by Doll. Doll grabs her foster father and has a chat with him while Chiaia and Kenshi flee to the Swan under Naua's orders.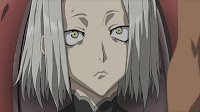 Despite heavy resistance, Kenshi and Chiaia make it. There, Kenshi gets into a Seikijin and allows the Swan to escape. The enemy forces are waiting on this and cause a massive section of land to fall down into the docking pit. Kenshi compresses the land mass into five "musket balls," then uses the rail gun that Wahanly brought on board to take out the enemy Seikijin and their faux Gaia shields. Lashara orders the Swan to flee as the enemy also flees, not wanting to risk total destruction at Kenshi's hands. Doll finishes her conversation with her father as she watches the Swan leave. Leia-Neizai also watches the Swan leave.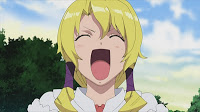 Wow. There was a lot of exposition in the second half, so much so that I had to watch that a couple of times. I'll get to that in a bit.
First, the comedy levels for this episode were pretty low, which is fine. I think the only chuckle I had came from Kenshi being forced to make the compression "musket balls" (for lack of a better term since that's what they look like) and build up the Swan's ammo supply by recycling garbage and such. Life as king of your own tiny country isn't all its cracked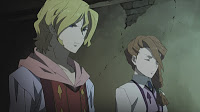 up to be. *lol*
The whole thing with Ceres screamed "TRAP" from the start. I did expect Ceres to come on board and attempt sabotage in order to allow Dagmyer's forces to attack. I did not expect him to become a suicide bomber, so kudos to Kajishima-sensei there. I thought about this for a while and I came to the conclusion that even though he foolishly believed that he'd save Hazuki by doing this, he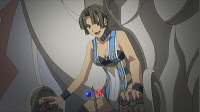 may have felt his life was over anyway and Hazuki was better off without him. I say this because I really believe the women Seikishi had (rape) sex with Ceres and that this wasn't just idle chatter on their part.
Male Seikishi are rare and it seems apparent that a female Seikishi obtaining a child by a male Seikishi is a prize indeed. In the high circles of Lashara and Maria, a male Seikishi is just as much a prize, but there are things to be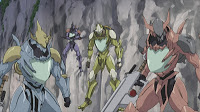 gained from that prize which is why Lashara was so keen on having Kenshi under her control. One could almost see Lashara renting out Kenshi's "services" to female Seikishi if the price was right back when she first took him in. However, in the bandit circles, one takes the prize for themselves, the reward being the birth of another Seikishi child and if one is lucky, a male Seikishi.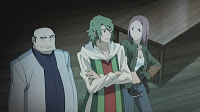 So yeah, I think the bandit women got Ceres to sexually copulate with them (such is the power of beautiful women over the teenage male). When all was said and done, I suspect Ceres hate himself badly, feeling he'd betrayed his true love Hazuki, and so he took the opportunity to do what he hoped would set her free of the bandits, but at the same time end his own dishonor. It is foolish thinking, of course, but there you go.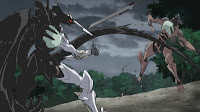 Next up is Kenshi going berserk. When I rewatched episode 1 (Blu-ray), I noted Kenshi's Seikijin roar and start to go black. Here, we get that again, only this time, his Seikijin gets a giant black hand? Weird, but it means something. Later on, we are left with the implication that maybe Kenshi is the second Doll. I don't buy that for an instant. However, Kenshi may be a kind of yin-yang and sometimes lets darkness well up to aid him in his Seikijin fights.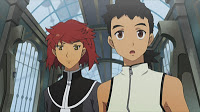 I do think that Leia is the other "doll" that was made to fight the Seikishin several millennia ago. I base this on (1) her looking similar to the profile shown during Naua's lecture and (2) having it seem to be Kenshi would be a classic Kajishima misdirect. I think that she was scanned when she was taken to the infirmary and that's when they discovered the truth. Kenshi, for all practical purposes, is human though he's obviously a special human (how could you be raised by Tenchi's harem, which includes to Choushin, and not be special?).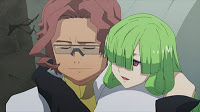 I did like how Doll came back to talk with her foster father. At first, I wondered if her use of the term "otousama" was sarcastic, being that this is a highly respectful and formal way of addressing one's father. However, when I watched the scenes again, I believe she has genuine affection for her foster father but also wanted some information, which I believe she obtained.
I didn't like the disconnect between Kenshi's going berserk in the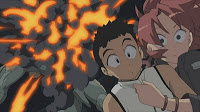 Seikijin and then coming out and being "OK." Not only that, but while his actions seemed to trouble his comrades, they were all "OK" when the fighting concluded. Maybe this will be addressed in the final two episodes, but for now, it was a bit unbelievable.
Finally, we have the lengthy exposition on the Senshi Civilization. Let me see if I've understood things.
The planet was united under the Senshi and created large robot-mecha units for sporting competitions. Eventually, these mecha became known as Seikishin
People found they could only take a Seikishin so far and for whatever reason, came up with the idea of bringing people from other worlds in to pilot the Seikishin, including the Dark Elf race. This "new blood" then took the Seikishin to the next level.
The competitions became more bloody and artificial people were created to pilot the Seikishin. Crystals were made to retain the skills and experience of the Seikishin pilot so that upon death, the crystal was transferred to a new body.
At some point, orders were given which were misunderstood and the Seikishin (and presumably their pilots) went out of control and destroyed the Senshi Civilization.
One Seikishi that could function in the Ena Sea was Gaia, and it was unstoppable. Thus, three "dolls" were created to defeat it. In the process of doing so, one of the three lost their lives. Gaia's shield was buried in what is known as the Seichi since it couldn't be destroyed.
One of the dolls was reverted back to infancy and sealed in a capsule (Mexiah).
Thousands of years later, the people of Schutreiyu found Gaia's shield and the Seikishin. Their experiments caused the Church to intervene, take control of the Seikijin project, and control the Seikijin/Seikishi so that there would not be a repeat of what happened to the Senshi Civilization.
Babalun decided to reunite the world under his control with the power of the lone surviving Seikishin, Gaia's shield, and the only known doll that could defeat a Seikishin.
Kenshi is sent into this world and Babalun/Dagmyer figure they have an ace in the hole to take out Lashara since they know of the Senshi having brought people from other worlds to theirs.
Kenshi fails to kill Lashara but joins her side and has been a thorn in Babalun's and Dagmyer's side ever since.
Still, that leaves some questions.
Who sent Kenshi to this world?
While there is no doubt that Kenshi is special, are his abilities solely his or are they aided by that pendant he carries?
Is Kenshi somehow tied in with what happened thousands of years ago?
Is Leia another doll? Who is she working for? Just the Church? What was the artifact she took?
What is Doll's next move? Does she have memories from the past?
So a good episode with a lot of information spewed at us. I can't wait to see the final two episodes.