Great, Another Japanese Honorifics Debate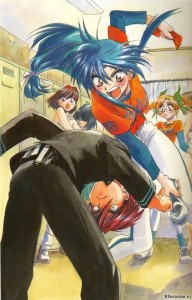 You know, I'm really getting sick of this. Here it is the year 2010, and thanks to MX Media announcing yesterday that they will stop leaving honorifics in official subtitles, now the "Japanese honorifics debate" over the retention of Japanese honorifics in subtitles roars across the Internet again. One would think we are stuck in the 1980's when you couldn't print Japanese manga Japanese style (right-to left vs. the Western left-to-right) because that would confuse people, and you had to rewrite manga and anime adaptations because we wouldn't want to confuse anyone. Yet in 2010, a manga that isn't published "unflipped" is going to be shunned and railed against. Yet logically, to appeal to a wider audience, the manga should be flipped. I guess honorifics are just the bastard stepchildren.
That aside, I'm going to list out the arguments that are often made against leaving honorifics in subtitles or manga adaptations and my responses.
1) Leaving Japanese honorifics in the translations are confusing to some people. As such, we should do what we can to eliminate confusion.
Do you know where my first encounter with Japanese honorifics was at? Believe it or not, it was Marvel Comic's Uncanny X-Men in 1983. (Update: My 2011 review of said comics is here.) I don't remember exactly which issue I first noticed them used in but I know for sure they were used in issue #172. Wolverine was addressed as "Wolverine-sama" and "Logan-san," (and I believe "Logan-sama" as well) on top of any other honorific usage for other characters. At the time, I had no clue what "san" or "sama" meant, but I was smart enough at 13 to understand that these were apparently Japanese honorifics and that they meant something. What exactly they meant, I didn't know (and unfortunately, Marvel didn't provide an explanation). However, in those pre-Internet days when finding out what those honorifics meant (something I didn't learn until 1989 when I moved to Japan) was much more difficult, my ignorance didn't stop me from enjoying X-Men, which was my second favorite comic book to collect.
Further, I think of the 1980 miniseries Shōgun (review here). The series creators decided to keep this very real and a lot of Japanese dialog is used, not all of which gets a translation. The main character, Pilot-Major John Blackthorne, is called "Anjin-san" by the Japanese throughout the entire series because his real name is too hard for them to pronounce. An explanation of the name is given when it is first used but never again. So, the writers apparently expected the audience to be smart enough to remember what "Anjin-san" meant from that point on and not have to have it spoon fed to them every time with a translated name like "Mr. Boat-captain."
Honorifics were an important part of the story as at one point, Blackthorne demands a samurai address him with the "san" honorifics. During the dialog, Japanese honorifics of "sama," "dono," and "san" were used frequently. Despite this, the miniseries had HUGE ratings and supposedly started America's love with things like sushi. So clearly Americans had no problem with Japanese honorific usage.
Because the series was completely shot in Japan, the producers were able to get away with all of this since by the time the daily's reached Hollywood, it was too late for the network executives to do anything about it. Otherwise, I can't imagine something that deeply rooted in Japanese culture making it to the U.S. airwaves in 1980 without major changing lest the masses be confused.
Finally, I think about the recent viral clip from the insane anime Magical Witch Punie-chan where the fansubbed version of the clip was first shown on Attack of the Show and then on The Soup. Amazingly, the fact that honorifics were used in the clip hasn't stopped it from going viral on the Internet and didn't stop people from finding it outrageously funny.
So while I can understand the argument for people possibly being confused, I reject it because today we have this handy thing called the Internet and thus it is so simple and quick to become educated on things like honorifics.
2) Leaving the honorifics in subtitles or manga adaptations restricts that title from being accepted by a wider audience and prevents growth of the industry.
I read this argument, which is tied closely with argument #1, and I think, "If that's true, how the heck has anime and manga grown so much since the 1980's, with its biggest growth during the time when honorifics were gaining wider official use?"
TokyoPop's biggest money making manga by far was Fruits Basket. Translated by then new translators Alethea and Athena Nibley, the twins not only retained the core honorifics, but also retained the brother/sister honorifics as well. Despite these "awful, confusing, and evil Japanese things" being left in the adaption, the manga went well into the mainstream with some huge sales numbers as apparently girls not normally into things like anime and manga got into this manga. And to top it all off, they had to read the book backwards! *GASP!*
Del Rey was a later entry into the manga publishing business, but they soon rocketed to the top while having an official policy to retain Japanese honorifics in all of their titles. Their cash cow, Negima!, is adapted in a very "otaku" manner (if you will) because it not only has the standard honorifics, but keeps things like "ojousama" and other fun honorifics/titles. Of course, it also keeps Latin and Greek stuff in as well and I don't understand either language but I love the retention just the same since a translation is provided elsewhere.
I do find it interesting that on a title where Del Rey decided to drop their honorific policy (Pumpkin Scissors), they also ended up dropping that title. Not saying they are related, but I know I stopped buying after volume 3 when I realized this had to be westernized for my protection.
3) People who know Japanese honorifics can hear them when they watch an anime in Japanese and so we don't need to include Japanese honorifics in the subtitles.
Yeah? Well, if that is the case, then why is it that whenever the Japanese use "Mister" that the subtitles also contain the word "Mister?" Or for that matter, when the Japanese use French, Spanish, or German honorifics in anime, those same honorifics are left untranslated in the English subtitles? After all, I heard the use of those honorifics as clearly as I heard the Japanese ones. By the logic of the "you can hear them" argument, if the Japanese audio said, "Miss Inverse," then all that should be on my screen in "Inverse" since I clearly heard them say "Miss" at the start.
Further, I've never taken French, Spanish, or German. Somehow, their honorifics are known to me without my having taken classes. How did that happen?  Oh yeah, they were retained in novels, movies, etc., and my brain magically gained an understanding of what was being said. I guess the assumption is that no one will be confused over Western honorifics, but Japanese honorifics will bring the world to an end by restoring Japanese imperialism, whereby they start World War III and defeat everyone.
Besides this, what galls me most about this argument is that it assumes that most people watching anime in Japanese are completely stupid. In fact, my understanding is that most English speaking anime fans want to watch their anime IN ENGLISH, not Japanese. The only reason we have a Japanese audio track is because supposedly 20% of us are hardcore enough to want to watch it that way. I'm pretty sure that amongst us 20%, we are intelligent enough to figure out or know what honorifics mean at a basic level. So, why not throw the hardcore fans a bone and leave the honorifics in the subtitles?
OK, but what about these titles that have been licensed but won't have an English dub?
Well, any company that licenses an anime this way is automatically conceding that they've licensed a niche title, meaning only more hardcore fans will buy it. So again, leaving honorifics in isn't going to harm the series, but if you are that worried about it, DVD's have this amazing option that allows multiple subtitle tracks. So, you can have a Japanese-free subtitle track if you want and a track with honorifics. To me, that's a win-win because it caters to the hardcore fans who want honorifics and the fans who oppose anything Japanese in a Japanese product.
4) All Japanese words should be translated, period. There is no excuse to not translate a term or honorific.
I love this argument because it is so easily flushed. For starters, just how many Japanese words have been imported into the English language? I checked Merriam-Websters and the number of Japanese words listed is astonishing. Here's just a small sample of words listed in the dictionary that I actually knew.
su doku, sumo, sushi, banzai, tofu, samurai, ninja, katana, shitake (mushrooms), bushido, tsunami, shinobi, karate, judo, omakase, futon, karaoke, jujitsu, bonsai, koi, anime, manga, haiku, geisha, tempura, sensei, sake, seppuku, Zen, wasabi, soba, kendo, hibachi, dojo, kimono, hari-kiri, shogun
So, by those who use the argument that Japanese words should never be left untranslated, how do you explain so many of these evil words officially made part of the English vernacular?
Indeed, when I grew up, this notion of translating everything meant that I learned "tidal wave" instead of "tsunami." Today, scientist reject the use of "tidal wave" because of its inaccuracy, and so now we use "tsunami" when talking about a great sea wave. We even have tsunami alerts whenever there are undersea earthquakes that could cause a tsunami.
Clearly, there are times when the original word best conveys the meaning and intent of something rather than force translating it just for this silly notion that nothing must be left untranslated.
5) Only lazy translators leave in honorifics or Japanese terms in subtitles or manga adaptations.
This is tied closely to argument #4. That said, why is it laziness to leave an honorific in the subtitle or adaptation but ignoring an instance of honorific usage because the translator couldn't think of a way to translate it is not?
As I mentioned in a recent interview at Western Otaku, forced translations of honorifics can sometimes work but they often don't work all the time, leaving the translator hanging in the wind. To save time, I'm going to quote myself from that interview with two examples of this very thing.
Take the Slayers anime for my first example. There's a female cleric character named Sylphiel who is in love with the fighter character Gourry. As such, she addresses him as "Gourry-sama." The official translation turned this into "Gourry, darling" some of the time whenever Sylphiel appeared to just be fawning over Gourry. However, that translation does not work when Sylphiel yells "Gourry-sama!" to get his attention or in some other situation where she's not fawning over him. In those situations, the honorific usage was simply ignored. Yet Sylphiel's manner of addressing Gourry has not changed but in the official English translation, it has.

For example two, lets go to Slayers Next. In the episode They're Talking About a Girl Named Zelgadiss, Gourry, Xellos, and Zelgadiss have to disguise themselves as women to enter a female-only village. The cleric Amelia always addresses Zelgadiss as "Zelgadiss-san" but the official translation has this as "Mister Zelgadiss." Before this episode, folks could argue, "Oh, that's a good translation so what's the problem?" However, the "san" honorific is gender-neutral so when the group enters the village, Amelia continuing to address Zelgadiss as "Zalgadiss-san" isn't a problem. However, the official English translation for this episode still has her blabbing "Mister Zelgadiss" which makes NO sense considering he and the other males are in disguise lest they be caught and punished as males in the story. If the official translation had just retained the Japanese honorific, there wouldn't have been an issue.
As I see it, since Japanese writers use honorifics as literary devices (because lets face it, the Japanese do NOT use honorifics as extensively as they do in anime, manga, or novels), then why not leave them in for the same reasons?
Still, I marvel at the notion of how leaving a Japanese honorific in the adaptation is lazy, but choosing to ignore it (for whatever reason) is an adaptation choice. If ignoring it is an adaptation choice, then leaving it in in is also a choice.  Besides, leaving Japanese honorifics in keeps the original author's literary device in unmolested by the desperate need to excise anything that smells of "slant-eyed gits." 😑
6) If you leave honorifics in, you have to leave in more words as well. "ANB-san, honorifics are so sugoi desu ne?"
I find this to be an argument from people who've lost the argument and grasp at anything to throw into the air or muddy the waters.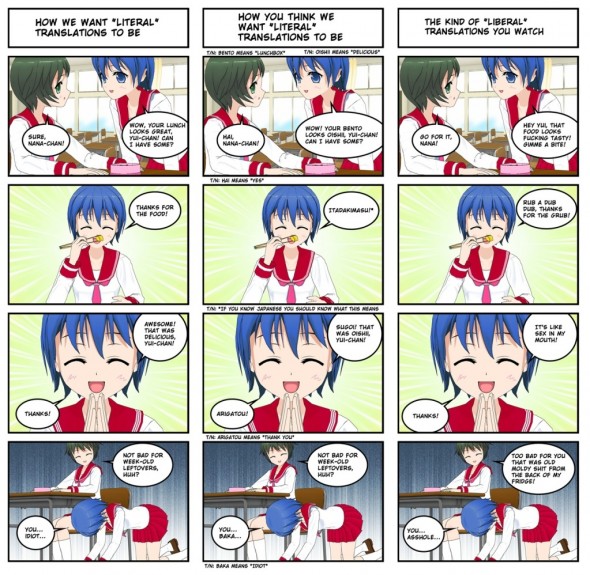 We've already seen how many Japanese words have made it into English. Words from many other languages have done so as well, to include their honorifics. We've done this without shifting to speaking German, French, Spanish, or even Japanese. Japanese honorifics have been and will continue to be smoothly incorporated into English just as honorifics from other languages have been.
There are clearly times when retaining some Japanese words does make sense to me, going above and beyond the honorific debate. The term "tsunami" comes back to mind, as I mentioned earlier.
7) If you need honorifics in subtitles, you should just go learn Japanese.
I started learning Japanese not because of honorifics, but because some anime titles from the 90's and early 2000's took great liberties with the translations in the subtitles. As such, I was more keen on knowing what the translators were trying to shield me from.
Today, I don't get the same sense of heavy liberties in official subtitles and with manga, translator notes work well for translators who end up taking liberties to explain how things went down in the original Japanese and why they wrote what they did.
Still, if honorifics in subtitles bother these people so much, why are they watching anime in Japanese at all? After all, one would think that when watching anime in Japanese, one is looking for a more Japanese perspective rather than the Western one received from an English dub.
As I said earlier, the anti-honorific crowd and the pro-honorific crowd can easily be appeased with a dual subtitle track.
And yeah, I guess people ARE learning some Japanese when they learn honorifics, eh? 😉
8) Most fansubbers have stopped using honorifics so there's no reason for official subtitles to keep honorifics either.
This is a new argument and one that took me by surprise because this is what MX International is claiming and I think that this argument is a complete and utter lie. Maybe I'm wrong though.
Fansubbing and scanlations are the main reason that so many new anime and manga fans are not only introduced to a title and the medium, but also introduced to honorifics. Now, I admit that I don't get to sample every fansub group to see what they do with their translations, but almost every one I've ever downloaded had honorifics retained. I know there are likely a few groups who are staunchly anti-honorific and I know that fansub groups who tend to go for classic titles like Space Battleship Yamato or Mobile Suit Gundam seem to be anti-honorific as well.
So, unless there's something going on that I don't know about (and I'll admit that this is always possible), I haven't seen any trend by fansub groups to drop honorifics and I certainly haven't seen this coming from scanlations.
Update (1-JAN-2014): The current trend of fansubbing is to just steal the subtitles from Crunchyroll or wherever, possibly tweaking them a bit if said group feels like spending that much time. My understanding among true fansub groups (where they do their own translating) is that some do honorifics and some don't. What the percentages are, I haven't a clue. I suspect it leans toward the honorific side of things.
The Reactions
Its funny that people who want honorifics retained in subtitles are considered some kind of elitist but in reality, the anti-honorific crowd is just as elitist in their opposition if not more so. I'm not going to single out anyone because I'm not looking for a fight nor anything else, but some of the stuff I've read is so disdainful of anyone who enjoys having the honorifics retained in subtitles or manga adaptations. Indeed, these pro-honorific fans may as well "eat shit and die" as far as the anti-honorific folks seem to be concerned (pardon the expression but some of the responses are pretty graphic like that).
One fan stated that they might drop their Crunchyroll subscription (MX Media handles Crunchyroll's subtitles) over the loss of honorifics in the subtitles. Another fan chided this reaction as silly. I disagree.
Last year, I wrote about consumer choice and this falls into that category. If you go into Burger King to order a cheeseburger and they say, "We are out of hamburgers. How about a chicken sandwich?" what would you do? Some people would just order the chicken sandwich, but others would be rightly annoyed and go someplace else that actually had hamburgers as well as cheese to make a cheeseburger. That isn't silly and the customer doesn't have to support Burger King by buying the chicken sandwich when they wanted a cheeseburger.
In the same light, if a customer wants an anime his/her way and the providing company says, "not going to do it; wouldn't be prudent," then the customer can say, "up your butt, Jobu!" and walk away. It isn't silly because as a consumer, why should we have to settle for that which we do not want?
The Solution
Fortunately, MX Media appears to be doing the right solution.
"We're more than likely going to offer both options (why not, right?) But it just takes a little time to change the workflow."
That was what I argued earlier because in this day and age, there's no reason not to do both and make everyone happy. Whether it be streaming on Crunchyroll or included on a DVD/Blu-ray disc, having two sets of subtitles only makes sense to me. FUNimation used to do that back in their otaku days when they were rising to the top. Too bad that now they are on top of the world, they don't continue to do that. 🙁
In the end, companies will do what they want and this time, it appears MX Media threw up a trial balloon much as Del Rey did years ago to see what fans would say to their censoring Negima! In both cases, the final decision was the right one and so with that in mind, I have no plans to avoid titles translated by MX Media at this time. ^_^