機動戦士ガンダム /Kido Senshi Gundam episode 12
Mobile Suit Gundam – 12

SPOILER Summary/Synopsis: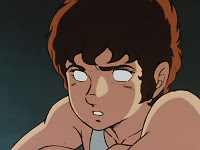 At the giant Zeon space station that holds the Zeon capital Zum City, the start of the public funeral for Garma begins with the Zabi family taking the stage.  Meanwhile, a Zeon force led by Ramba Ral on his warship Zanzibar decides to avenge "Garma-sama" and take out White Base.  They eventually catch up to the federation ship and attack, damaging one of its engines and forcing Bright to order they flee into a thunderstorm.  The storm causes Amuro to lose it and remember Icelina attempt to kill him before dying herself.  Mirai's piloting loses the Zeon pursuers and they land on an island to make repairs.  While they are down, Bright orders Gundam, Guntank, and Guncannon out to defend the ship.  However, Ryu finds Amuro out of it and even though he manages to get Amuro into his flight suit, Amuro is unable to concentrate.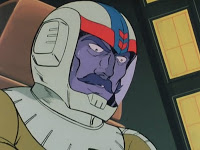 Ryu and Sayla manage to get Amuro out and the Gundam where Ramba in a new, blue mobile suit and two Zaku units have already landed.  Amuro quickly discovers that this blue mobile suit is very different and Bright recognizes it as a new Zeon weapon.  Amuro rejects having cover fire and goes to attack but is thwarted time and again by the blue mobile suit.  Ramba is impressed with the Gundam and its pilot, especially since it still survives.  However, his advantage is removed with White Base, Guntank, and Guncannon provide too much cover fire to allow him to finish off Gundam.  He orders a retreat and his girlfriend Hamon has the Zanzibar retrieve all three mobile suits.  Zanzibar then leaves with a stream of floodlights to blind the Federation forces.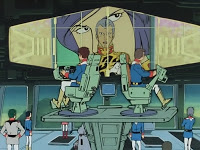 Gihren, the now de facto ruler of Zeon, uses Garma's funeral to make a speech against the Federation that is broadcast worldwide.  When Ryu and Amuro reach the White Base's bridge, Bright tells Amuro to watch the speech.  The speech is also seen by Ramba and Hamon on board Zanzibar as well as by Char, who's been returned to his hometown and is having a drink in a bar.  Char is about to order another drink when a stranger comes up and pays for it.  Char recognizes the man as one of Kycilia's guards, not by sight, but by smell.  The guard is impressed as Gihren continues his fiery speech.  As Gihren concludes, the Zeon's chant "Sieg Zeon" over and over.  Amuro wonders if this is indeed the face of their enemy, leading Bright to tell him that Gihren and the Zabi family intend to rule all of Earth with a dictatorship.
Thoughts/Review: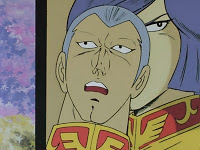 The new introduction with episode 12 help to establish what Zeon's purpose is and that Gihren is in fact the de facto ruler of Zeon, something I had not known before.  Before this episode, I'd assumed that their father Degwin was the ruler but I guess he had turned things over to his oldest son some time ago.
Interesting that the German word "sieg" (victory) is used by Gihren in his speech.  Clearly, the writers are attempting to evoke an association in the viewers mind with Nazi Germany and the "Sieg Heil" chants of the German people during World War II.  It is a shame though that the "Sieg Zeon" chant could not have been made to sound like the "Sieg Heil" chants on the old newsreels.  Heck, I'm not even sure if they could make a few voice actors sound like a crowd of 10's of thousands of people today but had they been able to do this back when Gundam was made, it would have been a much more chilling moment in my opinion.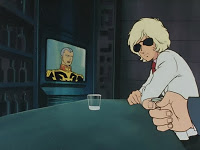 Also making the interesting list is Kycilia sending one of her men to Char.  So, apparently she has some sort of political aspirations since she didn't have Char killed for Garma's death.  I guess this is how Char is brought back into the story.
Amuro's spacing out this episode made him more sympathetic than his previous, whiny, angst-ridden moments of self-pity.  Having seen Icelina puts a very human face on someone trying to kill him and someone he's trying to kill.  Combine that with the almost non-stop combat and its no wonder that he had a tough time pulling it together.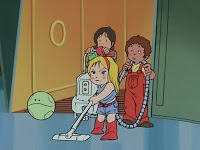 The orphans again make their standard cameo.  This time, Kikka and the other two have a vacuum and have apparently been cleaning the ship.  I actually found that brought a smile to my face because doing common household chores like cleaning isn't normally a part of a futuristic sci-fi series such as Gundam.
Having Bright snap at Kikka allowed for us to see the strain that command has placed on Bright (in addition to showing how Kikka is very manipulative).  I liked the short scene of him taking a break and being visited by Mirai after he snapped.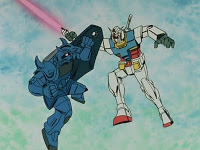 I can understand why many of the Federation and Zeon folks have never seen lightning, but even still, one would think that they'd have learned about it and thunderstorms.  However, Frau Bow assumed this was some sort of new Zeon weapon and some of the Zeon's assumed lightning was a new Federation weapon.
And speaking of new weapons, this new, Zeon blue mobile suit that the writers made a strong point of stating that it was NOT a Zaku makes an appearance.  I don't remember the mobile suit being named though, which is unfortunate.  I could look it up I suppose but I'm guessing it will have its type name revealed soon enough.
So, a rather interesting episode in a long string of such episodes.  I have to say that through twelve episodes, I'm rather impressed on the whole with what I'm seeing.